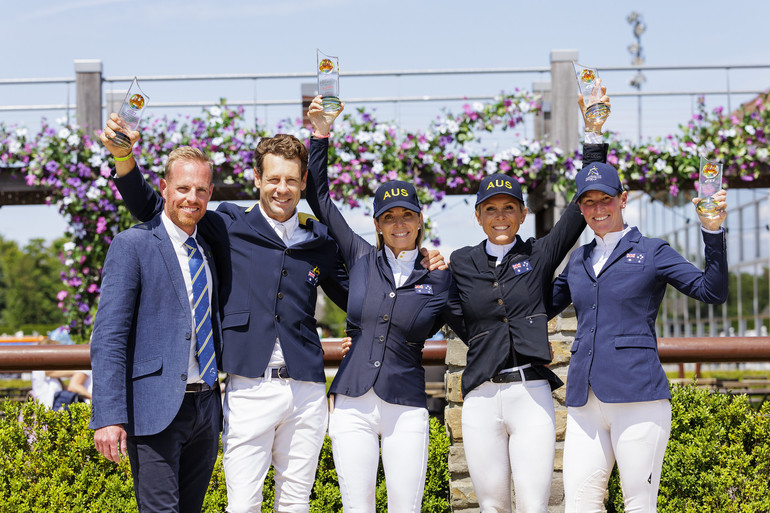 Team Australia qualified for the 2024 Paris Olympic Games in the FEI Olympic qualifier Group G at Tops International Arena in Valkenswaard: Chef d' Equipe Todd Hinde, Christopher Burton, Edwina Tops Alexander, Laura Balcomb and Hilary Scott. Photo © FEI/Leanjo de Koster.
Edited press release from FEI written by Louise Parkes
---
In a tense four-way contest, Australia and Japan both earned a spot at the Paris 2024 Olympic Games when filling the top two places in today's Group G Olympic jumping qualifier at Valkenswaard in The Netherlands where New Zealand and China missed out when finishing third and fourth.
The Australians took the early lead when posting just seven faults in the first round while the Japanese were just a single fault behind with eight on the board. But New Zealand and China were already lagging well behind, carrying 24 and 34 faults respectively as round two began.
The 12-fence track set by Peter Schumacher and Frank Humbeek was well up to height and asked plenty of questions. The triple combination at fence seven and the double three from home proved particularly testing and only two riders kept a clean sheet first time out.
The first of these was Australia's Laura Balcomb with the feisty 12-year-old gelding Verdini d'Houtveld Z (Verdi TN x Caretino) who was both nimble and very quick, and the second was Japan's Yuko Itakura and her 11-year-old mare Stakkatisa PS (Stakkatol x Chacco-Blue) who also gave a great account of themselves. However there were no zero scores in the second round.
Contention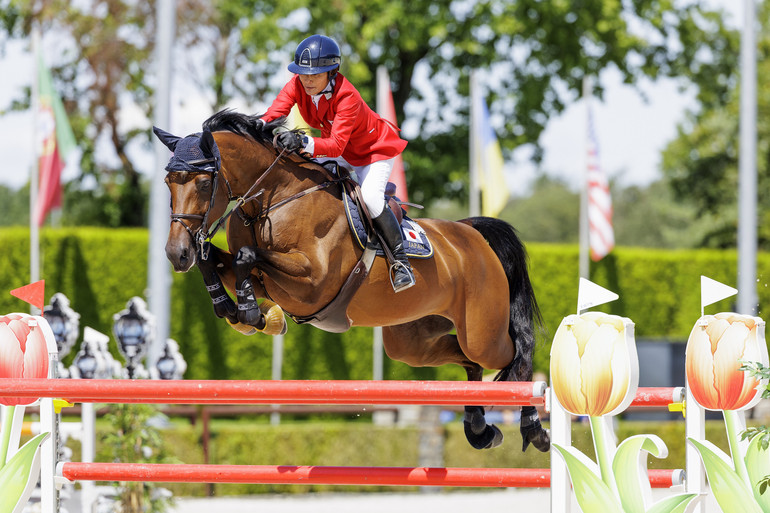 Japan's Yuko Itakura and Stakkatisa PS jumped clear in the first round of the FEI Olympic qualifier. Photo © FEI/Leanjo de Koster.
When the Chinese team of Zingjia Zhang on Cevrine du Banney Z (Chippendale Z x Papyrus de Chivre), Yuchen Chen on Gaga E d'Augustijn (Bustique x Elmshorn), Ella Yunjing Wang on Hoselinde (Campbell VDL x Zeus) and Yaofeng Li on Jericho Dwerse Hagen (Vertigo Saint-Benoit x Clinton II) added 25 more faults to their tally they were well out of contention, although Zhang and Chen produced much-improved performances at their second attempt. Wang, who retired in round one, was eliminated for a fall on her second tour of the track.
Meanwhile New Zealand's Daniel Meech on Donjon d'Asschaut (Vigo Cece x Nonstop), Phillip Steiner on Cassina Dior (Diarado x San Patrignano Cassini), Richard Gardner on Calisto (Colman x Quintero) and Tom Tarver-Priebe on Fiber Fresh Popeye (Cardento x Lio Caylon) added 22 to their scoreline, so the Kiwis were well adrift of the two leading sides going into the closing stages.
Japanese pathfinder was Tokyo Olympian Eiken Sato who clipped the middle element of the triple combination first time out and again in round two when Chacanno (Chacco-Blue x Kannan) also hit the penultimate vertical, while compatriot Itakura looked en route to a second clear until lowering both the first element of the double three from home and the following vertical.
Third-line Japanese team member Mike Kawai was reserve rider for his country's team at the Tokyo 2020 Olympic Games and is currently ranked 15th in the U25 Jumping rankings, but he collected 33 first-round faults when he pulled his horse out in the middle of the triple combination before successfully re-presenting him. Despite the addition of 10 more faults next time out however, Japan's presence in Paris in 12 months' time was already assured because, even before anchorman Taizo Sugitani and Quincy (FRH Quaid x As di Villagana) set off for their final effort in which they collected eight faults, their side was still assured of at least that second Olympic qualifying slot.
Cruised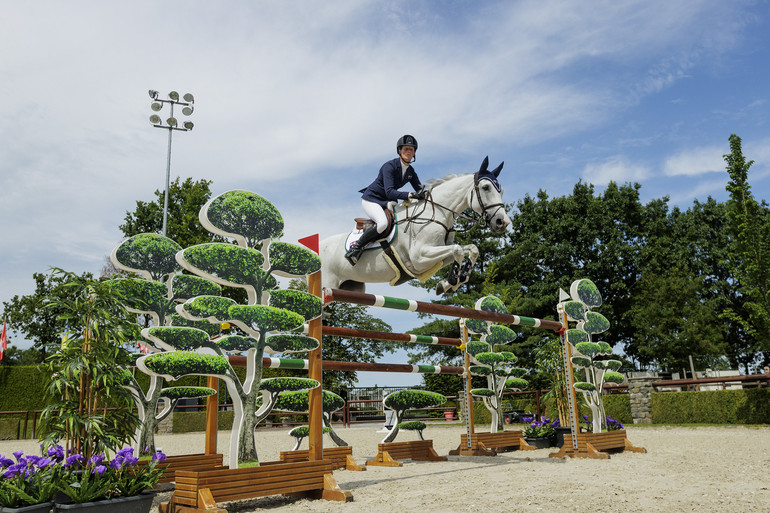 Australia's Hilary Scott and Oaks Milky Way picked up only one time penalty in the first round. Photo © FEI/Leanjo de Koster.
The Australians cruised into pole position in the end, although not without a little drama. Their pathfinder, Hilary Scott who moved to her base near Valkenswaard in 2016 and who continues to produce great results with her home-bred - in Australia - team of horses, posted just a single time fault first time out and had two down at her second attempt.
Then it was all eyes on Chris Burton who looked set for a spectacular first round clear until his 11-year-old mare Chedington Hazy Toulana (Toulon x Heartbreaker) seemed to lose her focus coming to the double on the way home and ducked out to leave him carrying 17 surprising faults.
The man who carved out a superb career in eventing, helping to clinch team bronze for his country at the Rio 2016 Olympic Games, switched sports last year with an eye to a place on the Australian jumping team for Paris and he wasn't going to make the same mistake again, lowering only the middle element of the triple combination second time out to help bolster his team's chances. And by the time Balcomb returned with just four on the board, collected most annoyingly at the very first fence, the winning result was already in the bag, Australian anchor, Edwina Tops-Alexander partnering Fellow Castlefield (Je T'Aime Flamenco x Twister), adding eight to the six she collected first time out but not altering that final team tally.
Thrilled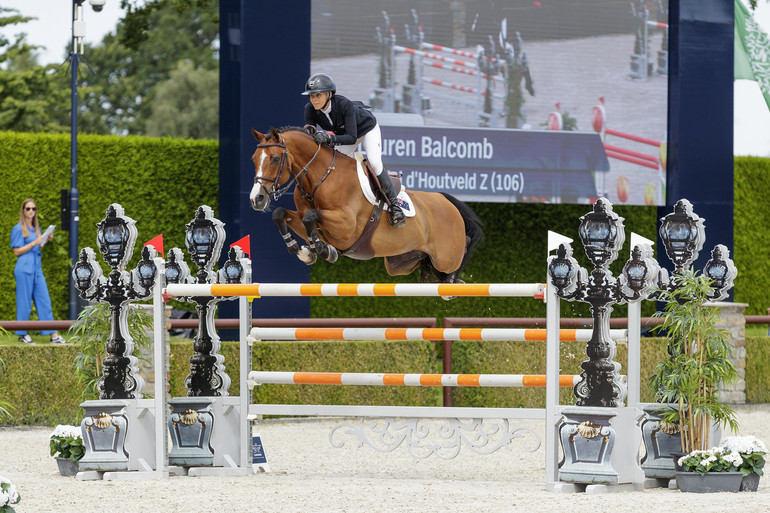 Australia's Lauren Balcomb and Verdini d' Houtveld Z jumped clear in round one. Photo © FEI/Leanjo de Koster
Balcomb was thrilled. "This is probably the best feeling in the world!", said the 33-year-old rider who is based in Ocala, Florida (USA). "We were expecting the competition to be pretty tough and I thought the course designer did a great job to challenge us, but Verdini is such a special character and he was brilliant today. He has a heart of gold, he's brave, tough and careful and I'm so proud of him! This is the first time I've shown in Europe and my horse only got here last Wednesday!".
Japan's Taizo Sugitani, a six-time Olympian, said there was plenty of pressure on all the riders and their horses today. "A qualifier like this is always a tough one, you have to fight to the end and you need to have a good day", he pointed out. He praised team-mate Yuko Itakura for her brilliant first-round clear that gave his whole team a huge lift.
"I knew she would do it, and that clear made all our riders more focused", he said. However although the qualification is now secured he knows very well that there is more work to be done. "It's still a long way to go to Paris, and now we have to continue to put everything together again over the next 12 months - but we are really looking forward to it!"
Perfect conclusion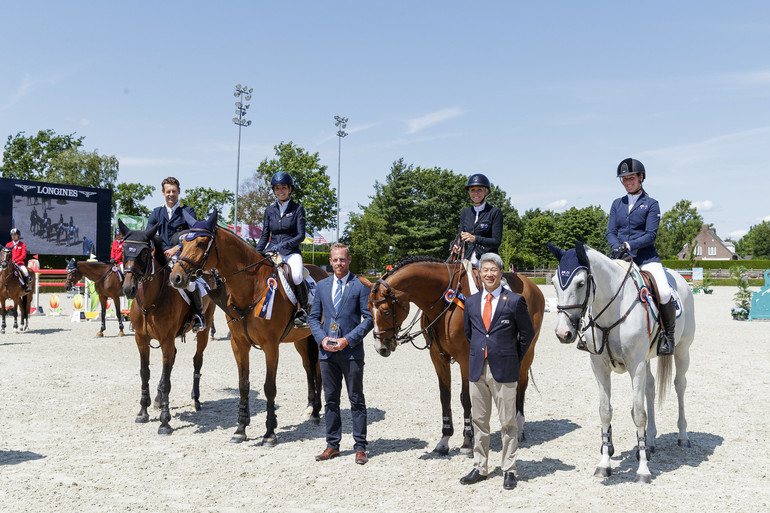 Team Australia won the FEI Olympic qualifier Group G at Tops International Arena in Valkenswaard. Photo © FEI/Leanjo de Koster.
For Australian Chef d'Equipe, Todd Hinde, today was the perfect conclusion to his time as High Performance Jumping Manager for Equestrian Australia. He was recently appointed as new Director of Jumping at the FEI, and will take up the post in September.
"I'm super-excited about stepping into the role. It's an exciting time for the sport and I look forward to working with all the team to keep the sport growing", he said.
He always felt his side would do well today. "We presented seven horses at the trot-up and we could have had any four of them compete. I was confident the four we chose would go out there and produce the result", he said. And he was right.
So Australia and Japan now join the list of qualified nations that also includes the hosts from France, the top five countries from last summer's FEI World Championship - Sweden, The Netherlands, Great Britain, Ireland and Germany - Belgium as winners of the 2022 Longines FEI Jumping Nations Cup™ Final and Saudi Arabia and UAE who made the cut at the Olympic qualifier in Doha in Qatar in February 2023.
The next Olympic jumping qualifying event takes place in Prague (CZE) on Sunday 30 July where teams from Group C will do battle for two more places.