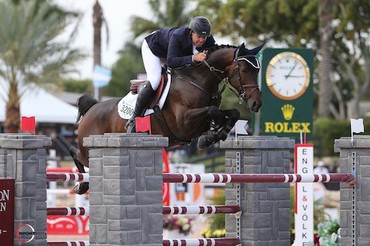 Hardin Towell and Lucifer V. Photo (c) Sportfot.
Hardin Towell (USA) and Lucifer V earned victory in Thursday's $127,000 Ruby et Violette WEF Challenge Cup Round 9 at the 2015 Winter Equestrian Festival (WEF) in Wellington, FL. The highly contested, weekly competition saw a 17-horse jump-off with few clear rounds in the tiebreaker. Towell and Jennifer Gates' Lucifer V were victorious over Ramiro Quintana (ARG) and Whitney (2nd) and Charlie Jayne (USA) aboard Valeska (3rd).
Douglas Elliman is the title sponsor of week nine's CSI-W 5* competition at the Palm Beach International Equestrian Center (PBIEC). Week nine runs March 4-8, 2015, featuring the $372,000 FEI World Cup™ Grand Prix CSI-W 5*, presented by Douglas Elliman, on Saturday, March 7. Several classes throughout the week will be live streamed at www.coth.com. Watch Saturday night's grand prix beginning at 7 pm here - http://bit.ly/1FY5PkK
Sunday's $85,000 Suncast® 1.50m Championship Jumper Classic will be shown live beginning at approximately 10:00 a.m. at http://bit.ly/18QxRVj. The week also features the $25,000 Artisan Farms Under 25 Grand Prix Series Semi-Final, presented by Kingsland Equestrian, on Friday evening.
Ireland's Alan Wade set the course for round nine of the WEF Challenge Cup Series with 67 competitors on Thursday. He narrowed the field down to 19 clear rounds, but two opted out of the jump-off. Seventeen advanced, and only four were able to clear the short course without fault.
Richie Moloney (IRL) was the first rider to take his time and clear the jump-off course without fault in 43.47 seconds aboard Equinimty LLC's Slieveanorra, and his clear round eventually paid off for fourth place honors. Quintana and St. Bride's Farm's Whitney were next to go clear and finished second in their time of 38.76 seconds. Jayne and Pony Lane Farm's Valeska followed in a slower time of 40.42 seconds to place third. Towell and Lucifer V were the last pair to clear the short course, and jumped the winning time of 38.21 seconds. First to go in the jump-off, Kent Farrington (USA) finished fifth with the fastest round of the day in 38.09 seconds with one rail down on Willow.
Lucifer V is a nine-year-old Westphalian gelding (Lord Dezi x Grandeur) that Towell began riding at the end of the horse's seven-year-old year, but has taken some time to move up.
"I had him down here last year, and he was a bit of a handful," Towell detailed. "He was spooky, and he liked to buck a lot. It took awhile; not a lot of people believed in him. He does it his own way, but I always knew that he tried quite hard and he was very careful. It was kind of a learning experience with him here, and then at Spruce Meadows I just jumped 1.30m and 1.35m. After Calgary we started to step up and do some bigger classes. I did him in the 2* in L.A., and he won two classes there. I did him in his first World Cup qualifier in Las Vegas, and he had the fastest time but one down in the jump-off. He was fifth in that. Then I gave him some time off."
Lucifer has shown lightly throughout the WEF circuit and stepped up to do last week's grand prix, but it did not go quite as planned. "It was quite big for his experience. He had 12 faults, but it was just green mistakes," Towell explained.
For his winning round on Thursday, Towell trusted his horse's speed, but was also wary of a rail coming down. "A lot of times you get a jump-off like this and you get a lot clean and everybody thinks they have to go so fast, and before you know it, the class is halfway over and everybody has tried to go so fast they have a rail," he noted. "I think Richie set the pace by just jumping clean and then I thought, 'Ok, Richie wasn't flying.' Kent went in 38 seconds and Richie went in 43, but then I saw that Ramiro was 38 and change and I watched Kent go and he went about the same, so I knew kind of what I had to do."
"I did not see Ramiro go, but my horse is a very fast horse. My issue is that I'm always quick, but I have one down," Towell admitted. "I did eight strides from one to two. Then I really wanted to get straight for the in and out because that was a problem for a lot of people, and I actually got him straight, but I was pretty deep and he gave me a great jump there. Then I know he is good at long gallops. I galloped him to the vertical and the oxer and then the last line he was just great. It makes it a lot of easier with a horse that quick."
Lucifer V will now have a couple weeks off and show in some smaller classes at the end of the WEF circuit as Towell gears him toward the first leg of the FEI World Cup Finals in Las Vegas in April.
Towell thanked his staff and barn manager Chris Howard as well as his father and owner Jennifer Gates. "Chris is one of my best friends and I couldn't do it without him, and thanks to Jennifer for all the support," Towell stated. "It has been fun for her with Lucifer because he has had his ups and downs, and she has really been behind me when I believed in him so much. Last year there were some questionable moments, so it is nice to have someone with so much patience, and it is nice to have such a great team behind you."
Also showing in the International Arena on Thursday, Andrew Ramsay (USA) got a win with Shalanno Farms LLC's Adamo van't Steenputje in the $8,000 1.45m jump-off class. Emanuel Andrade (VEN) and Fananka A won the High Amateur-Owner Jumper speed class.
Final Results: $127,000 Ruby et Violette WEF Challenge Cup Round 9
1. LUCIFER V: 2006 Westphalian gelding by Lord Dezi x Grandeur
HARDIN TOWELL (USA), Jennifer Gates LLC: 0/0/38.21
2. WHITNEY: 2003 KWPN mare by Indoctro x Concorde
RAMIRO QUINTANA (ARG), St. Bride's Farm: 0/0/38.76
3. VALESKA: 2005 Belgian Warmblood mare by Vigo d'Arsouilles x Heartbreaker
CHALRIE JAYNE (USA), Pony Lane Farm: 0/0/40.42
4. SLIEVEANORRA: 2002 Irish Sport Horse gelding by Voltaire x Flagmount Diamond
RICHIE MOLONEY (IRL), Equinimity LLC: 0/0/43.47
5. WILLOW: 2003 KWPN gelding by Guidam x Little Rock
KENT FARRINGTON (USA), Amalaya Investments: 0/4/38.09
6. PLUME DE LA ROQUE: 2003 Selle Francais mare by Kannan (KWPN) x Adelfos
FREDERIC BUSQUET (FRA), SNC Ellipse & Frederic Busquet: 0/4/38.14
7. OHLALA: 2003 Swedish Warmblood mare by Orlando x Cardento
LAUREN HOUGH (USA), The Ohlala Group: 0/4/40.02
8. CHAQUI Z: 2006 Zangersheide stallion by Chacco Blue x Quinar Z
SHANE SWEETNAM (IRL), Spy Coast Farm LLC: 0/4/41.37
9. CEDRIC: 1998 Holsteiner gelding by Chambertin x Carolus Z
LAURA KRAUT (USA), Cherry Knoll Farm, Inc: 0/4/41.38
10. BALOU DU REVENTON: 2006 Oldenburg stallion by Cornet Obolensky x Continue
LJUBOV KOCHETOVA (RUS), Ljubov Kochetova: 0/4/42.22
11. CARISMA: 1999 Swedish Warmblood mare by Cardento 933 x Maraton 600
DANIELLE GOLDSTEIN (ISR), Israeli Equestrian Partners: 0/4/42.40
12. PUMPED UP KICKS: 2003 Brandenburg gelding by Levisto x San Juan
LILLIE KEENAN (USA), Chansonette Farm LLC: 0/8/42.78
Source: Press release from Jennifer Wood Media, Inc.