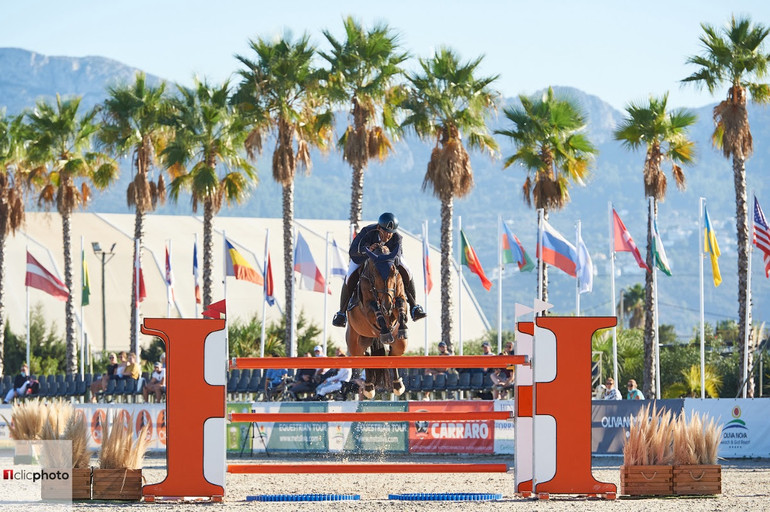 Mariano Martinez Bastida and Cleartoon won the CSI2* Grand Prix presented by CHG at the Autumn MET. Photo © Hervé Bonnaud / www.1clicphoto.com.
Press release from Mediterranean Equestrian Tour
---
Home heroes Mariano Martinez Bastida (ESP) and Cleartoon (Cartoon x Voltaire) went off with the victory in Sunday's CSI2* 1.45m Grand Prix presented by CHG at the Autumn MET in Oliva Nova, Spain, after delivering the only double clear round of the class.

It was a big and difficult track, built by Bernardo Costa Cabral (POR), that waited for the 69 horse-and-rider combinations that had lined up for the Grand Prix. Set in the Oliva Nova ring, the course was long – counting fourteen fences, which included a triple combination early on as well as a combination as the penultimate obstacle. While faults spread out, it was especially the last line that proved troublesome again and again. The short time allowed definitely played its part and forced many into making mistakes as they chased the clock.

Only three horse-and-rider combinations managed to deliver clear rounds today – the first came from Melie Gosa (FRA) on Alouette d'Eole (Mylord Carthago *HN x Helios de La Cour II). It was not until the end of the class that a jump-off was secured though, as Mariano Martinez Bastida piloted Cleartoon to the finish line without faults before Kendra Claricia Brinkop (GER) and Bellisima Ter Wilgen Z (Bamako de Muze x Air Jordan Z) joined in.

"Just like in yesterday's world ranking class, the course today was difficult, and we only had three clear rounds. What made it even harder today was that the time allowed was quite short. Many riders that tried to make the time ended with horses that jumped quite flat on the last line, that included a big triple bar and a wide oxer coming into the combination – you could see that many struggled there," Martinez Bastida detailed about the track for the first round.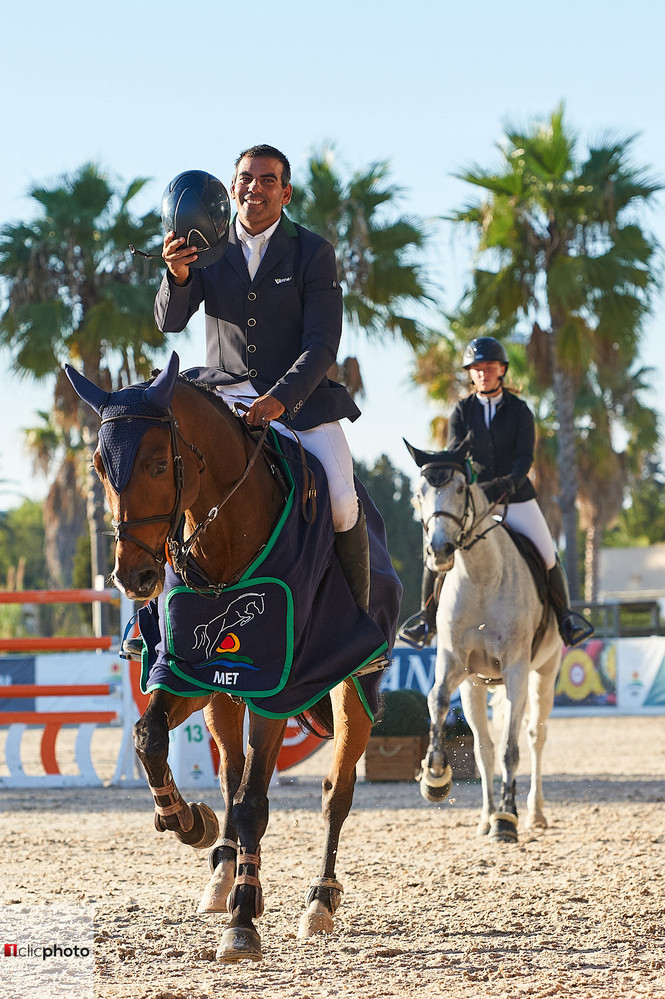 Lap of honour for Mariano Martinez Bastida and Cleartoon. Photo © Hervé Bonnaud / www.1clicphoto.com.
Due to the strict Covid-19 protocols, spectators are not allowed for this year's Autumn MET, but fellow competitors and close family still cheered on the three riders in the jump-off as the sun began to set in Oliva Nova.

First out, Melie Gosa had one rail down and finished on four faults in 38.64 seconds. Mariano Martinez Bastida, who has been on good form this summer, grabbed the chance and produced a clear and fast round to stop the clock at 38.97 seconds. When Kendra Claricia Brinkop had to see one pole hit the ground with the slowest time of the three, the victory belonged to Martinez Bastida – and Spain.

"I watched Melie Gosa's jump-off round, and then decided to try to go for a clear – I wanted to be fast but without taking too much risk," said the Spanish rider about his tactics against the clock. "However, I had to put enough pressure on as Kendra was still to jump after me."

Martinez Bastida recently moved to Madrid where he runs his own trading stable. The 37-year-old has had a strong summer season, moving up the world ranking to now sit as no. 233. He partnered up with Cleartoon at the end of last year, and has already won classes in Valencia, Vejer de la Frontera and Vilamoura with the 10-year-old gelding. "This was only his third Grand Prix. Until now, I have kept him in a smaller class and then jumped a world ranking class. He has proved to be a very competitive horse, a perfect horse really!" Martinez Bastida said.

With the difficult situation in Europe brought on by the Covid-19 pandemic, Martinez Bastida is grateful that some shows are still able to run. "Right now, it is extremely important with outdoor tours like the one here in Oliva Nova. We need to compete our horses in order to keep our businesses alive," Martinez Bastida concluded.