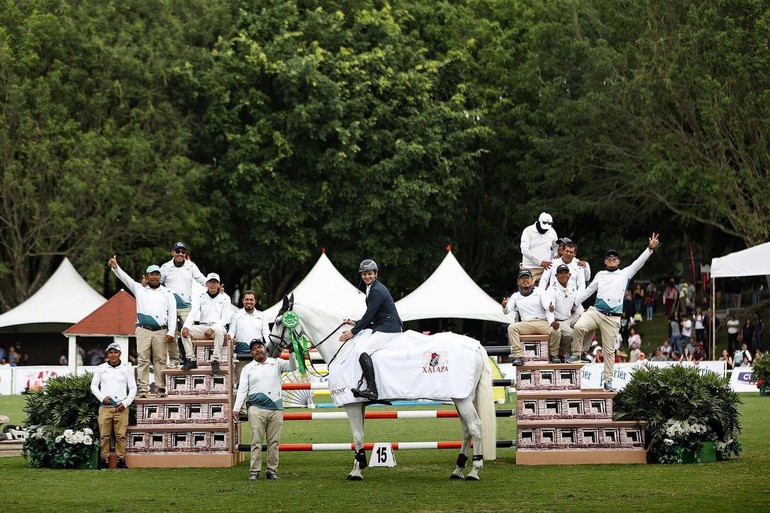 Manuel Gonzalez Dufrane and Hortensia van de Leeuwerk. Photo © Federacion Ecuestre Mexicana/Anwar Esquivel.
As the only double clear out of the 27 horse-and-rider-combinations at start, Mexico's very own Manuel Gonzalez Dufrane and Hortensia van de Leeuwerk (VDL Corland x Argentinus, bred by Ronald Joosen and owned by Manuel Gonzalez Dufrane) won Sunday's CSI5* 1.60m Grand Prix in Coapexpan, Mexico.
After a jump-off of three, Jordan Coyle (IRL) and For Gold (For Fashion x Heraldik XX, bred by Gestüt Rabenhof/Georg Clausen and owned by Falkirk Farm LLC) had to settle for the runner-up position as the fastest four-faulter, while Santiago Lambre (BRA) and Chacco Blue II (Chacco-Blue x Cincaba Rouge, bred by Gestüt Lewitz/Paul Schockemöhle and owned by Santiago Lambre) placed third. John Perez Bohn (COL) and Gigi-Carmen (Bacardi VDL x BMC Oklund, bred by M.C.J.M. Burgers and owned by Jose Antonio Chedraui Eguia) finished fourth, while Gregory Wathelet (BEL) followed in fifth aboard Nevados S (Calvados Z x Romualdo, bred by Stanislaw Szurik and owned by the Nevados Group).