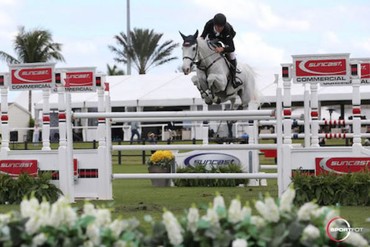 Ignacio Maurin and Unico. Photo (c) Sportfot.
Richard Jeffery (GBR) set the courses on the derby field at The Stadium on Saturday. For the $35,000 Suncast® 1.50m Championship Jumper Classic, Jeffery saw 34 starters with five clear rounds to advance to the jump-off.
Emanuel Andrade (VEN) was first to jump-off with his horse U and dropped one rail in 45.22 seconds to eventually finish fourth. Laura Kraut (USA) was next to go with Cherry Knoll Farm, Inc.'s Constable, clocking the first clear round in 46.08 seconds for second place honors. Chris Surbey (CAN) and Linda Southern Heathcott's Quetchup de la Roque returned next with four faults in 45.19 seconds to place third. Josephina Nor Lantzman also finished with four faults in 48.91 seconds to take fifth place honors aboard Unlimited. Last to go, Ignacio Maurin had nothing to lose with Stransky's Mission Farms' Unico. The Argentine rider cleared the course in the winning time of 45.51 seconds aboard the 15-year-old Dutch Warmblood gelding (Odermus R x Wuzo).
Maurin first moved to the United States two years ago, working for a family in Seattle before coming to Wellington to work for Lillian Stransky eight months ago. Maurin got the ride on Unico in November and has been getting to know his mount throughout the start of WEF.
"I did this class because in WEF 4 the horse started jumping better and proving himself," Maurin stated. "He went clean in a 1.45m and he did the Suncast class that week and had two down, so I wanted to try it again this week. I was lucky today. The horse was feeling good. He is a little older, but he is doing his job well and he was fantastic today."
"When I got the horse at the beginning he was a little hot and nervous," Maurin noted. "He can be strong, but as time passed by I started learning how to ride him and how to keep him relaxed. I learned to work a lot before the class to calm him down, and get him relaxed so that he does his best in the ring."
Maurin also learned that Unico likes jumping on the grass better than sand, and used that to his advantage on Saturday. He also had the advantage of his position in the jump-off order.
"I was lucky, because I was last to go, and there were only five in the jump-off," he detailed. " At the beginning of the jump-off, when I saw that three of them had one down, I thought that I would go for a safe clear. But then I jumped fences one, two, and three in a good pace and knew that my horse was jumping well, so I thought I would give it a try. There was only one clear, and I did not have too much to lose if I had one down. I had my plan to go clear first, but then I felt good and decided to go for it."
Maurin's next goal is to compete well for Argentina in week eight's $150,000 Nations' Cup CSIO 4*. "Next week the horse will just rest and flat a little bit," Maurin said. "He might do one small class before the Nations' Cup so he gets some confidence and feels good. We would like to help Argentina do something. We have a lot of pressure after the team did so well at the Pan American Games, so we will see what happens. After that we might aim for the Suncast® Final during week 12. The horse is 16 years old, so I am trying to save him a little bit for the good stuff."
Lucy Deslauriers and Hester Top Under 25 Welcome
Competition on the derby field at The Stadium at The Palm Beach International Equestrian Center (PBIEC) kicked off on Saturday morning with the $10,000 Artisan Farms U25 Welcome, sponsored by EnTrust Capital, during week six of the 2016 Winter Equestrian Festival (WEF). The speed track set by Richard Jeffery (GBR) saw 71 starters with a win for 16-year-old Lucy Deslauriers and Hester. The pair completed the fastest of 17 clear rounds in 60.73 seconds.
Madison Goetzmann and her own Wrigley took second place honors in a time of 62.37 seconds. Allison Toffolon and Toffolon Partners' Gatsby finished third in 62.68 seconds. Emily Moffitt and Poden Farms' For Sale 6 clocked in fourth in 62.86 seconds. Emma Heise and Old Willow Farms' Viper Vrombautshoeve Z placed fifth in 63.91 seconds, and Eve Jobs and her own Sandor de la Pomme rounded out the top six with a clear round in 63.98 seconds.
Owned by Lucy Deslauriers' mother, Lisa Deslauriers, Hester is an 11-year-old Belgian Warmblood gelding by Wandor van de Mispelaere x Palestro. The pair has been partnered since 2014 and has earned many top accolades together.
Speaking of her winning round on the beautiful grass derby field, Deslauriers stated, "It was tons of fun. I love when they bring us over to the field. It is definitely a different experience. We do not get to do it every week. I was fortunate enough that I did the same class with Hester last year, so I felt really confident coming in. I thought the course was a good test. Definitely the turn to the third jump tripped a lot of people up, but overall I thought it was a great course. It was a lot of fun with a lot of good galloping."
Deslauriers drew an early spot, seventh to go in the order for the morning, and knew she had to set a big challenge with so many riders to come. "Initially when I heard that I went so early I thought I was a little bit unlucky, just because there were so many great riders. There were 70-something (entries in the class), so I knew there were a lot of very fast riders coming behind me, like Maddy (Goetzman). I felt very confident in my horse. I knew that if I set the pace and tried to put the pressure on, his big gallop would help me out there, so I tried to use that to my advantage."
Deslauriers has a great relationship with Hester, but there are always things to work on in every partnership, and Saturday's class on the field gave her a chance to get some different experience with her mount. "Definitely rideability is something I always keep in mind. He can get a little bit rowdy sometimes," Deslauriers noted. "Even on course today, there were a few spots that I could have gotten him back sooner or been a little bit smoother, but overall he is very nice to ride and I am incredibly lucky to have him."
Speaking of the Artisan Farms Under 25 Series, the rider added, "I think it is a great series. It really bridges the gap between the junior jumpers and the grand prix division. It is a great in between and I think that all of the venues give you different experience - doing some night classes, and jumping in The Stadium arena, and the field, and the big ring. It is good for the horses, and it is good for us as riders to do something different. Twelve weeks is a long time, so it is nice to change it up every now and then. The field has some natural jumps and it is a little bit spookier, so it is a good change."
Presented by The Dutta Corp. in association with Guido Klatte, the Artisan Farms Under 25 Grand Prix Series will feature three more events showcasing top young talent in show jumping sport this winter. For the final event of the Series, the top 30 riders in the point standings will be invited to contest the $50,000 CSI-U25 Artisan Farms Under 25 Grand Prix Final held on the derby field at The Stadium at PBIEC on Saturday, March 26.
The $25,000 Artisan Farms U25 Grand Prix, sponsored by EnTrust Capital, as well as the $50,000 WEF 6 National Grand Prix, will both be held on the derby field at The Stadium on Sunday. Hunter competition concludes in the International Ring for the week featuring the $5,000 Peggy Cone Memorial Adult Hunter Classic, the $5,000 WCHR Amateur-Owner 3'3" Hunter Classic, and the $5,000 WCHR Junior 3'3" Hunter Classic. For more information and full results, please visit www.PBIEC.com.
Final Results: $35,000 Suncast® 1.50m Championship Jumper Classic
1. UNICO: 2001 KWPN gelding by Odermus R x Wuzo IGNACIO MAURIN (ARG), Stransky's Mission Farms, Inc: 0/0/45.51
2. CONSTABLE II: 2007 KWPN gelding by Harley VDL x Lupicor LAURA KRAUT (USA), Cherry Knoll Farm: 0/0/46.08
3. QUETCHUP DE LA ROQUE: 2004 Selle Francais mare by Quidam de Revel x Kannan CHRIS SURBEY (CAN), Linda Southern Heathcott: 0/4/45.19
4. U: 2001 KWPN gelding by Monaco x Calypso EMANUEL ANDRADE (VEN), Emanuel Andrade: 0/4/45.22
5. UNLIMITED: 2001 KWPN gelding by Ohorn x Hinault JOSEPHINA NOR LANTZMAN (BRA), Josephina Nor Stables LLC: 0/4/48.91
6. S & L SAGE: 2007 Belgian Warmblood gelding by Wandor van de Mispelaere x Radiator DAVID RAPOSA (USA), S&L Farms: 1/84.60
7. VASCO: 2002 KWPN gelding by Andiamo x Clinton ADAM PRUDENT (FRA), Plain Bay Sales: 4/72.79
8. HALIFAX VAN HET KLUIZEBOS: 2007 Belgian Warmblood by Heartbreaker x Fetiche Du Pas LORENZO DE LUCA (ITA), Stephex Stables and T&L NV: 4/75.70
9. CHELLO Z: 2000 Zangersheide gelding by Chellano Z x Alme Z JOSEPHINA NOR LANTZMAN (BRA), Josephina Nor Stables LLC: 4/77.87
10. CONTENDERS XC: 2006 Oldenburg gelding by Concetto x Contender EMANUEL ANDRADE (VEN), Emanuel Andrade: 4/80.02
11. CARTE BLANCHE: 2007 KWPN gelding by Lupicor x Goodtimes AMANDA STARBUCK (USA), Starbuck Equestrian: 4/81.96
12. CHAPILOT: 2007 Hanoverian gelding by Chacco Blue x Pilot RODRIGO LAMBRE (BRA), Mario Onate: 4/82.00
Final Results: $10,000 Artisan Farms U25 Welcome, sponsored by EnTrust Capital
1. 2589 HESTER LUCY DESLAURIERS (USA) LISA DESLAURIERS: 0/60.73
2. 2628 WRIGLEY MADISON GOETZMANN (USA) MADISON GOETZMANN: 0/62.37
3. 2294 GATSBY ALLISON TOFFOLON (USA) TOFFOLON PARTNERS LLC: 0/62.68
4. 1822 FOR SALE 6 EMILY MOFFITT (USA) PODEN FARMS: 0/62.86
5. 1739 VIPER VROMBAUTSHOEVE Z EMMA HEISE (USA) OLD WILLOW FARMS INC: 0/63.91
6. 1155 SANDOR DE LA POMME EVE JOBS (USA) EVE JOBS: 0/63.98
7. 712 BIJZONDER LACEY GILBERTSON (USA) SEABROOK LLC: 0/66.09
8. 5386 ZEPHIRE HAYLEY BARNHILL (USA) BARNHILL LLC: 0/67.82
9. 1790 VON CIM ALEXANDRA CROWN (USA) ALEXANDRA CROWN: 0/68.10
10. 515 SHIVER LIZA FINSNESS (USA) LIZA FINSNESS: 0/68.14
11. 4832 WAHRHAFTIGE BEN ASSELIN (CAN) ATTACHE STABLES: 0/68.79
12. 3782 HUCKLEBERRY RACHEL REID (USA) RACHEL REID: 0/69.13

Source: Press release from Equestrian Sport Productions News // Photo © Sportfot.