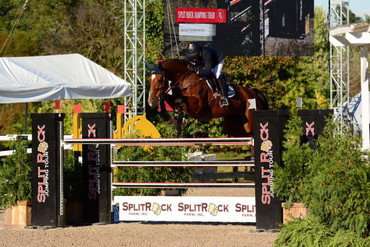 Ilan Bluman won the $40,000 Amalaya Investments CSI3* Grand Prix at the Bourbon International.
Ilan Bluman of Colombia capped a spectacular day of international competition, topping a five-country jump-off on his way to the win in the $40,000 Amalaya Investments CSI3* Grand Prix at the Bourbon International, part of the Split Rock Jumping Tour.
A field of 49 started the class and five, representing five different countries, were able to turn in clear efforts to make it to the jump-off. Bluman was the first to go in the jump-off with Ladriano Z, owned by Blue Star Investments. His clear round in 35.83 seconds proved to be the only faultless ride.
U.S. Olympic veteran Peter Leone, Greenwich, CT, and Wayfarer completed the course with four faults in a time of 36.45 to claim second place. Daniel Bedoya of Bolivia aboard Quattro placed third with four faults in a time of 37.01. Freddie Vazques of Puerto Rico and Bachelor 4 placed fourth with four faults in 38.00 and fifth place went to Daniel Coyle of Ireland, with Ridley, who finished in the fastest time of 35.39 but with two rails down for eight faults.
"It is my first time winning an FEI ranking class," said Bluman, 27. "It is truly a special moment for me. It was a really hard course. The time allowed was tight. I was talking with my cousin (two-time Olympic veteran Daniel Bluman) before the jump-off and I just wanted to go clear, I didn't want to try to go fast. My horse is not the fastest horse so I just wanted to go clear and make a nice course. The other ones tried to beat me and they couldn't. They had rails down. My horse jumped really well and I am so happy."
Earlier in the day, the Irish national anthem was heard across the showgrounds for the second day in a row as David O'Brien who hails from Galway, Ireland, and Spy Coast Farms' O'Splendido won the $5,000 L.V. Harkness & Co. 1.40 Meter Jumper class with a clear round in a time of 60.741seconds.
"This horse has had two wins now in FEI shows," said O'Brien. "The course worked out for me. The first line I left one out and at the end of the course I left another one out from 7 to 8. He is a very quick horse and can leave strides out and be a little tighter. We have a lot of young horses coming up at Spy Coast and I am lucky to be at a farm that is trying to bring the breeding to the US."
---
Source: Press release from Classic Communications // Picture provided by Classic Communications