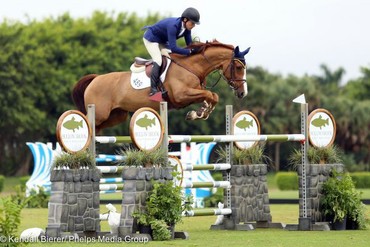 Conor Swail and Martha Louise won the Week 8 1.40m Wellington Turf Tour Grand Prix. Photo (c) Phelps Media Group.
The eighth week of The Ridge at Wellington Turf Tour saw over 30 horse and rider combinations tackle Nick Granat's technical track, but Conor Swail and Martha Louise were the ones to beat from the get go. Irish rider, Swail, rode his veteran mount to the top of the leader board as only the sixth exhibitor of the day, breaking the beam in 38.731 seconds. Beth Underhill and Viggo nearly caught Swail later in the day, but one-tenth of a second would separate the top two finishers today.
Although the sky was grey with clouds threatening downpour, the International Polo Club Palm Beach stayed dry and offered the ideal footing for the $15,000 1.40m Grand Prix. Jeffery Welles and KM Whatever RV were the first pair of the day to ride to a double clear effort. They set the standard high with a time of 40.641 seconds, but with nearly 25 competitors hot on their heels, the day would close out with Welles in third place.
Nick Granat's course proved more technical and built bigger than the past years, which Welles looked upon in favor. Granat utilized a tricky triple combination to catch many of the riders off guard. The line required a forward five strides to the triple, but the verticals came up quickly, requiring patience on both the rider and the horse's parts.
Welles explained, "It seems a little more aggressive this year, which is good for this Friday class, because they have more entries. It was a nice, galloping, open track, and it had a nice flow to it. The jump off had a couple short turns, definitely more turning than galloping. It was a little cooler today, which allowed the horses to brighten up a little bit."
Swail followed only two horses behind Welles with Martha Louise, shattering the previously set time with a double clear effort in 38.731 seconds. He was able to make tight rollbacks and eat up the ground to set the day's unbeatable time.
"Martha Louise is one of my top horses," Swail said of the mare. "She has had a few weeks off, so our plan is to do The Ridge for a few weeks. It is lovely to come over here and let her jump around. It is a great education for her."
Swail continued, "I think it was a very good course today. It is well spread out and it was a very long course, but very good. I think Nick [Granat] has done a good job today. Martha Louise is quite experienced and is a naturally fast horse. She is very good at rollbacks, so I thought I would use them as best I could. I thought it was a nice round and there is possibly a little room left for someone else, but I hope I am up there somewhere."
It was Beth Underhill who almost unseated Swail from the first place position, but one-tenth of a second would separate the two today. Underhill rode Viggo to the time of 38.835 seconds to fall just shy of Swail's pace and finish the competition in second.
Underhill has been a proponent of The Ridge at Wellington since its inception, and has frequented the competitions each week. "My horse loves this ring. He loves the footing, and I think this course was excellent. I think it has become more technical each week. Viggo stayed careful and fast in the jump off, I couldn't ask for anymore from him today, I am thrilled with him today. He tried his best today, and I couldn't be more proud."
Underhill continued, "I think Nona [Garson] and George [D'Ambrosio] do such a wonderful job, they are so welcoming. It is a throwback to the way horse shows used to be. I think the way that they have organized it, where you can come in and walk the course and make it work for your schedule, is something we really need for our sport. It is wonderful for the horses to get out here and have new scenery and hone their skills elsewhere, it helps out with competing at other horse shows, too."
Chicago's Lisa Goldman and Aslan rode to the fourth place position behind Welles, finishing the track just off his time in 40.712 seconds. Catherine Pasamore was awarded the fifth place finish for her time of 40.864 with Z Canta, while Ansgar Holtgers and Wisconsin rounded out the top six.
Source: Press release from Phelps Media Group.
$15,000 1.40M Grand Prix - Table II Sec 2b
Place Entry Horse Owner Rider
1st 489 Martha Louise Susan Grange Conor Swail
2nd 543 Viggo Beth Underhill Beth Underhill
3rd 505 KM WHAT EVER RV NOD HILL FARM Jeffery Welles
4th 996 Aslan charity Judge Lisa Goldman
5th 1232 Z Canta Pasmore Stables, LLC Catherine Pasmore
6th 860 Wisconsin Ansgar Holtgers Ansgar Holtgers
7th 508 Ridley EC67020 Susan Grange Darrin Dliin
8th 937 Robin De Ponthual John Gallagher Peter Lutz
455 Jonnas Corint Davenport Enterprises Peter Lutz
472 HH Eli Cash Double H Farm McLain Ward
484 Cantero Z Ilan Ferder Dana Escales
487 Tahiti Island Blue Hill Farm, Inc Connor Swail
509 FORTIS FORTUNA Susan Grange Connor Swail
572 DAKOTA Susan Grange BRADY HAYES
671 Quick Latinus Miranda Scott Miranda Scott
727 Coriano Zwartepannenhof Hidden Brook Farm Chloe Field
739 Carlotta Singular Susan Grange Darrin Dliin
745 Lennox Lewis 2 Annie Phillips Annie Phillips
773 Chill Haze Paul H. Yanke Paul H. Yanke
853 Pele Annie Phillips Annie Phillips
861 Quick Petite Folie Ansgar Holtgers Ansgar Holtgers
936 Carneyhaugh Manx Katherine Gallagher Katherine Gallagher
1203 Joy Ride Iag Syndicate, LLC Adam Prudent
1204 Pensilvania Dorothy Cox Adam Prudent
1208 Magnus Orfeo Great Span LLC Mary Manfredi
1211 Chin Quidam VDL Hyperion Stud, LLC Darragh Kenny
1212 Castor van de Krahenburg Lexis Arbuckle EC Carly Campbell-Cooper
1216 Ballon JX Liam Dumont Walker EC Liam Dumont Walker EC 0.00
1218 Hands Free Ori Equestrian Conor O'regan
1228 deko de Landetta Z Adena Springs Adena Springs
1230 Centre Ice Kelly Soleau Kelly Soleau
1231 Itty Bitty Kelly Soleau Kelly Soleau
1233 New York Onlyjumpers.Com Juan Pablo Gnecco