Press release from Traverse City Horse Shows
---
Prior to July of this year, Jacob Pope (USA) had not yet won a grand prix. Two months later, he has two victories under his belt: one national and one international. Sunday afternoon, he scored his first FEI grand prix victory on the last day of the Silver Oak Jumper Tournament in the $138,600 Agero CSI3* Grand Prix with Highway FBH, owned by Team Rakowsky Equestrian LLC.
"There's really no feeling like it," Pope said of winning his first international grand prix. "I'm so thrilled – beyond thrilled – with Highway. This is the happiest I've been in a long time and he's such a great horse. I'm so excited for the future with him."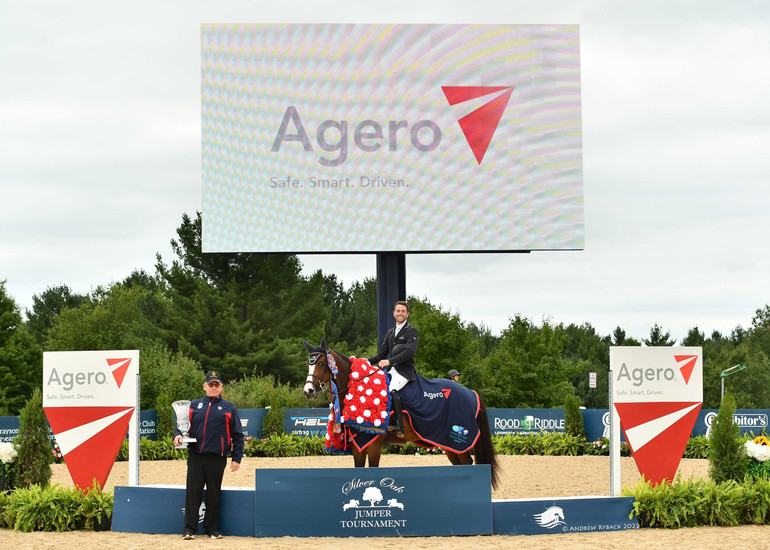 Jacob Pope (USA) and Highway FBH pictured with Jeff Papows, Chairman and CEO of the Silver Oak Jumper Tournament. Photo © Andrew Ryback Photography.
One of six to jump clear in the first round, designed by Olaf Petersen, Jr. (GER), Pope saw only two quick, 4-fault jump-off rounds before his own turn to jump off. With the 12-year-old Dutch Warmblood gelding (Plot Blue x Cornet Obolensky), he was strategic in staying tidy while also keeping all the fences up, becoming the first double-clear effort of the day in 38.73 seconds.
The only other double-clear round came from Kelly Arani (USA) with the Marigot Bay Farm LLC entry Impossible Dream. Following Pope, Arani went for the time but came just short in 39.78 seconds for second place. Her trainer, Shane Sweetnam (IRL), took third as the fastest four-falter with Alejandro, owned by himself, Seabrook LLC, and Spy Coast Farm.
Final Results: $138,600 Agero CSI3* Grand Prix
1. HIGHWAY FBH: 2010 KWPN gelding by Plot Blue x Cornet Obolensky
JACOB POPE (USA), Team Rakowsky Equestrian LLC: 0/0/38.73

2. IMPOSSIBLE DREAM: 2013 KWPN gelding by Cardento x Peter Pan
KELLY ARANI (USA), Marigot Bay Farm, LLC: 0/39.78

3. ALEJANDRO: 2009 RHEIN gelding by Acorado's Ass x Continue
SHANE SWEETNAM (IRL), Shane Sweetnam, Seabrook LLC, and Spy Coast Farm: 0/4/36.06

4. GOTCHA: 2011 HOLST mare by Stakkato x Cassini I
SIMON MCCARTHY (IRL), Rock Ridge Farms: 0/4/36.29

5. KIRSCHWASSER SCF: 2010 BWP gelding by Amaretto D'Arco x Nabab De Reve
FREDDIE VAZQUEZ (PUR), Freddie Vazquez: 0/4/39.71

6. CAILLOU 24: 2007 HOLST gelding by Casall x San Patrignano Corrado
KARL COOK (USA), Signe Otsby: 0/8/38.46

7. ELUNA CL Z: 2012 ZANG mare by Emerald x Nabab De Reve
ELIZA LEHRMAN (USA), Five Way Farm LLC: 1/80.89

8. QUIMI DEL MASET: 2014 CDE gelding by Quasimodo Z x Indred del Masset
DANIEL BEDOYA (BOL), Monica Hanks: 1/81.00

9. KARLIN VAN'T VENNEHOF: 2010 BWP mare by Fantomas De Muze x Quasimodo Van De Molendreef
LACEY GILBERTSON (USA), Seabrook LLC: 4/76.68

10. IVARO N: 2013 KWPN gelding by Elvaro x Celano
LISA GOLDMAN-SMOLEN (USA), Barbara Disko: 4/77.08

11. CASEY: 2012 HANN mare by Cartani x Grannus
SANTIAGO LAMBRE (BRA), Mario Onate: 4/77.11

12. SOVEREIGN: 2006 SF stallion by Frontal x Galoubet A
LISA GOLDMAN-SMOLEN (USA), Barbara Disko: 4/77.92