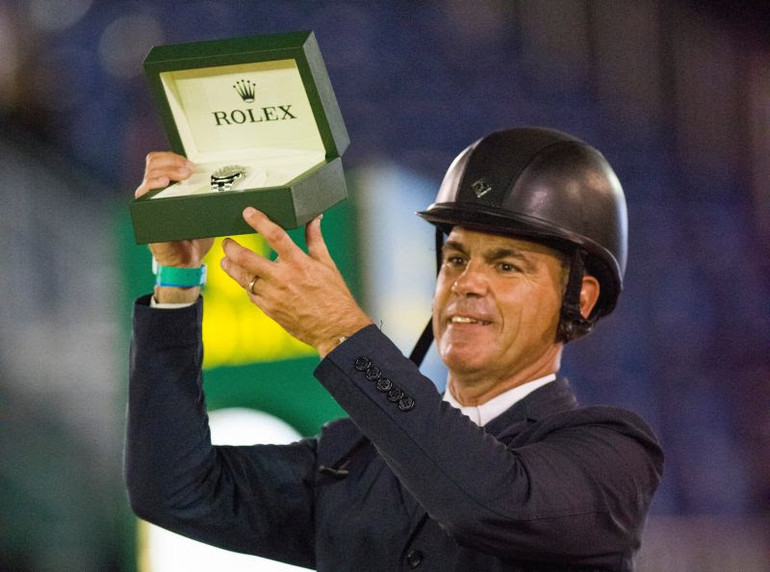 Jimmy Torano won the $216,000 U.S. Open FEI Grand Prix presented by Rolex in Central Park. Photo (c) Rolex.
USA's Jimmy Torano jumped to an exciting victory in the CSI3* $216,000 U.S. Open FEI Grand Prix presented by Rolex, on a beautiful Friday night in New York City at the 2016 Rolex Central Park Horse Show (RCPHS). The fastest of only two double clear rounds in a ten-horse jump-off with some of the world's best, Torano and Day Dream took the win in front of the one-of-a-kind backdrop of skyscrapers over Sharn Wordley (NZL), who finished in the number two position for the second year in a row riding Barnetta. Conor Swail (IRL) had the fastest four-fault round to place third riding Cita.
Olympic course designer Guilherme Jorge (BRA) set the track for the $216,000 FEI Grand Prix presented by Rolex, for 34 starters in Central Park's Wollman Rink. Ten horse and rider combinations advanced to the jump-off, and only two were able to complete the short course without fault. Torano set the time to beat in the jump-off, with the first clear round in 37.05 seconds, and held on for victory. Wordley then went for a safer round to finish second on his time of 41.39 seconds riding the Sky Group's Barnetta.
Swail was blazing fast aboard Ariel and Susan Grange's Cita in 33.12 seconds, but dropped a rail to finish third. McLain Ward (USA) and Double H Farm's HH Carlos Z were also extremely fast in 34.89 seconds, but had an unusual rail at the first fence to place fourth. Kristen Vanderveen (USA) and Bull Run Jumper Five LLC's Bull Run's Faustino de Tili rounded out the top five with four faults in 35.19 seconds.
Torano's winning mount Day Dream is just eight years old, but shows exceptional talent that was on display Friday night. Torano and his wife Danielle own the Dutch Warmblood gelding (Zento x Heartbreaker) along with Daryl Portela's Isalou, Inc., and imported the gelding from Europe two years ago.
"I bought him at the end of his six-year-old year and have been bringing him along," Torano stated. "From day one I believed in him. I always said he was going to do big things. He jumped some grand prixs at the end of his seven-year-old year, and he won a couple times this summer. I got him from the same guy I get all my horses - Willem Greve in Holland. The horse has a lot of quality, and he is very careful. When I go to the jumps I never think he is going to knock one down. His rideability needs to get better, but he really knows where the poles are, so I have a lot of trust in him."
The pair competed at the American Gold Cup last week, and Torano took a chance on trying to get a spot to compete in Central Park this week.
"He came out of the Gold Cup pretty well, which is why I called Mark (Bellissimo) and Michael (Stone) to see if there was an extra spot. I really waited until the last second," Torano detailed. "I brought my horse to the jog even though he wasn't in, because Michael said to go ahead and do it, and then somebody dropped out at the last second and I was able to come in. It all worked out, and I guess it was one of those things that was just meant to be."
Torano continued, "He is a very brave horse. I was not worried about the lights. I was not worried about the venue or the atmosphere here. He is careful, but he is brave. Obviously I did not think I was going to come in and win the class. You have a top group of combinations here."
In 2015, Torano did the commentary for the NBC Sports broadcast of the RCPHS grand prix, and after experiencing the event so closely through that perspective, the rider wanted to compete even more.
"I really can't say enough about the event," Torano stated. "What gets better than riding in New York City with the skyline like this? The crowd was unbelievable. I can't thank Mark, Michael, and the management group in its entirety enough. The footing was spectacular. It is a great event. It is as good as it gets anywhere."
Wordley was very happy with his second place finish again this year riding Barnetta, a 12-year-old Westphalian gelding (Baloubet du Rouet x Polydor), and complimented his horse's consistency.

"I am ecstatic. Barnetta is a great horse," Wordley stated. "He is not the fastest horse, but he is very consistent. He does clear rounds. Last year, there were only two in the jump-off, and my strategy was just to go slow and hope that everybody else had a rail down. I thought my luck had run out with ten in the jump-off this year, but luck went our way.

"This is an amazing event, especially for me, because it is one of those events where every time you do something it turns to gold," Wordley continued. "I rubbed a bunch of jumps tonight and they stayed up, so it is one of those special places for me."

Wordley also remarked on the course building for Friday night and praised Guilherme Jorge on a job well done. "Guilherme always builds fantastic courses, as you saw at the Olympics in Rio a few weeks ago," Wordley noted. "He really knows how to use the arena. It is a very small space that he has to work with here, but it was very smooth, and he has a knack of being able to make it a hard test without any horses getting injured or scared. I always like his courses; I think they are fantastic. Tonight was a great example of his building."
Conor Swail and Cita had a fantastic week, also placing second in Thursday's $40,000 U.S. Open Canadian Pacific FEI Speed Class and carried on to a third place finish Friday night. Swail has had great results with the ten-year-old Holsteiner mare (Casall x Pik Ramiro) all year. While he thought that he took a little too much risk in the jump-off, he remains extremely happy with his mount.
"I thought she was outstanding tonight," Swail stated. "The first round was a beautiful round. Then in the jump-off - the problem I have with her is that I never think she is going to knock anything down. She is so careful, and she rarely has a jump down in front. I just felt that I needed to be very fast because of a couple of the top guys were after me there with very fast horses. Basically, I made a little bit of a mistake. I cut in very tight, and I probably needed to square up my turn slightly better, but because I am riding so much quality and I felt that it did not matter where I was or what angle I was going at, I took a risk and unfortunately it did not pay off today.
"Congratulations to Jimmy," Swail added. "He went around on a young horse and did a super job. Third place was good for me. I am so proud of my mare; I thought she jumped amazing."
In the event's third year, International Equestrian Group and RCPHS founder Mark Bellissimo has seen his vision to showcase equestrian sport in an iconic venue grow to great heights. "I want to thank everyone for attending. This really was a special evening," Bellissimo said of the competition. "When we started this event, the goal was to put together an event that was exciting, with top sport, in a setting that was not matched anywhere in the world. We had ten in the jump-off and some very competitive rounds. I want to thank Jimmy for putting on a show tonight. That was a very impressive performance."
Bellissimo continued, "I want to thank our sponsors. Rolex has been amazing. They took a bet on doing this event. It is very unusual for them to put their brand on something that is not proven, and we really appreciate their support from the start. We are very thankful to them, Land Rover, Adequan®, Canadian Pacific, and all of the other wonderful sponsors of this event."
With a clear round to win Thursday's $40,000 U.S. Open Canadian Pacific Speed Class and another clear round in Friday night's $216,000 FEI Grand Prix CSI 3*, presented by Rolex, McLain Ward (USA) earned the second annual U.S. Open Championship and was presented with a $25,000 rider bonus to conclude jumper competition at the 2016 Rolex Central Park Horse Show.
---
Source: Press release from Jennifer Wood Media, Inc. // Picture © Rolex