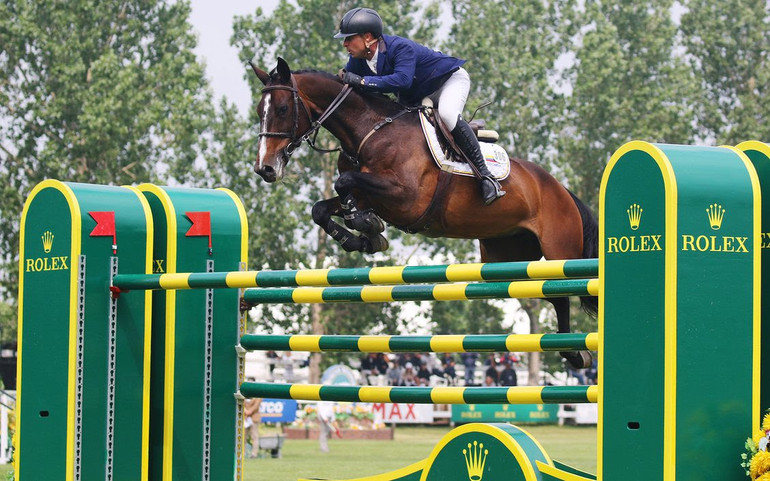 John Perez and Gigi-Carmen won the CSI5* 'Continental' Grand Prix, presented by Rolex, at Spruce Meadows. Photo © Spruce Meadows Media/Dave Chidley.
Edited press release from Spruce Meadows Media
---
The CSI5* 'Continental' Grand Prix, presented by Rolex, was the final competition of the weekend at Spruce Meadows and capped off a great week of showjumping.
Athletes had to navigate a track designed by FEI Level 4 course designer Marina Azevedo (BRA) and clear 13 obstacles in under a time of 85 seconds. After the first round of competition, four competitors passed all the tests and posted clear rounds, advancing to the jump-off.
First up was Canada's Mario Deslauriers aboard the reliable Bardolina 2 (Clarimo x Landos I). The pair delivered a steady clear in a time of 51.22s, and put the pressure on the remaining three competitors. Darragh Kenny (IRL) was up next and carried a quicker pace, coming through the finish line in 47.53s clear and moving into first place with Arna 'T Kruisvelt (Arko III x Indoctro). Lillie Keenan (USA) and Fasther (Vigo d'Arsouilles x Farmer) quickly followed but could not match the time and moved into second after stopping the clock at 48.46s.
Last into the ring was John Perez (COL) aboard Gigi-Carmen (Bacardi VDL x Oklund). Perez, a Spruce Meadows veteran, won a 5* Grand Prix earlier this year in Xalapa, Mexico, and was ready to add a big Spruce Meadows-victory to his resume. The big, bay, mare jumped brilliantly and carried Perez through the finish line clear in a lightning fast time of 45.32s to secure the win. This was Perez's first Spruce Meadows 5* Grand Prix win.
"The facility (Spruce Meadows), the footing, the jumps, the atmosphere – everything is fantastic here," John Perez said about being back at Spruce Meadows for the 2023 FEI tournament season.