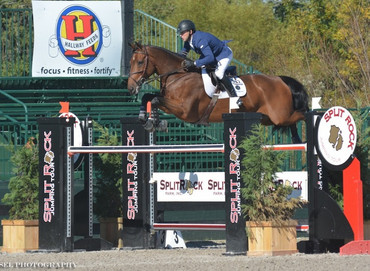 Jonathan McCrea and Special Lux on the way to victory. Photo (c) SEL Photography.
On a picture-perfect Fall day in Lexington, the Split Rock Jumping Tour welcomed 36 horse and rider combinations in the $100,000 CSI3* Grand Prix, presented by Split Rock Farm, with five making it to the jump-off. Some of the sport's top international athletes competed today, attracting a great local crowd. Jonathan McCrea and Candy Tribble's Special Lux were the only double clean and took the top prize.
Anthony D'Ambrosio's course challenged riders, especially towards the end of the track. Before the class, he explained the details that they would be dealing with. "Combinations start at 3ab - not asking for a lot of scope - but a little bit long two with the horizontally striped rails, and a steady five afterwards. Fence 6 is a nice, slightly forward six strides to the big Brook Ledge oxer, 1.50m tall with a 1.65m spread. Then most people will do seven to the tall vertical, but you will also see eight - it measures a steady eight. After that, they have the triple bar, then across the diagonal to the tallest vertical at 1.60m. Next they need to get straight to the triple combination. They have quite a few strides, 8 or 9, to get there, size it up and focus on the vertical coming in, oxer and then a tad short to the vertical coming out. Then regroup for the last line going away from home, get organized for the liverpool in a forward four to the Hollow Creek vertical, and then a nice seven to the last jump, the biggest oxer at 1.60m with a 1.70m spread."
The first horse in was first clean, Kingsfield Farm's Lillyfee piloted by Canadian Susan Horn. After crossing the timers, Horn let out a cry of joy. Many top show jumpers followed, quite a few with two mounts, including Russia's Luibov Kochetova, Sharn Wordley of New Zealand, Irishman Conor Swail, the big winner of the two previous classes, veteran Margie Engle, Alison Robitaille and Irishman Richie Moloney, each plagued with a rail, even two or more, on course. Not until the eighteenth rider in the ring, Molly Ashe on the Equis Boutique Best Presented Horse, Balous Day Date, did another rider go fault-free, a feat she couldn't repeat on her second mount.
Jonathan McCrea, an Irish native who now rides for the U.S., galloped in twenty-seventh on Special Lux and didn't rub a rail, joining the jump-off. Canadian Erynn Ballard, not clean on her first mount, rode her second horse, Bart C, fault free. American Schuyler Riley also rode her second mount clean, Dobra de Porceyo (owned by Wolfstone Stables & Sales, Inc.), making it five to return.
In a jump-off that covered a lot of distance, Horn was close to clean, dropping the final rail for four in 50.48. Ashe had a few rails, ending up fifth for the day. In came McCrea, the only male in this round. Knowing he had two to follow him, he rode aggressively and Special Lux once again flew over each obstacle, clean in 45.37. Neither Ballard or Riley could match the time, and each ended with faults.
When asked about his jump-off plan, McCrea replied, "I pretty much went for the win - he's a fast horse. He was off for a little while. Since he's come back, he's won two grand prix classes. This is his third one after being off for a year. He's always been fast."
His wife Christine competed, and his in-laws, The Tribbles, were watching. "It is special to get to travel with your wife. My in-laws support me week in and week out. For them to be here when the horse wins is also very special."
Before walking away with his well-earned, oversized check for $33,000, McCrea was presented with another honor, the award for Best Fist Pump of the Bourbon International CSI3*. With the award comes a $500 shopping spree with award sponsor FarmVet.
Although he had a rail on each mount, Conor Swail was the fastest four-faulter of the grand prix, finishing sixth on Martha Louise (Susan & Ariel Grange, owners). The points earned kept his top position for the Leading Athlete Award, and he drove away with a brand new Toyota RAV4.
To wrap up a wonderful weekend, Swail's groom, Tania Bordas, earned the Leading Groom Award.
Source: Press release from the Split Rock Jumping Tour