Press release from Traverse City Horse Shows
---
Julieta (Canstakko x Casall) won a CSI3* Welcome Stake in Michigan last spring, and this year she's at it again, but with a different rider. After a successful first week, Delaney Flynn (USA) led the mare to victory Friday afternoon in the $38,700 Village of Elk Rapids CSI3* Welcome Stake during the second week of the Traverse City Spring Horse Shows, presented by Turtle Creek Casino & Hotel.

"I've had Julieta for a few months and she definitely shined today, so I was really happy with her," Flynn, 23, said. "There were a lot of [stride] numbers in the jump-off, and she has a big stride so I was using that to my advantage today. I didn't necessarily think we would go that fast but it all showed up really well. She loves jumping here, and she definitely jumped her heart out."

The task ahead of Flynn was a large one, as 17 pairs jumped clear out of the starting 39. Up against top international riders including Margie Engle (USA), Beat Mändli (SUI), Daniel Bluman (ISR) and more, Flynn didn't let that intimidate her and put in the best ride she could for her horse.

Closer to the end of the jump-off order, Flynn put in a quick and clear round over Guilherme Jorge's (BRA) short course in 42.37 seconds, hoping it was enough. She had a few fast pairs behind her, and Hallie Grimes (USA) just nearly caught her with Chaccato PS (Diablo Blanco x Stakkato), owned by Can We Keep It? LLC, in 42.41 seconds. Grimes took second, while Engle took third with Dicas (Diarado x Cassini I), owned by Gladewinds Partners LLC, Show Horses Inc, and Storm Ridge Capital, LLC.

"Julieta is a strong mare," Flynn said of the Windsor Show Stables-owned 13-year-old Holsteiner (Canstakko x Casall). "She is probably one of the scopiest horses I've ever ridden. The more I challenge her to gallop, the better she jumps so that really helped us out today. I think this environment is ideal for her. It's a little cooler weather, and she loves the jumps here. It makes her jump a little more carefully. I think Michigan is one of her favorite spots."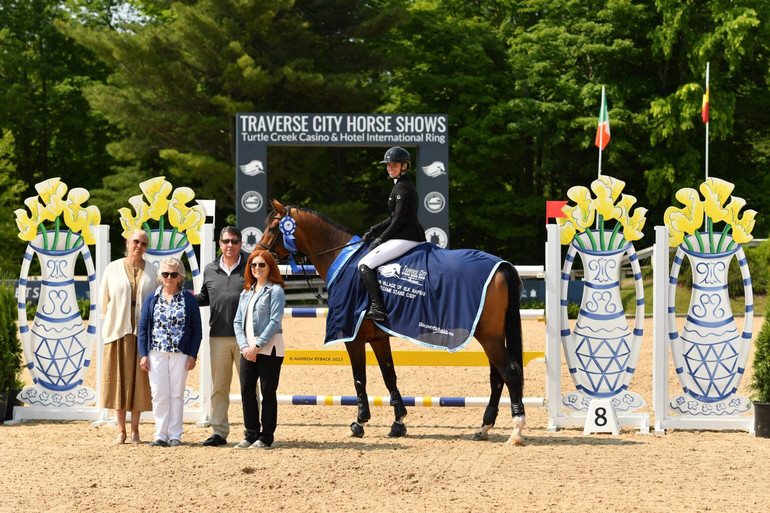 Delaney Flynn and Julieta, winners of the $38,700 Village of Elk Rapids CSI3* Welcome Stake with Karen Simpson, President of Elk Rapids Village Council; Barb Matthews, Chair of Downtown Development Authority; John Matthews, Village Treasurer; and Laura Savoie of Elk Rapids Chamber of Commerce. Photo © Andrew Ryback Photography.
Last year, Julieta's win came with Christine McCrea (USA) aboard. This year, Flynn has a new role working alongside Christine and Jonathan McCrea for Windsor Show Stables, giving her new opportunities and chances to ride horses of a caliber she always dreamed about.

"[The job] has been more than I've ever dreamed of," Flynn said. "The quality of horses I have and get to compete on is amazing. It's giving me the opportunities I've always wanted. I want to be on a U.S. team representing my country and continue to do well in bigger FEI classes with the group of horses I have right now."

Along with the opportunities given to her comes the ability to get to know a new string of horses. While she's accustomed to sitting on a variety of mounts, she's developing partnerships now that are extra special to her. She's learning the McCrea approach to individualizing each horse's plan and letting each horse guide its progress.

"They individualize everything," Flynn said of the Windsor Show Stables' program. "We have a lot of different types of horses. It's about horse welfare and setting them up in classes to make the week go well."

Back for the second time, Flynn plans to keep attending Traverse City Horse Shows as long as she can. "I came during 2020 but this is my first time getting to compete a lot," she explained. "I love the town, I love the show, and it's a little more of a relaxed vibe but definitely still really high competition, with amazing horses and riders here today. I definitely want to come back next year."

National show jumping takes center stage Saturday with the $30,000 National Grand Prix ahead of Sunday's $145,100 4G Surfaces CSI3* Grand Prix.