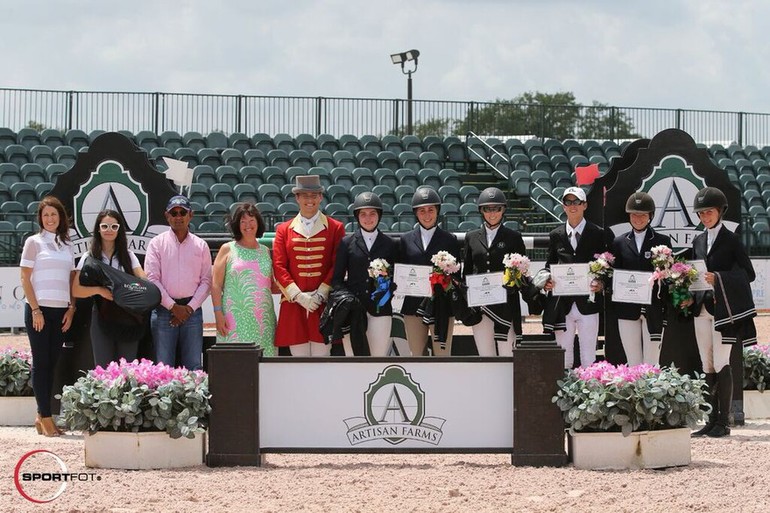 The top six riders in the series - Kelli Cruciotti, Madison Goetzmann, Tina Yates, Lucas Porter, Lucy Deslauriers, and Brett Burlington with Kelli Molinari and Jessica Leto of Equiline; Tim Dutta of the Dutta Corp.; Carlene Ziegler of Artisan Farms; and ringmaster Christian Craig. Photo (c) Sportfot.
Starting off Saturday's competition in the International Ring at The Stadium at PBIEC, 30 entries jumped in the $50,000 Artisan Farms Under 25 Grand Prix Series Final, presented by Equiline, with eight clear rounds over Olaf Petersen, Jr.'s course. In the jump-off, Kaely Tomeu (USA) and Siboney Ranch's Gentille jumped to the fastest of four double clear rounds in the winning time of 36.34 seconds.
Victoria Colvin (USA) and Take the High Road LLC's Echo van't Spieveld finished second in 38.28 seconds. Stephen Moore (IRL) and Vlock Show Stables' Team de Coquerie placed third in 39.20 seconds, and Rachel Reid (USA) and her own Huckleberry earned the fourth place honors with a time of 41.17.
Tomeu (20), of Wellington, FL, trains with Shane Sweetnam, Ali Sweetnam, and Michael Delfiandra at Sweet Oak Farm and just purchased Gentille in January. She and the ten-year-old Belgian Warmblood mare (Heartbreaker x Kannan) also won the $25,000 Artisan Farms Under 25 Grand Prix Semi-Final, presented by Seabrook LLC, during week nine.
"After winning the semi-final I was really excited, so I came in today with high hopes for this one," Tomeu stated. "I never imagined I would win, especially two in a row, and especially the final. I just got this horse in January and she has been nothing but absolutely amazing. I did the team event and she was double clear, and then I won the semi-final and now this one, and those are the only Under 25 classes I have done this year with her. We did not make it overall in the series to get anything, but she was so perfect and I was happy enough with doing this. It was a dream come true."
Commenting on her winning jump-off round, Tomeu detailed, "She is really fast naturally, so I do not have to try at all. You just sit there and it is her pace that she wants to go. I just sit there, try to hold on, and she is honestly so easy. She knows what she is doing, and she just looks for the next jump. I knew she was going to go fast no matter what, so as long as I participated and helped her out, I knew she was going to do her best."
Tomeu has been competing in the U25 Series for the last few years and has learned a lot from riding in the different classes.
"I think this series is a great experience," she noted. "I have done it a few years before, but always on a different horse. With her, I think great things are to come. I hope I get to have her for a long time and go to finals and everything. You never know, but she is a horse of a lifetime for me."
Second place finisher, Victoria Colvin, was aboard Echo van't Spieveld, a horse that she got six months ago and has not shown much. She explained that the horse bucking in her jump-off round lost the pair a little time.
"He is a little quirky in that he will try and buck you off," Colvin explained. "In the jump-off, I landed off fence one and I was hoping he was not going to buck, but then he bucked twice and it takes a very long time for him because he is a big boy. He is really easy though, and he is like a big pony."
Colvin previously won the U25 Series in 2014 and explained what a great thing the series has been for her career.
"I think it is really important," she noted. "It is a middle step to the real grand prix level. It is great for us to be able to show in a series that is super important with classes at a very high level before moving all the way up to showing with the top Europeans and international riders. It is such a pleasure to be able to compete in this, and thank you to all of the sponsors for helping the series come true."
Irish rider Stephen Moore finished third in the final aboard Vlock Show Stables' Team de Coquerie in his second year competing in the U25 Series.
"I had two horses last year, and they were both really good, and I was placed in the final as well," Moore explained. "This year I got a new horse in Team de Coquerie. I was a little late getting him, so I only got to do the last three classes, but he was brilliant in all of them. He was double clear on the grass, and then he had one down in the semi-final, and now he was double clear here again today. Thank you to the Vlock family - they own him, they got him for me. He is going really well, so we are delighted."
Going first in the jump-off, Moore detailed, "I knew I had all of the very fast riders coming after me, so I did the best I could, but I could have been faster. I ended up doing one extra stride in a couple of places, but I do not know the horse that well, so I was not really sure. I could have been faster, but Kaely and Tori are always really fast, so I am not surprised that they beat me anyway."
Kelli Cruciotti (18), of Elizabeth, CO, placed eighth in Saturday's final with two rails down in the jump-off, but she and her 15-year-old Swedish Warmblood mare Chamonix H were the most consistent pair in the seven classes of the series overall. Saturday's class was the final event in the 2016 Artisan Farms Under 25 Grand Prix Series, which also awarded top prizes for its overall standings after the competition.
Cruciotti was the series winner for her exceptional performance throughout the winter. Madison Goetzmann finished second, and Tina Yates placed third. Lucas Porter (4th), Lucy Deslauriers (5th), and Brett Burlington (6th) rounded out the top six in the 2016 Series.
As the overall winning rider, Cruciotti will be invited to compete at the CSI 2* Chantilly Horse Show, part of the Global Champions Tour, from May 26-29, 2016, in France. In addition to her entry, Cruciotti receives two tickets to the Chantilly VIP lounge, transportation for one horse generously provided by The Dutta Corp. in association with Guido Klatte, and layover at Artisan Farms in Vrasene, Belgium. She also received an Equiline saddle.
"I am so excited. I cannot even believe it. It feels unreal," Cruciotti said of her win. "I have to thank the Ziegler family and everybody that put this series together. For us to be able to compete in so many different venues, it is invaluable experience for us as young riders. I also have to thank my team, my mom Cindy Cruciotti, Peter Lutz, and all of the horses that helped me."
Speaking of her top mount, Chamonix H, Cruciotti acknowledged, "She is fantastic. She was actually my first high junior jumper. I have had her now for four years, and she has been nothing but the best teacher for me to move up and learn how to do things correctly. Today was not our day; we gave it a shot and sometimes it happens that way, but I could not be happier with her. She has jumped some incredible rounds this circuit, and I am excited for the rest of the year."
Cruciotti has never competed in Europe before and is excited for her first trip to show abroad. After this circuit the horses will go home to Colorado in April for some rest and relaxation. At the end of April, Cruciotti will go to Europe for a couple of shows, and she is now lucky enough to qualify to go to the Global Champions Tour in Chantilly.
Colvin traveled to Europe for her first time two years ago through her win in the U25 series and told Cruciotti of the experience, stating, "It was so much fun. It was my first time ever in Europe or anywhere out of the country, so to be able to go and compete in Europe was completely different for me. Everything was different - the ribbon presentations, the courses, the people, the surroundings - it was all different, but it was a really fun experience. You are going to have a great time."
Now in its sixth year at the Winter Equestrian Festival, the Artisan Farms Under 25 Grand Prix Series, presented by The Dutta Corp. in association with Guido Klatte, has proven to be a launching pad for young show jumping talent. Offering a total of $170,000 in prize money, the Artisan Farms Under 25 Grand Prix Series is open to competitors of all nationalities aged 25 and under. Developed as a bridge to the international level of grand prix competition, the Series offers all of the components of international competition without the pressure of going head-to-head against seasoned professionals and Olympic athletes.
Carlene Ziegler of Artisan Farms spoke of the development of the series over the last six years, stating, "It has been so wonderful to watch the progression. When we started this, this division did not exist. It was not a USEF division; it was only something that we knew was being done in Europe. There was no series or group of classes during the year for these riders who had just graduated from the junior or even high amateur ranks, but were trying to make that bridge to the big grand prixs, to do that. It has been incredible to watch what has happened.
"This is the sixth year, and I still remember the first year there was a U25 championship that was going to happen in conjunction with the World Cup Finals, and the top six riders got invited to participate in that," Ziegler continued. "It was names that you all know now. It was Reed Kessler, and the Coulters, and Lucy Davis, and my daughter Caitlin. It was an incredible first year, and since then it has just gotten better and better in the quality of riders. There are so many riders that are qualified to do this now that are riding at this very high level, so it has been very gratifying. Congratulations to everybody."
Ziegler added, "I also want to say thank you to Kelli (Cruciotti) for competing today. The way the scoring works for the series, it rewards consistency, and Kelli had been very consistent throughout the whole series. She already had the points to win the series overall before today, but she chose to be here and participate in the final, and in the spirit of competition, it was really great to have her here."
Part of the Ziegler family's goal was to encourage other sponsors to come forward and augment support for the seven events comprising the Series. To that end, several sponsors stepped forward to strengthen the efforts of title sponsor Artisan Farms and presenting sponsor, The Dutta Corp. in association with Guido Klatte. Equine Couture/Tuff Rider, EnTrust Capital, Equiline, the McNerney family, and Seabrook, LLC all sponsored classes within the 2016 Series.
Kelli Molinari of Equiline was on hand for Saturday's final and spoke of the wonderful experience that the series gives these young riders.
"Thank you to the Ziegler family for allowing us to sponsor the final," Molinari stated. "It is a great opportunity for Equiline to be able to reward and encourage the young riders to take advantage of this opportunity to bridge the middle gap between the juniors and the grand prix. It is a tremendous learning experience for them, and for us it is rewarding to be able to help. We are really happy to support the future of our sport."
Equiline awarded a custom show coat to Sarah Bagworth (CAN) for their Amateur Appreciation Award for the Series.
Tim Dutta of the Dutta Corp. was also present for Saturday's final event and thanked the Ziegler family for putting on such an important series.
"Thank you to the Ziegler family. It is world-class what they do for the sport of show jumping," Dutta stated. "We are very delighted to be part of this series. We think these riders are our next superstars and Olympians. Dutta Corp. gives horses wings, so we are looking forward to their journey and showing them how it is done in Europe. Of course we support these riders, and I hope this is one of many times that they will go to Europe and I hope they do us proud. We have had Olympians come out of this series and some of our superstar young riders started out here. It is a huge growth, and truly I think it is the finest U25 series that I know of anywhere in the world. To have it over a period of weeks, to have this kind of competition, to have this kind of venue, to have this much pressure, to deal with sponsors, media, veterinarians, stewards, rules, to be a lady and a gentleman, and after all of that to see the sport grow, it is just very gratifying for The Dutta Corp."
---
Source: Press release from Equestrian Sport Productions News // Picture © Sportfot