Press release from Wellington International
---
After a win in the CSI3* 1.45m slipped from his grasp on opening day of WEF 6, sponsored by KASK, Darragh Kenny (IRL) was determined to check the win column in Saturday's CHF37,000 CaptiveOne Advisors CSI3* 1.50m Classic. He and Vancouver Dreams did just that from a stacked 15-horse jump-off over courses designed by Ana Catalina Cruz Harris (MEX) on the grass Derby Field at Equestrian Village.
Kenny is making quick work of finding success with a new partnership after recently acquiring Vancouver Dreams from Austria's Max Kühner. From a starting field of 71 horses, he bested Maria Brugal (DOM) in the jump-off with a winning time of 35.91 seconds over the short course.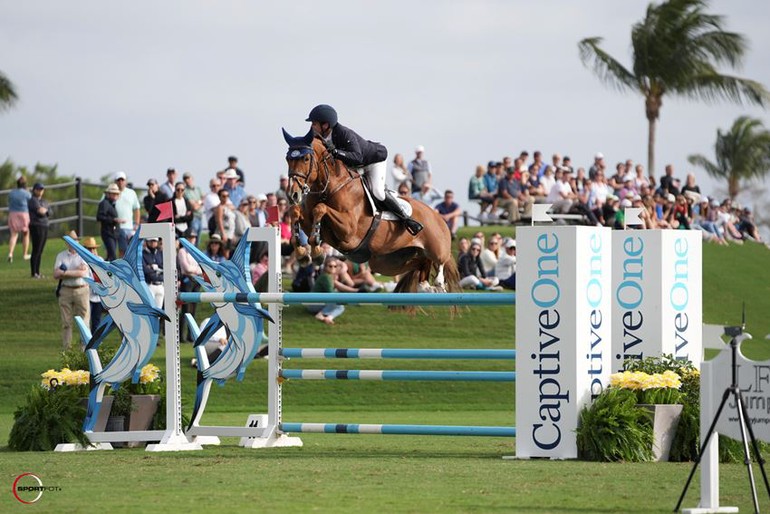 Darragh Kenny & Vancouver Dreams, winners of the CHF37,000 CaptiveOne Advisors CSI3* 1.50m Classic. Photo © Sportfot.
Brugal took second in 37.2 aboard the BG Stables, LLC owned J'Adore Flamecnco. Tom Wachman was the one to beat Kenny earlier in the week and continued a recent string of successes with a third-place finish riding Lazzaro Delle Schiave for owner Coolmore Showjumping.
"I've actually never done a jump-off on her before, so I wasn't sure what to expect," said Kenny of the 13-year-old Hanoverian mare (Valentino 240 x Stakkato). "She's unbelievably careful so I knew I could take a bit of a risk at the double and I did and it paid off and she was brilliant."
"Max and I do a bit of business together, so he sent the mare over for me to ride and eventually sell, but I'm having some fun with her first," admitted Kenny of the talented mare he's hoping to continue moving up the international levels at WEF. "I entered her for this week just to see where she was at and she jumped fantastic today so I'm quite excited about that."