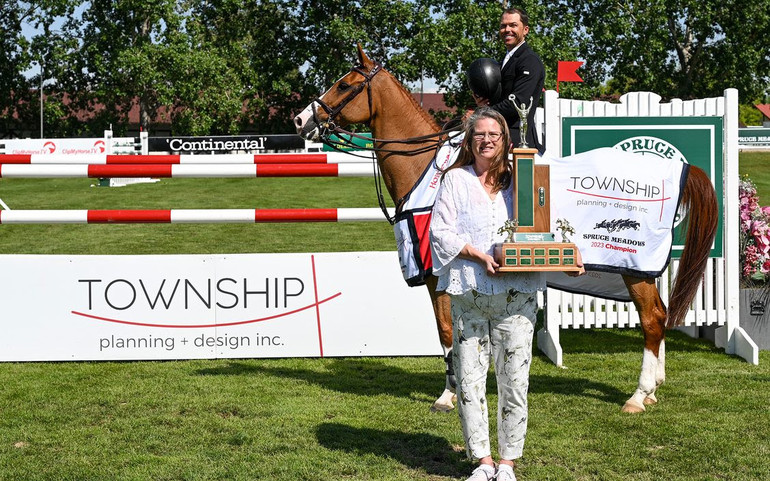 Kent Farrington and Creedance with Kristi Beunder of Township Planning & Design Inc. Photo © Spruce Meadows Media/Mike Sturk.
Edited press release from Spruce Meadows
---
USA's Kent Farrington and his veteran Creedance (Lord Z x Notaris) won Saturday's CSI5* Township Planning 1.50m at the Spruce Meadows 'Continental'. Nine nations were represented by 23 riders, all hoping to take top spot.
Riders had to stay on pace of 400m/min in order to make the time allowed, and only two were able to get the job done. Daniel Coyle (IRL) and Kent Farrington (USA) posted the only clear first rides in the competition and advanced to the jump-off.
Both quick riders, Coyle was first up with Quintin (Quaprice Bois Margot x Emilion) and knew he had to put the pressure on Farrington. However, in spite of a lightning fast time of 37.71s, two rails had him finishing on eight faults. Farrington now only had to go clear and made the jump off look easy, crossing the finish line with no faults and a time of 42.31s. This marks the former world no. one's first win of the 2023 Spruce Meadows FEI season.
With two time penalties in the first round, Sameh El Dahan (GBR) finished third with Oscar-A (Harley VDL x Cardento), followed by Mimi Gochman (USA) and Gigi's Girl BH (Vingino x Celano) in fourth with three time penalties and Santiago Lambre (BRA) in fifth with J'Adore van het Klinkhof (Thunder van de Zuuthoeve x Alcatraz) after the pair had four faults in round one.