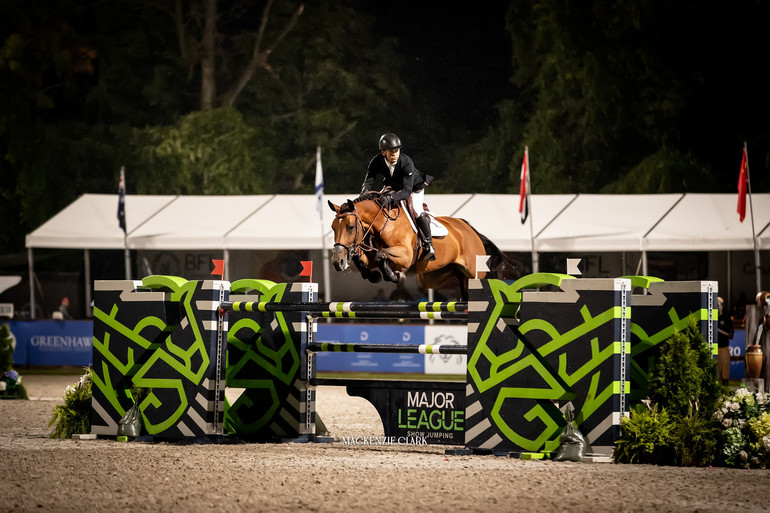 Kent Farrington and the 9-year-old Toulayna topped the $142,400 BFL Canada 5* qualifier at MLSJ Toronto. Photo © Mackenzie Clark.
Press release from Major League Show Jumping
---
Major League Show Jumping is back under the lights of Angelstone Events in Toronto, ON, this week where 5* action opened with a hard-fought win for U.S. Olympic team silver medalist Kent Farrington. He and the 9-year-old Toulayna topped the $142,400 BFL Canada 5* 1.50m qualifier amidst a blitz of storms on Thursday evening.
Toulayna, a Zangersheide mare by Toulon x Parco owned by Farrington and Rabbit Root Stables, didn't show her inexperience with the atmosphere that defines a nighttime competition and stole the show by nearly two seconds in a 10-horse jump-off. Farrington, who leads his own Team KPF this week, pipped top-position holder Ashlee Bond (ISR) with daring turns and calculated gallops. They crossed the final timers in 32.97 seconds over Bond's 34.79.
Helios manager and team rider this week, Bond settled for second on Donatello 141 (Diarado x Lamourex I). Fellow Helios rider and Canada's own Erynn Ballard rounded out the podium in third aboard Gakhir (Spartacus TN x Labor's VDL Indorado) in front of a home crowd.