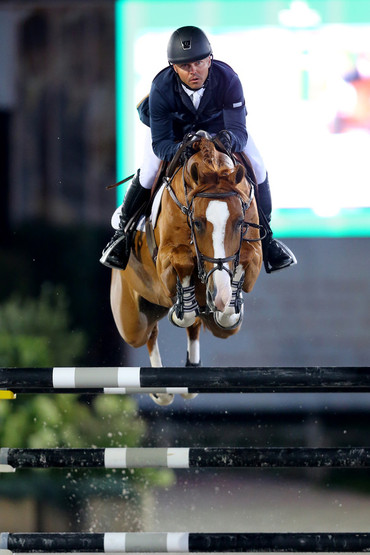 Kent Farrington and Creedance on their way to victory at the Brussels Stephex Masters. Photo (c) Scoopdyga.
It was the perfect ending to a day full of great sport at the Brussels Stephex Masters, with world no. three Kent Farrington (USA) finishing first in the competitive CSI5* Audi Prize worth 35 000 Euro.
Nine riders went clear under the flood lights over the twelve fence track that was set at 1.50m. It was by far the triple combination at 11abc – placed by the in-gate – that caused the most problems, and again and again one or more of the elements here fell to the ground.
First to go, Kent Farrington (USA) showed how to do it on the lovely Creedance (Lord Z x Notaris). Twelve riders later, home rider Constant Van Paesschen (BEL) jumped clear and the crowds went wild – a jump-off was secured. Seven more riders followed up with clear rounds, and the audience was in for a treat with some of the world's best ready to race against the clock.
As it turned out, it would be all about Farrington. First into the ring for the jump-off, the American rider knew he had to put the pressure on and so he did with a fast round in 43.88 seconds.
However, Farrington had far from the ideal start to the Brussels Stephex Masters. "The first day for me was terrible," explained Kent. "I fell off at number three, so obviously he improved and then he came back tonight and was more like his usual self. I actually was not trying to go full speed. I was trying to go smooth in the jump-off, but he is a naturally fast horse and just letting him go in his own pace is usually very competitive."
Tonight it was not only competitive, but also unbeatable. Constant Van Paesschen gave it a go, but missed the distance to the last upright and had it down. Unfortunately, Stephex Stables-rider Daniel Deusser (GER) also had one down and finished on four faults which was the result for Peder Fredricson (SWE) as well.
Rodrigo Pessoa (BRA) however gave a master class on Status (Satisfaction I x Sao Paulo), slotting in behind Farrington with a time of 44.30 seconds. Tiffany Foster (CAN) also gave it a real go on Cadalora P (Namelus R x Furore) to give Farrington a run for the money as she crossed the finish line only 0.03 seconds behind, pushing Pessoa down to third.
Slightly slower was Laura Kraut (USA) on Confu (Contact ME x Cambridge), who with a time of 44.84 seconds ended fourth. As last to go Gert-Jan Bruggink (NED) had the chance on Vampire (Marome NW x Voltaire), but it was not to be and the two finished 1.53 seconds behind the winning time to slot into fifth and pushing Douglas Lindelöw – who had the slowest double clear – down to sixth.
"The horse is a real fighter," Farrington said of his winning mount Creedance that also won the CSI5* Grand Prix in St. Moritz last weekend. "I don't know what he can or can't do, and I think time will tell. I am trying to produce him in a good way. I think no matter what, he is going to be very competitive – so I will let him tell me what his level is."
---
Source: Press release from Brussels Stephex Masters // Picture © Scoopdyga