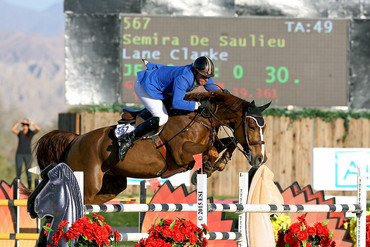 Lane Clarke and Semira De Saulieu. Photo (c) ESI Photography.
Lane Clarke and Semira De Saulieu, owned by Charlotte Gadbois, topped the $50,000 CardFlex Grand Prix at HITS Desert Horse Park Saturday afternoon, trumping a field of 52 competitors, with a clear round in the jump-off and a time of 39.309 seconds.

Karl Cook, winner of Friday's $25,000 SmartPak Grand Prix, placed second Sunday, this time on Tembla, owned by Signe Ostby. Cook finished double-clear in a time of 39.361. Jaime Azcarraga on his Anton Radio Formula rounded out the top three in a clear 40.120 seconds.

Thirteen riders made it into the jump-off, and the top six went double-clear, with a tight spread in their finishing times of less than three seconds. Cook, who went sixth in the jump-off had the fastest time until Clark's turn in the ring. The stage had been set for Clarke, with a total of five double-clears before him, amping up the pressure to complete the shortened course even faster, and without faults. Clarke went 11th in the jump-off, besting Cook by eight-tenths of a second.

"It was a great jump-off," Clarke said. "My mare really stepped up. I took a lot of chances; she answered every question above and beyond what she needed too. With a class like that you had to take risks."

The other double-clear finishers included: Rich Fellers on Flexible, owned by Harry and Mollie Chapman, in 40.160; Richard Spooner on Cristallo, owned by Show Jumping Syndications International in 40.216; and Greg Broderick, last Sunday's $50,000 Horseware Ireland Grand Prix winner, on Caledonia Stables' Going Global in 41.598.

"The jump-off was really stacked, and I went toward the end," Clarke said. "I knew before watching that it was going to be really fast. With that many hot shots in the course you had to go really fast and you had to go clean or you weren't going to get a good placing."

One more Grand Prix — the $25,000 SmartPak Wild Card Grand Prix this Friday — takes place at HITS Thermal before the AIG $ Million Grand Prix Sunday, March 15, where the top riders compete for their share of a $1 Million purse in the First Jewel of the HITS Triple Crown of Show Jumping.

Source: Press release from HITS, Inc.