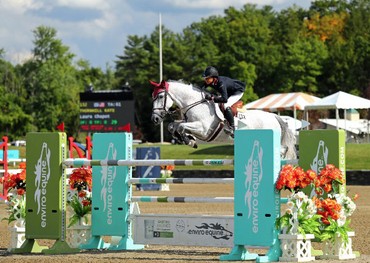 Laura Chapot and Thornhill Kate on their way to a $34.600 HITS Jumper Classic win. Photo (c) ESI Photography.
The HITS Championship feature CSI5* classes continued with Friday's $34.600 HITS Jumper Classic. The prestigious class served as a qualifying opportunity for the weekend's premiere event, the Saugerties $1 Million Grand Prix on Sunday, September 11.
Forty-four horses and riders showed up to the Grand Prix Ring to stake claims on the CSI5* victory and to prepare for the Saugerties Million. The team to beat proved to be Laura Chapot of Neshanic Station, New Jersey, piloting her stellar grey mare, Thornhill Kate, co-owned with Mary Chapot.
The highly decorated equestrian, who has won over a dozen Grand Prix at HITS Saugerties this season and countless other titles, gave praise to this week's course designer, Werner Deeg of Germany after her victory.
"He built a really nice course, I was glad to see that it was appropriate for the day with this being a qualifier for the Million, it was a bit tougher than Wednesday's Welcome class, and feels like a gradual build up for Sunday," said Chapot. "The rails fell in a lot of different places, and he was really clever in the way that he used the distances, so it was good challenge."
Twelve went clear to advance to the jump-off, with five opting not to show in the second round, leaving the win up for grabs for seven competitors. The second round was represented by three different countries: USA, Mexico and Venezuela.
The final two rounds were the only clear rounds of the jump-off. The battle came down to a showdown between Chapot and Williston, Florida equestrian Aaron Vale — both notoriously speedy riders with a plethora of reputable victories under their belts.
Vale and Finou 4, owned by Thinkslikeahorse and Don Stewart, returned to challenge the shortened course second-to-last, immediately before Chapot. They flew through the course to garner to the first clear round of the jump-off in 45.50.
"Aaron is deceptively fast, I thought I was a little bit slow in the first round, so after Aaron went in the jump-off we kicked it up," said Chapot. "Kate's stride has really gotten longer which is a major advantage for us now."
Chapot and Thornhill Kate followed, knowing that they would have to be both fault-free and quick to edge out Vale. They dug in and strategically executed each turn, and galloped to the final line as the crowd cheered them to the finish. They stopped the clock in 45.50, just two tenths of a second quicker than Vale to claim the blue ribbon.
"I'll be riding Kate in the Million on Sunday," said Chapot. "I'm excited to give her a chance this weekend. Originally I hadn't thought about taking her, but she's been so good and definitely earned her entry fee today, so we will give it a shot."
Third place went to Arturo Parada of Zapopen Jal, Mexico, piloting his own Tarzan D'Ivraie. They turned in the quickest of the four-fault rounds in 46.78.
Wellington, Florida equestrian, Lauren Tisbo reined in fourth place aboard Mr Visto, owned by Tequestrian Farms, LLC. They etched their name on the leaderboard with a 47.43-second round with four faults.
Rounding out the top five was Venezuelan equestrian Pablo Barrios, riding out of Wellington, Florida, and Charity 33. A clear jump-off round was on the horizon for Barrios and his mount, but a rail at the final fence thwarted their plan as they crossed the timers in 48.41 with four faults.
---
Source: Press release from the HITS Media Team // Picture © ESI Photography