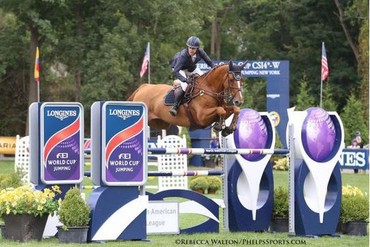 Laura Kraut and Andretti S. Photo (c) Rebecca Walton/Phelps Media Group.
After a successful season in 2014, Andretti S had some time off, which resulted in a few setbacks, but Saturday he proved he is back in top form. Laura Kraut piloted the 10-year-old gelding to the quickest clear jump-off, setting a blistering pace to beat out Ireland's Paul O'Shea aboard Skara Glen's Machu Picchu and Colombia's Roberto Teran with Woklahoma in the $85,000 Fidelity® Investments Classic at the American Gold Cup.

Only 11 of the 48 entries were able to master Alan Wade's first round track on the Old Salem Farm Grand Prix Field, which featured a technical triple combination at the end of the course. Kraut set the initial pace to beat with her first mount Constable II, owned by Cherry Knoll Farm, crossing the finish line in a clear 39.73 seconds, but that would only hold up for sixth place as the slowest of the clears.

Molly Ashe-Cawley on Louisburg Farm's Balous Day Date and Mario Deslauriers on Karen Polle's Global van T Braunerthof were each able to clear the jump-off course in times of 39.57 seconds and 38.34 seconds to finish fifth and fourth, respectively.

O'Shea was the first rider to break the 37 second mark, laying on the gas with Skara Glen's Machu Picchu and cruising to a faultless time of 36.58 seconds to take the initial lead.

Kraut was warming up on Andretti, owned by Star and Stripes, and did not get to see O'Shea's round, but when she heard his time she knew she would need to go as fast as possible. Luckily, Andretti S was up to the challenge, dashing over each obstacle to break the beam at 35.22 seconds, taking over the lead and relegating O'Shea to second. The only other rider to cross the timers in less than 37 seconds was Teran with Woklahma, but they would settle for third in a clear 36.72 seconds, while Kraut led the lap of honor.

"I didn't see Paul's round at all; I only heard his time, which was really, really fast compared to my time on my first horse," admitted Kraut. "I was always going to go in and go as fast as I could. I thought I had an uncomfortably fast gallop to the second jump. All the turns worked, and it was his day."

Andretti S was very successful last fall, which led Kraut to give the talented chestnut gelding two months off, but when it was time for his return there were a few snags in the road. "He had a breathing issue, partial paralysis of his larynx, that had to get operated on," explained Kraut. "That took a month and a half, then he had a bruised heel that took a while to resolve. Finally, in July, he started to get back with some form of consistency."

Kraut is thrilled to have Andretti S back on form and believes he is a crucial addition to her string. "The horse can jump anything; he's got all the scope," she noted. "He's a little bit of a quirky horse, so it's taking him longer. He missed half he year, so I'm playing catch-up with him. Right now he feels like he did when he finished last year, so if he keeps developing like this, I think he can jump anything."

Richie Moloney and Alsvid Score $35,000 Hermès Sellier Speed Derby Win

Earlier in the day, the athletes made full use of the large Grand Prix Field when they galloped over the hills and up the bank during the $35,000 Hermès Sellier Speed Derby. Roberto Teran was once again one of the fastest of the day, going second in the order and setting time to beat at 78.76 seconds on Ark Partners' Farina. Ireland's Lorcan Gallagher came very close when he cleared the course on Alexander Devries' Esquina van Kalpscheut, and stopped the clock at 78.82 seconds.

The winning time would come from one of the last to show though. Richie Moloney and Equinimity LLC's Alsvid had a huge gallop throughout the course. They soared over the final oxer and tripped the timers at 76.61 seconds to take home the victory by two seconds, while Teran and Gallagher settled for second and third, respectively.

"My plan was to just be as quick as I could really and try to get the turns as smooth as I could," said Moloney. "I was pretty quick everywhere, but I slowed down towars the end a tiny bit just to make sure I left the last one up." Moloney concluded, "I've been riding Alsvid for over four years, and he always gets results - every show he goes to just about. He's a great horse; he can do everything."


RESULTS: Saturday, Sepetember 12, 2015

$85,000 Fidelity® Investments Classic
1. 290 Andretti S Kraut, Laura USA 28050.00 US 0 penalties 35.22 sec
chest 10y.G /Corland/Animo/KWPN/103WG35/ Stars and Stripes USA jump-off
2. 430 Skara Glen's Machu Picchu O'Shea, Paul IRL 17000.00 US 0 penalties 36.58 sec bay 8y.G /Silverstone VDL/Matterhorn/KWPN/104OE14/ Skara Glen Stables, Whipstick IRL jump-off
3. 475 Woklahoma Teran, Roberto COL 12750.00 US 0 penalties 36.72 sec
bay 12y.M /Sheraton/Calvados/KWPN/102ZG74/ Ark Partners Llc COL jump-off
4. 689 Global van T Braunerthof Deslauriers, Mario USA 8500.00 USD 0 penalties 38.34 sec chest 9y.G /Vigo d'Arsouilles/Landetto/BWP/103OK48/ Karen Polle USA jump-off
5. 205 Balous Day Date Ashe-Cawley, Molly USA 5100.00 USD 0 penalties 39.57 sec black 10y.M /Balou du Rover/Domino/OLDBG/103RB34/ Louisburg Farm USA jump-off
6. 291 Constable II Kraut, Laura USA 3825.00 USD 0 penalties 39.73 sec
chest 8y.G /Harley VDL/Lupicor/KWPN/103ZB45/ Cherry Knoll Farm USA jump-off
7. 678 Indigo Engle, Margie USA 2550.00 USD 4 penalties 37.30 sec
grey 15y.S /Indoctro/102VB74/ Gladewinds Farm Inc Elm Rock jump-off
8. 141 Hitchcock vd Broekkant Oken, Alise USA 2125.00 USD 4 penalties 41.20 sec 8y.G /Canturo/Heartbreaker/BWP/103NS58/ Hi Hopes Farm, Llc USA jump-off
9. 377 Cassinja S Jacobs, Charlie USA 1700.00 USD 8 penalties 39.16 sec
bay 9y.M /Carinjo/Cassini I/ZWEIB/103TL23/ Cmj Sporthorse, Llc USA jump-off
10. 830 Helios Sternlicht, Adrienne USA 1700.00 USD 8 penalties 40.23 sec
bay 8y.S /Couleur Rubin/Grandeur/BWP/104KQ87/ Michael Whitaker USA jump-off
11. 300 Hh Ciske van Overis Mcalary, Maggie USA 850.00 USD 8 penalties 40.75 sec bay 13y.M /Celano/Darco/BWP/102UA44/ Double H Farm USA jump-off
12. 272 Rubens LS la Silla Mannix, Vanessa CAN 850.00 USD 1 penalty 83.95 sec chest 9y.S /Rebozo LS la Silla/Cash/SLS/104AO57/ Vanessa Mannix CAN round 1

$35,000 Hermès Sellier Speed Derby
1. 421 Alsvid Moloney, Richie IRL 11550.00 US 76.61 seconds
black 14y.G /Escudo I/Azur/HANN/102PL65/ Equinimity Llc IRL
2. 476 Farina Teran, Roberto COL 7000.00 USD 78.76 seconds
bay 9y.M /Marome/Orville/AES/103VP17/ Ark Partners Llc COL
3. 117 Esquina van Klapscheut Gallagher, Lorcan IRL 5250.00 USD 78.82 seconds bay 11y.M /Thunder van de Zuuthoeve/Ahorn Z/BWP/103LX69/ Alexander Devries IRL
4. 133 Capall Zidane McGuigan, Ronan IRL 3500.00 USD 78.85 seconds (74.85) bay 11y.G /Concorde/Baloubet du Rouet/KWPN/103VP94/ Mr Ronan Peter Mc Guigan IRL
5. 702 Cosma Mcardle, Abigail USA 2100.00 USD 79.37 seconds (75.37)
dches 12y.M /Couleur Rubin/Stakkato/HANN/102RV57/ David Mc Ardle USA
6. 420 Carneyhaugh Manx Lutz, Peter USA 1575.00 USD 81.00 seconds
chest 10y.G /VDL Douglas/Hampton Clover/103UR37/ Katherine Gallagher Davenport
7. 728 Verdi Rodriguez, Andres VEN 1050.00 USD 81.25 seconds (77.25)
bay 13y.G /Andiamo/Libero H/SCSL/102LX52/ Midas Business Group S.A. VEN
8. 703 Harriri Mcardle, Abigail USA 875.00 USD 81.54 seconds
chest 8y.M /Nabab de Reve/Darco/BWP/104VT92/ Plain Bay Sales USA
9. 853 Farfelu du Printemps Henselwood, Jill CAN 700.00 USD 82.01 seconds
bay 10y.G /Action Breaker/Darco/BWP/103MK42/ John Madigan CAN
10. 453 Luxina Hughes, Michael USA 700.00 USD 82.97 seconds (78.97)
bay 11y.M /Lux/Ahorn/KWPN/103WB13/ Christina Fried USA
11. 598 Central Park Flores, Vasco PUR 350.00 USD 83.54 seconds (79.54)
chest 8y.G /Perigueux/For Feeling/HANN/104BG56/ Gotham Enterprizes, Llc PUR
12. 362 Boemerang Van Generhese Garza, Eugenio MEX 350.00 USD 84.94 seconds (80.94) bay G /Moujik De Sohan/Isabelle/SBS/103SF42/ El Milagro El Milagro

Source: Press release from Rebecca Walton for Phelps Media Group, Inc. International.