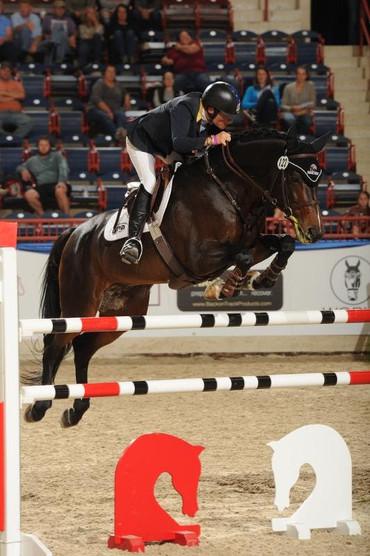 Leslie Burr-Howard and Quadam © Al Cook
Less than a blink of an eye separated the top two in the $40,000 Pennsylvania "Big Jump", sponsored by Wilmington Trust - A Division of M & T Bank. Leslie Burr-Howard of Darien, CT, and Quadam, owned by Laure Sudreau, triumphed over Irish rider Daniel Coyle and Ridley, owned by Susan Grange, by 1/100th of a second in the first of three FEI events to be featured at the Pennsylvania National Horse Show, presented by The Lindsay Maxwell Charitable Fund.
"It doesn't get any closer than that, it was very exciting!" said Burr-Howard. "The horse is lovely. He's won a couple of grand prix classes now this year and I have only been riding him for six months. I'm thrilled."
The number 100 held more than one special meaning to Burr-Howard on Thursday evening; it was also the 100th birthday of her mother, Billie Burr. "My mom is 100 years old today and she is watching, so this will be a good birthday present for her," said Burr-Howard. "It's very special. We will have a big party on Sunday when I get home."
Although 11 entries went clear in the first round, only ten elected to come back a second time for the jump-off, local rider Callan Solem chose not to take VDL Wizard back into the ring. Andrew Kocher had the first double clear on Le Conte with a time of 37.81 seconds. Beezie Madden and Coach had the next double clear three seconds faster in 34.77. Burr-Howard and Quadam shaved off a bit more to finish in 33.09 seconds with half the field left to go on the Bernardo Cabral-designed course. Irish Olympic veteran Kevin Babington had 12 faults on his first mount, Mark Q, but fared better with Shorapur going double clear in 34.63 seconds for third place.
It was not Daniel Coyle's day. He qualified two for the jump-off, but his first mount, Fortis Fortuna, lost a shoe so he jumped Ridley first. Going seventh in the order, they were the first pair to take a short cut from the fourth fence to the combination, but still finished slower than Burr-Howard stopping the clock in 33.10 seconds. Coyle went last in the jump-off with his other mount and chose the same short path, this time much faster. He and Fortis Fortuna were on track to win the class finishing in 31.54 seconds, but they knocked down the last rail.
"I am devastated," said Coyle. "I knew exactly what I had to do and the mare jumped brilliantly, but we were just unlucky to have the last jump. Another day."
Burr-Howard almost took the same track as Coyle, but stuck to her original plan. "I just carried a nice round tempo the whole way," said Burr-Howard. "The last horse did that inside turn, which I did look at but then I didn't think I had to do that to win because I didn't think he was going to try it to win and then he did try it, but had the rail down. He got unlucky and I got lucky."
Burr-Howard hopes to continue her winning ways in the marquee event, the $100,000 Grand Prix de Penn National, on Saturday. She is the defending champion and will be riding Gentille Van Spieveld, owned by GJ Stable, the same horse that she won with in 2015.
---
Source: Press release from Classic Communications for Pennsylvania National Horse Show // Picture © Al Cook