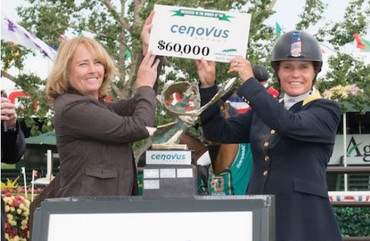 Leslie Howard accepts her winning prize from Sheila McIntosh, Executive Vice President, Environment & Corporate Affairs, Cenovus. Photos © Spruce Meadows Media Services.
Spruce Meadows hosted the final day of competition in its 'North American' Tournament CSI 5* on Sunday with a win for USA's Leslie Howard and Lennox Lewis 2 in the $210,000 Cenovus Energy Classic Derby.

Howard and 16-year-old Lennox Lewis 2 (an Oldenburg gelding by Loreatus x Weizenkorn) have been together for tens years, so the pair definitely had experience on their side on Sunday. They also won the same competition in 2009 and have two wins in the $210,000 CNOOC Nexen Cup Derby from 2011 and 2013.

Venezuela's Leopoldo Palacios designed the derby course for Spruce Meadows eight years ago with a demanding 19 numbered obstacles and 25 jumping efforts. It is an incredible test of endurance and stamina for both horse and rider, including double liverpools, a table bank, a 26-foot, steep derby bank, and the Devil's Dyke.

The course is the same for every derby competition and has only seen three clear entries out 199 starters since it was first set in 2007. Beezie Madden (USA) cleared the course twice aboard Judgement, the first year in 2007 and again in 2008. Pablo Barrios (VEN) went without fault in 2010 with G&C Sinatra. As is often the case, no one was able to jump a clear round on Sunday. There were four entries that finished on just four faults, however, and a jump-off was held to break their tie.

Ben Asselin (CAN) and Linda Southern-Heathcott's Doremi were first to jump-off, with one rail down in 45.58 seconds, putting the pair in fourth place. Lisa Carlsen (CAN) and Alycia Hayes' World's Judgement were next to go, with a clear round in 36.86 seconds that landed the duo in second. Howard and Lennox Lewis 2 followed, with the fastest clear round in 36.63 seconds to take the win. Last to go, Richard Spooner (USA) and Show Jumping Syndication Intl's Cristallo had a rail down in 40.55 seconds to place third.

As Howard detailed, her horse has jumped the derby course so many times that he could probably do it in his sleep at this point. "The first derby earlier this summer, he was actually going very well and I got to the top of the bank and started daydreaming," Howard laughed. "I said to myself, 'I wonder how many times we have come down this bank?' I was just so nonchalant, he just came to a complete halt at the bottom of the bank because I did not even tell him that he was supposed to continue on."

One of Lennox Lewis 2's strong suits is jumping the Devil's Dyke (or grob), which causes problems for many other horses. "In all the derbies I have ever shown him in, win, lose or draw, he has only ever had a rail once in the grob," Howard detailed. "The water jump he is a little lackadaisical. I have to practice the water a lot because he would rather canter through it or maybe stop and take a drink than actually jump it. That is actually my biggest concern. If you were watching, everybody did seven strides to the water and I actually did eight because I really wanted to get him back on his hind end and just blast him at it as hard as I could. I was hoping that momentum would carry me past the tape and it worked out."

In addition to her four wins with Lennox Lewis 2, Howard has two other derby victories with two different horses at Spruce Meadows. "The key is just to have a good horse, and it is really that simple," she noted. "There are not a lot of horses that you would show in a derby, but the ones that do it well can do it with their eyes closed. I have had three or four now that are just really good at it."

"They cannot be a cold horse because they run out of gas," Howard continued. "First of all, they have to have blood and second of all, they have to be very brave with a great, calm mind. My younger horse today (Moondoggie) exerted all of his energy at the beginning of the course. I came around the corner to the last two jumps and he just ran out of gas. He had tried too hard at the beginning of the course, whereas Lenny just comes in and says, 'Oh, we're back in the derby and here we go.'"

Lennox Lewis 2 had a break from competing at the top level and showed instead with an amateur rider last year. "Since I got him back this May, I think he is actually fresher than he was two years ago," Howard noted. "He had done a lot at the top level and dropping down to the 1.35m and 1.40m I think gave his body a bit of a break. I do feel he is as fresh as he has ever been."

"He is also an extremely sound horse," Howard added. "I have been doing this for about 50 years now and I have never had a horse as sound as Lennox Lewis. He has never missed a show. We bought him as a six-year-old and he is 16 now. His legs never fill up. He never limps. If you go back to the barns right now, other horses might be resting a leg or feeling a little tired. He will be standing there, I promise, four on the floor, eyes pricked, begging for food. He is just an extremely athletic, sound horse."

Second place finisher, Lisa Carlsen, has a horse with great lineage for the derbies and explained how she has improved with World's Judgement in the four derbies that the pair has jumped. The mare is by Judgement, the stallion that jumped two of only three clear rounds on the course with rider Beezie Madden.

"As Leslie said, they have to be blood horses and brave, and that she is," Carlsen stated. "She is a unique horse. I cannot warm her up, so I only get on her about two horses away from my round. Her warm up is on a lunge line up top where she can settle. I just get on and canter two laps and walk in. By the end of the course, I might have more rails than the beginning because she starts to get her blood up too much, but she is getting better every time I go to the ring."

Course designer Leopoldo Palacios explained that endurance is very important to success in the derby and that you not only need a good horse, but a good rider. "For many years I have seen this derby and Leslie can say that you need a good horse, but you need to be a good rider too," Palacios remarked. "For jumping derbies, the rider needs to administrate the energy of the horse, and she really does that. From the very beginning, Leslie is very soft, she is very light in the saddle the whole time, and at the end she still has enough horse. A lot of riders start fighting at the beginning, and then at the end they do not have enough horse. In the derbies, the endurance is very important. I need to congratulate these riders for doing it well. They are good riders and they know how to do it right."
Final Results: $210,000 Cenovus Energy Classic Derby 1.50m
1. $60,000 LENNOX LEWIS 2 Oldenburg / G / 16 Loreatus x Weizenkorn LESLIE HOWARD (USA) DARIEN, CT Peter and Leslie Howard: 4/0/36.63
2. $30,000 WORLDS JUDGEMENT Dutch Warmblood / M / 12 Judgement x Farmer LISA CARLSEN (CAN) OKOTOKS, AB Alycia Hayes: 4/0/36.86
3. $20,000 CRISTALLO Holstein / G / 17 Caretino x Cicero RICHARD SPOONER (USA) AGUA DULCE, CA Show Jumping Syndication Intl: 4/4/40.55
4. $15,000 DOREMI Belgian Warmblood / S / 12 Quidam de Revel x Cento BEN ASSELIN (CAN) CALGARY, AB Linda Southern-Heathcott: 4/4/45.58
5. $10,000 VASCO Dutch Warmblood / G / 13 Andiamo x Clinton ADAM PRUDENT (FRA) WELLINGTON, FL Adam Prudent: 8/132.25
6. $5,000 VERDI Warmblood / G / 13 Andiamo x Libero H ANDRES RODRIGUEZ (VEN) WELLINGTON, FL Midas Business Group SA: 8/133.34
7. $5,000 MOONDOGGIE Holstein / G / 10 Lord Continuet x South Pacific LESLIE HOWARD (USA) DARIEN, CT Peter and Leslie Howard: 8/139.11
8. $5,000 EREGAST VANT KIEZELHOF Belgian Warmblood / G / 11 Thunder van de Zuuthoeve x Latano SHANE SWEETNAM (IRL) WELLINGTON, FL Spy Coast Farm, LLC: 8/144.60
9. $5,000 RETIRO Warmblood / G / 10 Rockfeller Z x Play Boy MCLAIN WARD (USA) BREWSTER, NY Susan Heller & McLain Ward: 8/146.53
10. $5,000 EASY CONTACT HUMLAN Swedish Warmblood / G / 12 Unknown x Unknown SHANE SWEETNAM (IRL) WELLINGTON, FL Sweet Oak Farm: 12/136.84
11. $5,000 ELVIS VAN DE VRUNTE Belgian Warmblood / G / 11 Oleander Van De Herkkant x Altisud FRANCOIS MATHY (BEL) BELGIUM Francois Mathy: 12/144.02
12. $5,000 NOKIA DE BREKKA Selle Francais / G / 14 Quick Star x Apache D Adriers EMANUEL ANDRADE (VEN) WELLINGTON, FL Emanuel Andrade: 12/145.63

Source: Press release from Jennifer Wood Media Inc.