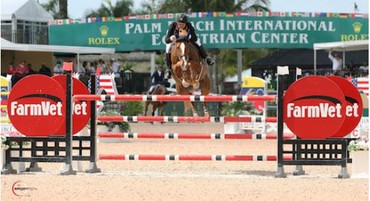 Lisa Goldman and Morocco. Photo (c) Sportfot.
The 2015 Winter Equestrian Festival (WEF) began its tenth week of competition at the Palm Beach International Equestrian Center (PBIEC) on Wednesday with a win for Lisa Goldman (USA) and Morocco in the $34,000 1.45m FEI speed class. In a field of 70 competitors, the pair led a blazing fast line-up of Irishmen in the top four, finishing ahead of Shane Sweetnam (2nd), Cian O'Connor (3rd) and Ronan McGuigan (4th).

WEF 10, sponsored by Horseware Ireland, runs March 11-15. The highlight event of the week is the $127,000 Horseware Ireland Grand Prix CSI 3* on Saturday, March 14. Other features include the $34,000 Ruby et Violette WEF Challenge Cup Round 10 on Thursday, the $34,000 1.45m FEI world ranking class on Friday, and the $34,000 Suncast® 1.50m Championship Jumper Classic on Sunday.

Michel Vaillancourt (USA) is the course designer in the International Arena for week 10. Out of 70 starters, Vaillancourt saw 20 clear rounds over his 1.45m speed track. Goldman and Morocco were the winners in 63.70 seconds. The pair pushed Shane Sweetnam and Spy Coast Farm LLC's Cyklon 1083 out of their early lead in 65.10 seconds. Cian O'Connor and Stall Gullik's Zazou finished third in 65.12 seconds, and Ronan McGuigan and Capall Zidane completed the fourth best time of 67.29 seconds.

Goldman and the 12-year-old American-bred Oldenburg/Thoroughbred gelding (by Roc USA) have been partners since Morocco was four years old. The pair already earned an international win this season in week eight's $10,000 Wellington Equestrian Realty CSIO Speed Stake. They proved themselves once again by beating some of the fastest horses and riders in Wednesday's bunch.

"I didn't watch Shane go, which is probably a good thing. Then you worry about going as fast as somebody else and where you can beat them," Goldman remarked. "He (Morocco) is just so fast across the ground. He got last week off, so he really had a lot of energy today. He is just so incredible. He loves his job so much."

A fiery character in and out of the ring, Morocco's antics don't bother Goldman. She explained that as soon as he is on course, he puts his game face on. "There is a lot of compromise that happens with him. If he starts bucking and going sideways you almost have to let him do it because he gets worse if you try to stop him. Once he gets in the ring, he is all about his job," she detailed. "Once I am going to that first jump, I never worry."

"Sometimes he comes out like a western pleasure horse at home," Goldman laughed. "He either comes out really slow and just bobs around, or he is crazy, but he is almost always crazy."

Goldman thanked sponsors Samshield and CWD, along with her mom (Mary Goldman) and Morocco's breeder, Nancy Whitehead. "Morocco is one in a million," Goldman stated. "He is probably my favorite. It is hard to say that over my other horse (Centurion B). I have my two boys and they are both so good, but this one is my pet. He is like a dog. You turn him out with one of those big balls and he plays all the time. He is so fun."

Also showing on Wednesday, the $6,000 Spy Coast Farm 1.40m speed class was held in a California Split with wins for Hardin Towell (USA) and Jennifer Gates' Emilie de Diamant A S in Section A and Mark Bluman (COL) aboard Stranksy's Mission Farms' Liverpool in Section B. The $6,000 Spy Coast Farm 1.40m jump-off class concluded the day with a win for Alison Robitaille and Hooves LLC's Sensation 21.

WEF 10 continues on Thursday, featuring the $34,000 Ruby et Violette WEF Challenge Cup Round 10 in the International Arena at PBIEC. The Shapley's Grooming Products Regular Conformation Hunters will award championship honors in the E.R. Mische Grand Hunter Ring. For full results and more information, please visit www.pbiec.com.

Final Results: $34,000 1.45m Speed

1. MOROCCO: 2003 Oldenburg/Thoroughbred gelding by Roc USA x Unknown LISA GOLDMAN (USA), Lisa Goldman: 0/63.70
2. CYKLON 1083: 2001 Swedish Warmblood stallion by Cardento x Cortus SHANE SWEETNAM (IRL), Spy Coast Farm LLC: 0/65.10
3. ZAZOU: 2005 KWPN gelding by Furore x Zuidhorn CIAN O'CONNOR (IRL), Stall Gullik: 0/65.12
4. CAPALL ZIDANE: 2004 KWPN gelding by Concorde x Baloubet du Rouet RONAN MCGUIGAN (IRL), Ronan McGuigan: 0/67.29
5. DOOLEY'S DELUXE: 2004 Sachsen Anhaltiner gelding by Dinglinger x Lesotho VANESSA MANNIX (CAN), Vanessa Mannix: 0/67.73
6. HH LET'S FLY: 1999 Hanoverian gelding by Lordanos x Forrest RODRIGO PESSOA (BRA), Rodrigo Pessoa: 0/67.76
7. FARINA: 2006 AES mare by Marome x Orville ROBERTO TERAN, JR. (COL), ARK Partners LLC: 0/67.87
8. TEMASCALTEPEC: 2007 Mexican Sport Horse mare by Balou du Rovet x Bachus NICOLAS PIZARRO (MEX), Armando Torrado: 0/68.94
9. G&C CLOSE UP: 2007 KWPN gelding by Eurocommerce Washington x Cobra LUIS LARRAZABAL (VEN), San Francisco Stables LLC: 0/69.96
10. ARKOS DES ROSIERS Z: 2005 Zangersheide gelding by Air Jordan Z x Baloubet du Rouet ROBERTO TERAN, JR. (COL), ARK Partners LLC: 0/70.46
11. UNICO: 2001 KWPN gelding by Odermus R x Wuzo SPENCER BRITTAN (USA), Stransky's Mission Farms, Inc: 0/72.88
12. VICTORY DA: 1998 Belgian Warmblood mare by Clinton x Attach Z AUDREY COULTER (USA), Copernicus Stables, LLC: 0/73.01

Source: Press release from Jennifer Wood Media Inc.