The 'Pan American' Tournament CSI5*, presented by Rolex, concluded on Sunday at Spruce Meadows with wins for two 16-year-old riders from the United States. Lucy Deslauriers took victory in the Friends of the Meadows Cup 1.50m aboard Hester, and Mckayla Langmeier emerged victorious in the West Canadian Cup 1.45m riding Classic Care.

Ireland's Alan Wade was the international course designer in the Meadows on the Green for this week's Pan American competition. Wade concluded the week's events on Sunday with the Friends of the Meadows 1.50m, which saw Lucy Deslauriers carry on a family legacy with her first international victory at Spruce Meadows. Her father Mario, and her mother, Lisa, have both been international winners at the world-class venue.

For her win, the young Deslauriers guided Hester to victory in a ten-horse jump-off out of 39 original starters. In the tiebreaker, only three were able to clear the short course without fault. Kara Chad (CAN) and Gin Tonic, owned by Torrey Pines and Artisan Farms, set the pace in 48.50 seconds to eventually finish third. Nayel Nassar (EGY) and his own Lordan upped the ante in 45.01 seconds, but later settled for second place. Last to go double clear, Deslauriers and Hester shaved the time down to 43.12 seconds for the win.

Commenting on the momentous victory in her developing career, Deslauriers smiled, "It is incredible. It is an honor and a privilege not only to come out with a win, but even just to compete with all of these incredible riders. I have been coming to Spruce Meadows for a very long time watching these big competitions, so to be in it to win it thanks to my horse is obviously amazing."

Hester, an 11-year-old Belgian Warmblood gelding (Wandor Van De Mispelaere x Palestro vd Begijnakker) owned by Lisa Deslauriers, has moved up the levels right with his rider. "I started riding him towards the beginning of his eight-year-old year, so was have kind of grown together," she said of their connection. "My biggest classes are his biggest classes, so we are really in it together. I have 100% trust in him, and I think he responds equally, so it is really a great partnership. It makes stepping up a whole lot easier." That great relationship helped in Sunday's jump-off, as Deslauriers pulled out all of the stops on the short course.

"I watched one round and I just heard that they kept getting faster and faster, so I knew that I just really had to go for it, and not slow down anywhere," Deslauriers explained. "To the third jump, I took a little bit of a flier for sure. I think there were a few gasps in the audience, but I trust my horse and he was willing, so it is all thanks to him."
Mckayla Langmeier wins West Canadian Cup 1.45m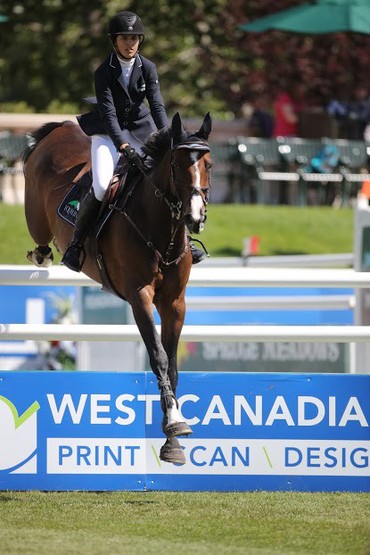 McKayla Langmeier and Classic Care. Photo (c) Spruce Meadows Media Services.
Prior to Deslauriers' win in the 1.50m, 16-year-old Mckayla Langmeier (USA) also took home an exciting international victory in the West Canadian Cup 1.45m. The competition began with 68 competitors over Alan Wade's (IRL) first round course, with 20 advancing to the jump-off, and another 11 clear rounds over the short course.

Langmeier rode Classic Care to victory in the tiebreaker with a time of 39.76 seconds. Mario Deslauriers (USA) and Wishing Well Farm's Cherrypop finished second in 39.89 seconds. Jonathan McCrea (USA) and Candy Tribble's Special Lux placed third in 39.90 seconds, and Leslie Howard (USA) guided Peter Howard's Donna Speciale to fourth place honors in 40.14 seconds. Richie Moloney (IRL) took fifth place aboard Equinimity LLC's Ypaja Yando in 40.35 seconds, and Howard also took sixth place riding the Utah Group's Utah through the timers in 40.45 seconds.

Winning horse, Classic Care, is a 13-year-old Holsteiner mare (Caretino x Accord II) owned by Langmeier's mother, Linda. Along with help from her mom, Langmeier also jumped to victory on Sunday with the help of trainer Darrin Dlin.

Commenting on the accomplishment, the young rider stated, "It is my first FEI win, so there are no words that can describe how amazing it is. To have my first win at Spruce Meadows in the 1.45m is amazing." Classic Care is a mare that Langmeier has had for four years. The pair jumped on a team at the North American Young Rider Championships in 2014 and have since moved up to the higher levels. "She is a very special horse to me. I have grown up with her doing the bigger classes," Langmeier noted.

Speaking of Sunday's competition, the rider detailed, "I briefly walked the course in the morning because I had to go over to do the 1.35m, so we watched a few. It looked like a really nice, inviting course. It was not too scary anywhere, but it was also challenging enough. In the jump-off, my plan was just to go double clear and fast." Langmeier jumped about midway through a 20-horse jump-off, so the rest was just a waiting game to see if anyone could catch her. "I have a thing where if I am doing well, I do not watch the rest of the competition, but obviously I can hear the announcer sometimes," she remarked. "I was mostly back with my horse just waiting."

With an international win under her belt, Langmeier looks forward to returning to compete at Spruce Meadows again next summer.

The Spruce Meadows Summer Series continues with one more week of competition featuring the 'North American' Tournament CSI5*, presented by Rolex, on July 6-10.
---

Source: Press release from Spruce Meadows // Photo (c) Spruce Meadows Media Services.