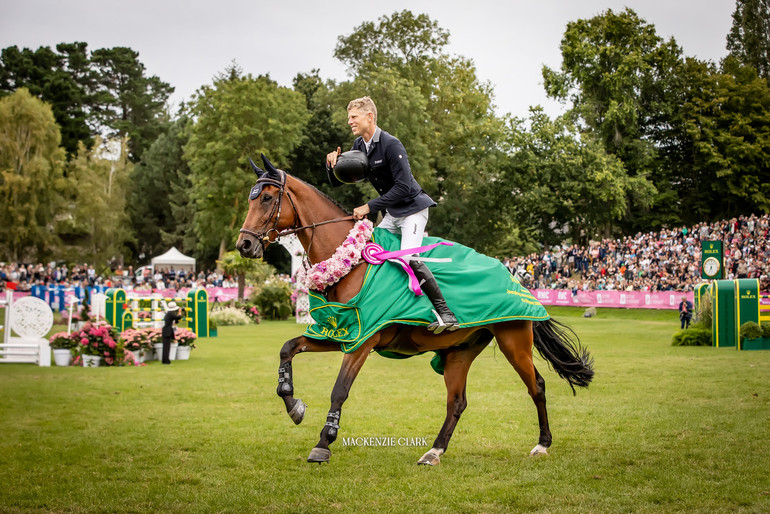 Max Kühner and Elektric Blue P, winners of the 2023 Rolex Grand Prix Ville de Dinard. Photo © Mackenzie Clark.
Edited press release from Jumping International Dinard
---
A legendary venue with dazzling decorations, organized by the Mars-family together with generous and faithful partners, with a dream start list, great sport and a big, enthusiastic, crowd: The 10th edition of Jumping International de Dinard lived up to all expectations and concluded with the Rolex Grand Prix Ville de Dinard, won by the Austrian rider Max Kühner and Elektric Blue P (Eldorado vd Zeshoek x For Pleasure) after a thrilling jump-off.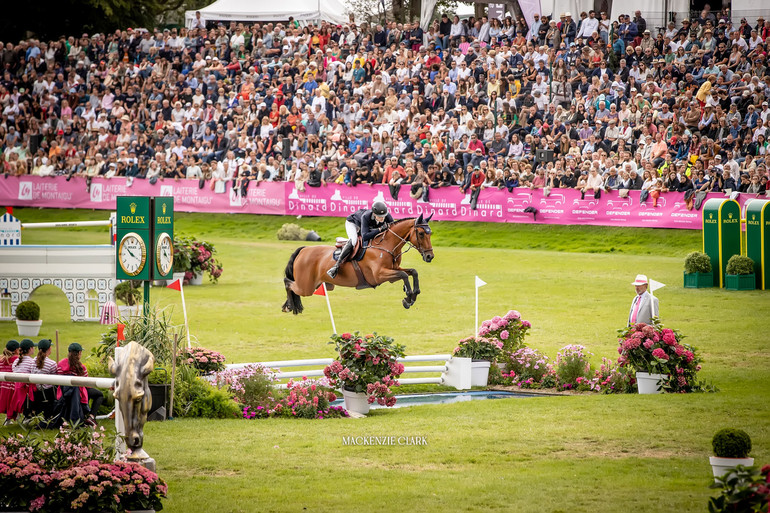 "This is my second victory in a Rolex Grand Prix, but the first in Dinard," Kühner said. Photo © Mackenzie Clark.
From the fourty couples on the start list, a total of 15 managed to cross the finish line without penalties in round one, and met again for the jump-off in the CSI5* 1.60m €500,000 Rolex Grand Prix.
Following Rodrigo Pessoa (BRA) and Major Tom's (Vagabond de la Pomme x Heartbreaker) opening clear in the jump-off, Ireland's Shane Sweetnam (IRL) and James Kann Cruz (Kannan x Cruising) immediately responded – shaving almost two seconds off on Pessoa's time and taking the lead with a time of 43.22. Despite the best efforts from the two-time title-holder Martin Fuchs (SUI) aboard Leone Jei (Baltic VDL x Corland), he slotted into second behind Sweetnam when the clocks stopped on 43.41. Although clear as well, Mégane Moissonnier (FRA) and Cordial (Casall x Chicago Z), Kevin Staut (FRA) and Beau de Laubry Z (FRA), Gregory Wathelet (BEL) and Bond Jamesbond de Hay (Diamant de Semilly x Kannan), Nicola Phillippaerts (BEL) and Katanga V/H Dingenshof (Cardento 933 x Tornesch FCS), Gilles Thomas (BEL) and Luna Van Het Dennehof (Prince van de Wolfsakker x Quidam de Revel) as well as Michael Pender (IRL) and HHS Los Angeles (Le Roi 10 x Cavaliere Royale) all failed to dethrone the Irishman.
It wasn't until Max Kühner and Elektric Blue P as the 12th pair in the jump-off took to the course that a new benchmark time – synonymous with victory for the Austrian – was set: 41.73. Kühner won this 2023-edition of the Rolex Grand Prix Ville de Dinard in style with his 12-year-old Electrik Blue P, ahead of Sweetnam in second and Fuchs in third, while Wathelet finished fourth and Philippaerts fifth.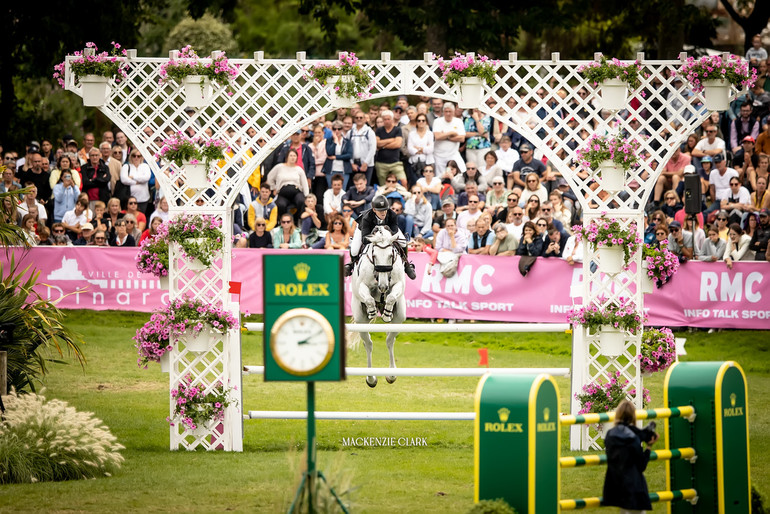 Shane Sweetnam and James Kann Cruz had to settle for the runner-up spot after a thrilling jump-off. Photo © Mackenzie Clark.
"This is my second victory in a Rolex Grand Prix, but the first in Dinard," Kühner said. "I met Elektric Blue when he was two-year old, saw him jumping free, and I fell in love with him at first sight and we've been together ever since. Austria has to qualify for the Olympic Games and I rode Elektric Blue in Riesenbeck last week and here this week, to get him in show condition, and now he's going to rest a bit before the European Championship. As for the ring, it all depends on the horse. If he likes grass, for me it's the best surface. At home, we have a grass arena to train."
"Last year I was over the time, so it's already better," second-placed Sweetnam said. "In terms of mental preparation before setting off on a jump-off, whether it's for the horse or the rider, everyone has their own strategies, but the most important thing is to stay focused before entering the arena and to be positive. I advise the younger generation to prepare themselves on grass tracks too, because to reach the highest level, they'll need to be competitive on all types of terrain."
"I did everything I could to win today for the third time in a row, especially as it's a Rolex competition and very well endowed, but Max was much faster today," third-placed Fuchs said. "Still, I'm very happy with 3rd place. Leone Jei will go on to Dublin and then Spruce Meadows, while Conner Jei will take part in his first European Championship."