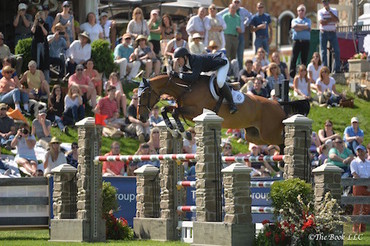 McLain Ward and HH Azur en route to victory in the Old Salem Farm Grand Prix. Photo (c) The Book LLC.
The first week of competition at The Old Salem Farm Spring Horse Shows wrapped on Sunday with Mclain Ward and Double H Farm's HH Azur besting 39 contenders in the $50,000 Old Salem Farm Grand Prix, presented by The Kincade Group.
The jump-off was not yet in Mclain Ward's future as he entered the ring to bat cleanup in the afternoon's featured class, but HH Azur had plans to change that. Clean, smooth and within the time allowed, the nine-year-old Belgian Warmblood mare carried Ward to the jump-off where they again returned last and scored the double-clear win in 34.096 seconds.
Georgina Bloomberg was second aboard Caleno 3 for Gotham Enterprizes, LLC in 34.365 seconds after giving the impressive crowd that lined The Grand Prix Field their third clear of the day in the original order. Third fell to Peter Leone and My Pleasure, LLC's My Pleasure who jumped first in both rounds and crossed the jump-off timers clear in 34.730 seconds.
Leslie Howard and Martin Guerra's Balboa 6 were fourth after securing a jump-off in the first round and finished with the fastest four-fault trip of the day in 37.051 seconds. Howard also piloted Genrille Van Spiedveld for GJ Stables & Peter Howard, marking her return to the grand prix on multiple mounts after undergoing hip surgery this winter.
Capping the top five, Devin Ryan piloted his own Cooper to an eight-fault jump-off performance in 34.151 seconds as the youngest horse in the field at eight years old.
Still a new mount for Ward, HH Azur is a promising one. "My reaction to how Azur jumps everyday is amazement," he said. "I probably don't often say it, but I am very lucky to have the horses I have and this one is something very special."
Ward actually sat on Azur as a five-year-old and decided not to buy the mare, but the opportunity came again at the end of last year. Ward jumped at the prospect and just several months later, he is confident the horse is destined for greatness. "I think this horse could win the Olympic Games," he said.
Michel Vaillancourt of Aiken, SC, set his final course of the week in the grand prix and saw five clear. "We had a fantastic week of weather and that makes my life so much easier," said Vaillancourt. "The field was in absolute perfect shape and I know there's another week coming up so, I wanted to leave it the same – I always keep that in mind when designing my tracks and jump-offs. Earlier in the week we had a fantastic welcome, great numbers, and the climax of it all was a super ride from Mclain."
While a true test, Ward was pleased with the course presented by Vaillancourt and admits his only goal was to stay out of Azur's way. "It was a really good course, and Michel is one of my favorites," said Ward. "He is always challenging while being fair. It's a National Grand Prix, so you have some developing horses. The hills, terrain and natural environment already takes a toll. For these young horses, it's a phenomenal stepping stone."
Next week, HH Azur will return to The Grand Prix Field with Ward in the irons and again challenge the big money in the $100,000 Empire State Grand Prix, presented by The Kincade Group. Ward's win tightened his grasp on the $20,000 Leading Jumper Rider Challenge, which he has led all week.
Source: Press release from Jennifer Wood Media, Inc.
Final Results: $50,000 Old Salem Farm Grand Prix, presented by The Kincade Group
1 HH AZUR MCLAIN WARD DOUBLE H FARM 0/0/34.096
2 CALENO 3 GEORGINA BLOOMBERG GOTHAM ENTERPRIZES, LLC 0/0/34.365
3 MY PLEASURE PETER LEONE MY PLEASURE, LLC 0/0/34.730
4 BALBOA 6 LESLIE HOWARD MARTIN GUERRA 0/4/37.051
5 COOPER DEVIN RYAN DEVIN RYAN 0/8/34.151
6 WHISTLER MOLLY ASHE LOUISBURG FARM 1/77.239
7 HH CARLOS Z MCLAIN WARD DOUBLE H FARM 4/72.297
8 FLAMING STAR CHARLES JACOBS CMJ SPORTHORSE, LLC 4/72.677
9 KARENINA THOMAS JOHN RUSSELL LILY HAHN 4/74.407
10 VANILLA BEEZIE MADDEN ABIGAIL WEXNER 4/76.370
11 TROYA RETIRO MCLAIN WARD SUSAN HELLER & MCLAIN WARD 4/76.410
12 WAYFARER PETER LEONE LIONSHARE FARM 4/76.849