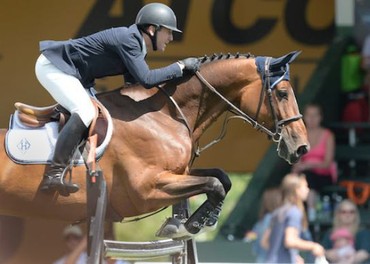 McLain Ward and HH Azur. Photo © Spruce Meadows Media Services.
The stars aligned for McLain Ward (USA) and HH Azur to earn a major victory in Saturday's $400,000 ATCO Power Queen Elizabeth II Cup at Spruce Meadows. There are not many major competitions left in the world that Ward has not won, but he will now have his name etched in history in one of the sport's most prestigious events aboard a rising young star.

For the momentous win, Ward topped a U.S. showdown over Olympic teammate Beezie Madden (USA) and her top mount, Cortes 'C'. Todd Minikus and Babalou 41 completed a U.S. trifecta in the top three as the nation celebrated its Independence Day. Earlier in the afternoon, Calgary's own Kara Chad won the $85,000 TD Cup aboard Star la Tuiliere.

Course designer Santiago Varela (ESP) set a difficult track for the competitors in Saturday's $400,000 ATCO Power Queen Elizabeth II Cup. The competition took place over two rounds with a jump-off if necessary. The first round was a speed round against the clock, which saw 49 entries in total. The top twelve competitors from the first round then returned for round two in reverse order of penalties. In the end, USA's Beezie Madden and McLain Ward were the only competitors able to jump clear in both rounds, necessitating a competitive jump-off to break their tie.

It was a storybook ending for Ward, who earned his first win in the prestigious competition with three perfect rounds to take home the winner's share of $132,000. Madden and Cortes 'C' had trouble in the jump-off and ended up retiring, but still took home a substantial $80,000 check for their second place finish.

"It means a lot," Ward said of his victory. "It is a competition that I have always really coveted and always wanted to win. I think I have come here with a lot of very good entries, including Sapphire, over the years and taken a good shot. I am very excited about this horse in my life, so to see her step up in her first major grand prix is great. It is an incredible horse."

It was a hard fought battle through three rounds of competition for Ward and HH Azur, and the nine-year-old Belgian Sport Horse mare (Thunder van de Zuuthoeve x Sir Lui) was the only horse to complete all three rounds and clear every obstacle.

"I do not think I have sat on a horse like this," Ward stated. "I knew she could do it well, but there were so many things that she had not seen – the bicycle jump, the Chinese wall, the double Liverpools. There were so many questions, and that is what makes her so unique; you put it in front of her and she answers the question every time. Every time we have stepped her up or set a benchmark, that is how she has responded."

HH Azur is a horse that is owned in partnership by Hunter Harrison 's Double H Farm and Francois Mathy. As Ward explained, a lot of things had to happen for him to get to where he is with the horse today. "You wonder in life if certain things are meant to be, because I probably did everything not to get this horse for a while and still ended up with her," he noted. "I had a great partnership with Hunter years ago and we reunited a couple years ago. He is an incredible man, and sort of a father figure in my life, and Francois Mathy even more so. He was my dad's partner for 30 years and I have worked with him since I was 17. He was a great rider, an Olympic medalist, a great horse dealer and horseman, and a real inspiration for me. He basically told us about this horse, and said he was 70 years old and he wanted to own a great horse in the sport and would sell us half. They own it together 50/50 and it is a pretty exciting situation."

Speaking about each round with HH Azur, Ward detailed, "I was actually really nervous for the competition because I think so highly of the horse. I did not want to let the horse down; I wanted it to go well. She felt like she cantered around the first round really easy. I thought it was a great course because in the first round you had a pretty wide level of competitors – you had the best in the world here and you had some people getting their feet wet at this level. Santiago did a beautiful job of weeding that out."

"The second round was big," Ward continued. "The double Liverpools are always a difficult test and I thought it was particularly short today with two verticals, but she handled it beautifully. Then I figured in the jump-off with just Beezie and I, I would take a shot. The worst I could be was second."

Madden has won the Queen Elizabeth II Cup on three separate occasions in 2005, 2006, and 2012, but she was still not going to let Ward have it without a fight. She went second in the jump-off, but retired on course after Cortes slipped and stopped out in the combination.

"I think I kind of matched McLain on fences one, two and three, and then I ended up going around the island. I did not get inside, so I got a little worried and then I went fast. I think I made up time from the wall to the oxer and could have slowed down a little bit, but honestly Cortes was a little into the game by then," Madden explained. "He kind of landed and turned, and then I saw the distance and I went to go for it and he slipped a little. In hindsight, obviously I should have taken a little more time there, but he was a little into the game and I was a little into the game. I thought it best just to go with it, but it did not work out. He still jumped amazing."

Despite trouble in the jump-off, Cortes 'C' jumped two fantastic rounds to make it that far and Madden was happy with her start to the day. "He felt amazing. I think every jump was just airy and confident. It might possibly be the best he has ever gone, and that is saying a lot," she remarked. "He has had some super results already, but I would say not one jump felt risky today."

Just one time fault in the second round kept Todd Minikus and Two Swans Farm's Babalou 41 out of the jump-off, but Minikus was thrilled with his horse's performance as well.

"I have been riding her since she came to the states as an extremely green five/six-year-old in the schooling jumpers and on, so it is very rewarding for me to get to this stage with her," Minikus acknowledged. "She is extremely green for this level of competition. The first week here we struggled a bit. The second week she was actually second to McLain in the grand prix. I am very proud of her and very thankful for Two Swans Farm for their support."

"I would also like to thank Spruce Meadows," Minikus added. "This is always such a special event, and everybody at Spruce Meadows does such a fantastic job that it is really a pleasure to compete here."

Kara Chad Tops $85,000 TD Cup

The $85,000 TD Cup 1.50m was held in a winning round format on Saturday with a big win for Canada's Kara Chad (19). Thirty entries jumped in round one, and course designer Santiago Varela saw nine clear rounds and one entry with a single time fault advance to round two for the top ten.

Kara Chad jumped to victory with the fastest of six clear trips over the second round course. She stopped the clock in a time of 45.55 seconds aboard Stone Ridge Farm's Star la Tuiliere. Rodrigo Lambre (BRA) finished second with Mario Onate's Charielle in 46.33 seconds. Pablo Barrios (VEN) placed third aboard ZL Group, Inc.'s Zara Leandra in a time of 47.96 seconds.

The win was Chad's first in Spruce Meadows' famous International Ring and a memorable moment in the young rider's career. "It is surreal," she stated after leading the round of honor. "My horse was so good to me. I had a few difficult distances, but she really showed herself and was able to perform for me out there. Coming out of the ring, I was ecstatic. Of course when you come out, you want to hold on to that lead and that is exactly what happened."

Chad got Star la Tuiliere, a nine-year-old Selle Francais mare (Dollar de la Pierre x Quick Star) in September of 2014. "She is a little fighter," the rider praised. "She is rather small, but she has all the jump and all the ability. We just moved up to our first 1.50m yesterday. She was incredible and showed so much talent, so then we decided to jump today because she is quite a quick horse and we thought she was good for the winning round. She is absolutely incredible."

When Chad says "we," she includes Eric Lamaze, who she and her sister, Bretton, began training with just before the start of the Summer Series. They previously rode with Susie Schroer and Dick Carvin for almost 12 years.

"I mean, it is Eric Lamaze, he is nothing but the best," Chad smiled. "He just puts more of a competitive edge on everything. He is such a great trainer and I am having such a great time with him, so big thanks to Eric!"

Chad's next stop is Europe, and she looks forward to diving into more international competition with a big win under her belt. "For sure this changes your perspective a little bit. When you see that you are able to do this, you become more competitive, and you come out of the ring wanting more," she admitted. "Going into Europe, that is exactly what I want to do."

Growing up in Calgary, Chad had quite the cheering section for Saturday's competition and received many congratulations after her win. "It is pretty incredible," she acknowledged. "The response from the riders is amazing and also the people from Spruce Meadows, for example Jon Garner (Competition Manager) and Ian Allison (Senior Vice-President Media). They were so ecstatic to see me out there and I got a big hug from both of them when I went out for the presentation. It is really nice to have a community to celebrate with."

The 'North American' Tournament concludes on Sunday with the $85,000 Enbridge Cup followed by the $210,000 Cenovus Energy Classic Derby. For a complete tournament schedule and full results, please visit www.sprucemeadows.com.

Final Results: $400,000 ATCO Power Queen Elizabeth II Cup 1.60m
1. $132,000 HH AZUR Belgian Sport Horse / M / 9 Thunder Van de Zwohoeve x Sir Lui MCLAIN WARD (USA) BREWSTER, NY Double H Farm & Francois Mathy: 0/81.69 0/76.89 0/39.52
2. $80,000 CORTES C Belgian Warmblood / G / 13 Randel Z x Darco BEEZIE MADDEN (USA) CAZENOVIA, NY Abigail Wexner: 0/79.40 0/76.03 Retired
3. $60,000 BABALOU 41 Oldenburg / M / 10 Balou de Rouet x Silvio I TODD MINIKUS (USA) LOXAHATCHEE, FL Two Swans Farm: 0/81.01 1/80.63
4. $40,000 JONKHEER Z Zangersheide / S / 13 Jetset D x Skippy II ERIC NAVET (FRA) ENCINITAS, CA Signe Ostby: 0/81.79 2/85.57
5. $20,000 QUINTOL Oldenburg / G / 10 Quintender x Cento EDUARDO MENEZES (BRA) CARLSBAD, CA Eduardo Menezes: 0/82.02 4/77.83
6. $15,000 CALVIN KLEIN Swedish Warmblood / G / 11 Cardento x Feliciano JONATHON MILLAR (CAN) PERTH, ON Millar Brooke Farm: 1/85.21 5/79.90
7. $10,000 H&M FOREVER D ARCO Belgian Warmblood / S / 10 Darco x Tenor Manciais NICOLA PHILIPPAERTS (BEL) GRUITRODE Ludo Philippaerts & Frans Lens: 0/80.38 8/77.17
8. 662 8 $8,000 DIXSON Belgian Warmblood / G / 12 Vigo D Arsouilles x Olisco IAN MILLAR (CAN) PERTH, ON Susan & Ariel Grange: 0/83.09 8/76.47
9. $7,000 COCO BONGO Rheinlander / S / 10 PRH Caretino x Calido ERIC LAMAZE (CAN) SCHOMBERG, ON Artisan Farms, LLC: 4/79.38 5/78.82
10. $6,000 CALENO 3 Warmblood / G / 11 Calido Assx Lancer II GEORGINA BLOOMBERG (USA) NEW YORK, NY Gotham Enterprizes, LLC: 4/80.60 8/76.19
11. $5,000 CORAL REEF FOLLOW ME II Westphalian / S / 10 For Pleasure x Sandro VINTON KARRASCH (USA) RANCHO SANTA MARGARITA, CA Coral Reef Ranch: 4/80.52 9/79.13
12. $4,000 HARDROCK Z Zangersheide / S / 12 Heartbreaker x Carthago Z EMANUEL ANDRADE (VEN) WELLINGTON, FL Emanuel Andrade: 1/86.96 14/98.29

Final Results: $85,000 TD Cup 1.50m
1. $28,050 STAR LA TUILIERE Selle Francais / M / 9 Dollar de la Pierre x Quick Star KARA CHAD (CAN) CALGARY, AB Stone Ridge: 0/0/45.55
2. $17,000 CHARIELLE Oldenburg / M / 9 Chacco Blue x Argentinus RODRIGO LAMBRE (BRA) MONTERREY Mario Onate: 0/0/46.33
3. $12,750 ZARA LEANDRA Dutch Warmblood / M / 11 Metropole x Ahorn PABLO BARRIOS (VEN) WELLINGTON, FL ZL Group Inc: 0/0/47.96
4. $8,500 HEROS DE PAPIGNIES Z Zangersheide / S / 11 Heartbreaker x Ahorn Z JUAN JOSE ZENDEJAS (MEX) METEPEC Alejandro Zendejas: 1/0/49.89
5. $5,100 LILLI German Warmblood / M / 11 Lefevre x Diamir GEORGINA BLOOMBERG (USA) NEW YORK, NY Gotham Enterprizes, LLC: 0/0/54.22
6. $3,825 ATLANTIS T Dutch Warmblood / G / 10 Padinus x Guidam BRIAN MORTON (CAN) LANGLEY, BC Grafton Farm: 0/0/56.67
7. $2,550 HH CARLOS Z Zangersheide / G / 13 Chellano Z x Voltaire MCLAIN WARD (USA) BREWSTER, NY Double H Farm: 0/4/44.05
8. $2,125 ROSANA DU PARK Schwaben / M / 10 Kannan x Ukase ERIC LAMAZE (CAN) SCHOMBERG, ON Artisan Farms, LLC: 0/4/44.97
9. $1,700 PUERTAS SO WHAT Dutch Warmblood / G / 11 Quattro x Iroko JUAN PABLO GASPAR ALBANEZ (MEX) ZAPOPAN, JALISCO Felipe Gaspar: 0/4/45.21
10. $1,700 COUSCOUS VAN ORTI Belgian Sport Horse / G / 13 Unknown x Unknown SAMUEL PAROT (CHI) WELLINGTON, FL Luc Van Der Steichel: 0/8/45.64
11. $850 DUTCH AMOURETTA Dutch Warmblood / M / 10 Dutch Capitol x Wellington BRENDA RIDDELL (CAN) CALGARY, AB Silverstar Farms: 1/75.88
12. $850 STAN Hanoverian / G / 9 Stakkato x Sacramento Son JUAN MANUEL LUZARDO (URU) LA MOJONERA, ZAPOPAN Mauricio Guerra Colorado: 4/67.94

Source: Press release from Jennifer Wood Media Inc.