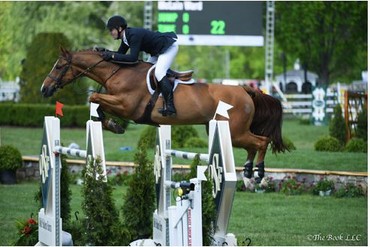 McLain Ward and Rothchild. Photo by The Book LLC.
McLain Ward of Brewster, NY, and Sagamore Farms' Rothchild impressed an eager crowd under perfect conditions on Friday to win the $35,000 Grand Prix of North Salem at Old Salem Farm Spring Horse Shows, running through May 22 at Old Salem Farm in North Salem, NY.

Ward and Rothchild celebrated a homecoming on the Grand Prix Field at Old Salem Farm this week. It was at the Old Salem Farm Spring Horse Shows in 2008 that Ward jumped his first class aboard the then seven-year-old Belgian Sport Horse gelding. Ward had recently imported Rothchild and was campaigning the young horse. In honor of the anniversary, Rothchild – now a seasoned 15 years old – bucked Ward off in the schooling area on Wednesday before carrying him to win the $35,000 Grand Prix of North Salem on Friday afternoon.

"Everybody knows I didn't want him; I thought he was crazy. He was hot, a little bit special, but careful!" said Ward with a smile. "He does his job. He is who he is, and I always say he's a little like my dad. I love him to death and he's amazing in every way, but some days..."
Rothchild guaranteed Ward a good day on Friday by topping the 45 horses that contested course designer Alan Wade's (IRL) tracks. Of the ten horses that advanced the jump-off, only four were double clear and Rothchild topped this list with a time of 43.81 seconds over the short course.

Just over a second slower than Ward, Marilyn Little (USA) and Clearwater took second in 44.93 seconds for owner Karen O'Connor. Last Friday's winners, Adrienne Iverson (USA) and Donar J, jumped to third in 45.03 seconds for Redfield Farm, while Christine McCrea (USA) and Candy Tribble's Win For Life took fourth in 50.08 seconds. Quentin Judge (USA) produced the fastest of the four-fault rounds in the jump-off and settled for fifth in 45.99 seconds aboard HH Whisky Royale for Double H Farm.

"Alan Wade is my favorite course designer in the world," said Ward after the class. "I think he knows this field quite well. I think he had a great class, a lot of four-fault rounds, a nice number in the jump-off, and we thought the right winner. We had beautiful conditions, which is always nice. We're in the second week, but I think the footing is holding up well, which is always a concern on the turf."

The upcoming Olympic Games in Rio de Janeiro, Brazil, are dictating Ward's current schedule and consuming his early-season plans, but his hope is to save Rothchild for future events. Most immediately, he will compete at the Devon Horse Show before joining Ward's other mounts HH Azur and HH Carlos Z to show in Europe.

"He's obviously the back-up for the Olympic Games. It's no secret that HH Azur is the horse that we're thinking for the Olympics, but it's still a few months [away]," said Ward. "We're making his schedule so that if he were needed, he would be ready to go. It's a lot to ask of a horse his age, and we would probably prefer not to, but I do think he can handle it. I try to go up and down with him a little bit. I don't give him a steady diet of five-star events. I do a three-star like this, up to a five-star, then back."

When asked about Rothchild's consistency over the past eight years with Ward in the tack, he responded, "He is a very careful horse, and I think that's made his career long."

With an obvious knack for winning at Old Salem Farm, Ward admits that his horses strive at the venue, which is just a few miles up the road from Ward's home base in Brewster. "[Rothchild] has done very well on the field," he said. "I find that a really massive field like Spruce Meadows eats him up a little bit. He's an 'adder'. I have to take time in front of the jumps and in those giant rings it's hard to always be adding and make the time allowed."

After winning last Sunday's grand prix at the Old Salem Farm Spring Horse Show with HH Carlos Z, Ward will focus his attention on this week's $130,000 Empire State Grand Prix, presented by The Kincade Group, to wrap the two-week event.

Coming up at the Old Salem Farm Spring Horse Shows, the Grand Prix Field will feature the $15,000 Under 25 Grand Prix, presented by T & R Development, as well as the $35,000 Speed Derby of North Salem beginning at 12 pm on Saturday, while hunter competition will boast the $10,000 USHJA International Hunter Derby, presented by The Gochman Family, at 2 pm.

Final Results: $35,000 Grand Prix of North Salem
1 ROTHCHILD: 2001 Belgian Sport Horse gelding by Artos x Elegant de l'Ile
MCLAIN WARD (USA), Sagamore Farms: 0/0/43.810
2 CLEARWATER: 2007 Holsteiner gelding by Clearway x Come On
MARILYN LITTLE (USA) Karen O'Connor: 0/0/44.930
3 DONAR J: 2003 Belgian Warmblood gelding by Thunder van de Zuuthoeve x Skippy II
ADRIENNE IVERSON (CAN), Redfield Farm: 0/0/45.030
4 WIN FOR LIFE: 2006 Zangersheide gelding by Winningmood van de Arenberg x Chatman
CHRISTINE MCCREA (USA), Candy Tribble: 0/0/50.080
5 HH WHISKY ROYALE: 2005 Zangersheide gelding by Wonderful Van't Beugehof x Kannan
QUENTIN JUDGE (USA), Double H Farm: 0/4/45.990
6 ZERNIKE K: 2004 Dutch Warmblood gelding by Sam R. x Topas
BRIANNE GOUTAL (USA), Remarkable Farms, LLC: 0/4/47.880
7 CASSINJA S: 2006 Dutch Sporthorse mare by Carinjo x Cassini I
CHARES JACOBS (USA), CMJ Sporthorse, LLC: 0/4/49.200
8 GENTLEY: 2006 Belgian Warmblood gelding by Bentley vd Heffinck x Major de la Cour
FILIP DE WANDEL (BEL) Filip de Wandel: 0/4/49.870
9 QUIDAM MB: 2005 Oldenburg gelding by Quidam's Rubin x Argentinus
ADRIENNE STERNLICHT (USA), Starlight Farms LLC: 0/4/50.930
10 HELIOS: 2007 Belgian Warmblood by Couleur-Rubin x Grandeur
ADRIENNE STERNLICHT (USA), Starlight Farms LLC: 0/35/85.050
11 DYNAMO: 2003 Belgian Warmblood gelding by Skippy II x Lys de Darmen
CHRISTINE MCCREA (USA), Candy Tribble and Windsor Show Stables: 1/84.380
12 URUS 2: 2005 Oldenburg gelding by Canturo x Cento
LJUBOV KOCHETOVA (RUS), Ljubov Kochetova: 2/88.810

Source: Press release from Old Salem Farm Spring Horse Shows // Photo: The Book LLC