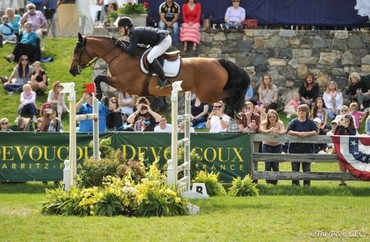 McLain Ward with Tina la Boheme. Photo (c) The Book LLC.
McLain Ward and Tina la Boheme scored an impressive victory in the $130,000 Empire State CSI3* Grand Prix, presented by The Kincade Group, on Sunday to close out two weeks of competition at the Old Salem Farm Spring Horse Shows held at Old Salem Farm in North Salem, NY.

Collecting first and third-place ribbons, Ward topped a field of 39 over courses built by Alan Wade (IRL). Ward and Friday's grand prix winner, Rothchild, were the trailblazers over Wade's first-round track and were later joined by five more horses, including the eventual class winner, Tina la Boheme.

In the jump-off, Rothchild suffered an unfortunate rail to settle for four faults and a time of 40.49 seconds. Leslie Howard (USA) produced the first double-clear effort with Gentille van Spieveld for GJ Stables and Peter Howard in 48.34 seconds. Ward returned on Tina la Boheme, a nine-year-old Selle Français mare owned by Ward in partnership with Artie Hawkins, and stopped the clock clear in 44.62 seconds. The time was enough to take the win, bumping Howard to second.

Ward finished third with Rothchild, and Marilyn Little (USA) took fourth aboard Clearwater, owned by Karen O'Connor, with the final rail of the jump-off down in 42.28 seconds. Filip de Wandel (BEL) capped the fop five with his own Gentley after also pulling the final rail of the short course and crossing the timers in 43.87 seconds.

While the crowd that gathered on the banks of the Grand Prix Field at Old Salem Farm on Sunday afternoon was expecting another win from veteran Rothchild, what they got was a head-turning performance from one of the younger horses in Ward's string. Ward and Hawkins, who is an accomplished hunter rider and trainer in his own right, purchased the mare in November before developing her throughout the 2016 season in Florida.

"Artie is a very dear friend of my dad's and a great horseman," said Ward. "Last year, he said he'd like to invest in a horse, so we bought her when she had just turned eight years old. It's a really exciting day to do this and a little bit special for me for it to work out. Sometimes you buy a young horse for a family friend and a great horseman and you have the best intentions, but it doesn't always go the way you want. She looks like a really nice horse."

After proving that she has what it takes to jump against international-caliber horses and riders, Tina la Boheme is facing a promising future with Ward. "I hope to have another really nice grand prix horse next year," he said. "This is how we make them. You have to put in some work, but you have to start with talent like she has."

Ward won the blue ribbon with Tina la Boheme, but was pleased with how Rothchild jumped in both rounds of competition. He added that Old Salem Farm is the ideal venue for seasoned horses like Rothchild, as well as developing ones like Tina la Boheme. "This is an important event; it's FEI, good prize money, and a great venue," he said. "Rothchild is a great old friend of mine and a winner. I thought he was a little bit unlucky today not to win. It was a cheap rail, and he jumped phenomenal. But, that's sport."

Ward is not shy about naming Wade as his favorite course designer in the world, but Howard was quick to agree after her second-place finish. "I thought it was very good," she said of Wade's track. "He had a nice amount of horses clear. It was careful, tricky enough, and he did a super job for the field he had."

After campaigning Gentille van Spieveld during the winter season in Florida, Howard learned that the gelding thrives on grass footing, making Old Salem Farm's conditions ideal for him. He will continue following opportunities to jump on turf by traveling to Spruce Meadows next in his spring schedule. "I was thrilled with him today," said Howard. "He jumped very well. He's always been a very good horse on grass, so I think we'll have some more nice results. He's not a quick little horse for sure – the big open spaces suit him well."

Old Salem Farm is a place that fourth-place finisher, Little, recalls showing at as a junior. She claims that her last time competing at the venue was the year she skipped her prom to do so. "That was quite a long time ago – 16 years now," she said. "A lot has changed, but it's still an incredible venue. It's fun to ride in front of the crowd, and the organizers do a fantastic job. I'm really happy to be back here."

Little, who splits her time between show jumping and FEI-level Eventing, was focused on a win with Clearwater, but a surprise rail at the final fence fell to the ground, bumping her to fourth place. "When you have McLain [going after] you, it's never easy," she said. "I wanted to be quick, but I thought I'd go a little wide to the last one and I let the stride get too flat and we wilted a little. When you're in company like this, there is no room for error."

Ward is two-for-two during the 2016 Old Salem Farm Spring Horse Shows after winning the Week 1 grand prix with HH Carlos Z. For Ward, winning both grand prix events is a special honor because he gets to do it in front of a hometown crowd at a venue where he grew up riding. When asked about his earliest memory of competing at Old Salem Farm, Ward recalled, "I was 15 or 16 and second in the grand prix with a mare of Marilyn's mother's that my father had bought.

"This has been a phenomenal venue for us," he continued. "We have a lot of friends and family that are local that get to come. What Old Salem has done here with this facility is spectacular. You see every improvement that can be done – great footing and a beautiful venue. It's a special place to win at."

Final Results:$130,000 Empire State CSI3* Grand Prix, presented by The Kincade Group
1 TINA LA BOHEME: 2007 Selle Français mare by Calvaro Z x Arpege Pierreville*HN MCLAIN WARD (USA), McLain Ward and Artie Hawkins: 0/0/44.62
2 GENTILLE VAN SPIEVELD: 2006 Belgian Warmblood gelding by Heartbreaker x Capital LESLIE HOWARD (USA), GJ Stables and Peter Howard: 0/0/48.34
3 ROTHCHILD: 2001 Belgian Sport Horse gelding by Artos x Elegant de l'Ile MCLAIN WARD (USA), Sagamore Farms: 0/4/40.49
4 CLEARWATER: 2007 Holsteiner gelding by Clearway x Come On MARILYN LITTLE (USA) Karen O'Connor: 0/4/42.28
5 GENTLEY: 2006 Belgian Warmblood gelding by Bentley vd Heffinck x Major de la Cour FILIP DE WANDEL (BEL) Filip de Wandel: 0/4/43.87
6 CASSINJA S: 2006 Dutch Sporthorse mare by Carinjo x Cassini I CHARES JACOBS (USA), CMJ Sporthorse, LLC: 0/4/44.43
7 DONTEZ: 2008 Dutch Warmblood gelding by Verdi x Wolfgang SARAH SCHEIRING (USA), Cheval Equestrian, LLC: 1/79.11
8 ROBIN DE PONTHUAL: 2005 Selle Francais gelding by Elf D'or x Calypso D'Herbiers*Ecolit PETER LUTZ (USA), Katherine Gallagher & Michael Meller: 1/79.31
9 HH CISKE VAN OVERIS: 2002 Belgian Warmblood mare by Celano x Darco MAGGIE MCALARY (USA), Double H Farm: 4/76.00
10 AVON: 2004 Swedish Warmblood stallion by Quidam de Revel x Cortez 679 MATTIAS TROMP (USA), Beyaert Farm, Inc.: 4/76.37
11 WIRMA: 2003 KWPN mare by Hors La Loi II x Lux BRIANNE GOUTAL (USA), Remarkable Farms LLC: 4/76.40
12 QUALITY: 2004 Oldenburg gelding by Quidam's Rubin x Grannus JIMMY TORANO (USA), Deborah Perkins: 4/76.86
---

Source: Press release from Jump Media // Photo (c) The Book LLC.