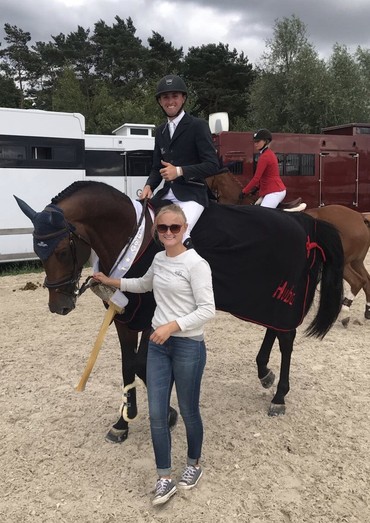 The winning team from Ashford Farm; Michael, Zerlin M and Cajsa. Photo private.
Michael Hughes (USA) took his first Grand Prix win as a part of the team at Ashford Farm, Belgium. Hughes won aboard Zerlin M (Berlin x Concorde) who previously has been successful under Marlon Modolo Zanotelli. "I am very happy with Zerlin. He's been knocking on the door a few times now and it's nice to have gotten it done today. I can't thank Enda and the team at Ashford enough for making days like this possible," a happy winner said after being the only rider to produce two clear rounds.
Runners-up, Jeroen Appelen (BEL) and Grappeloup van het Reenhof (Larino x Kashmir van Schuttershof) had to see one fence fall in the jump-off. The following two riders, Chloe Vranken (BEL) and Arthur Da Silva (SUI) both finished the first round with one time-penalty riding Elton Jones (Clinton I x Elegant de l'Ile) and Inonstop Van t Voorhof (Nonstop x Fortuin Z) respectively. Fifth place went to Jose Thiry (BEL) and Cyrano D'Orbry (Cicero Z x Fabiolo xx) with four faults in the first round.
Enda Carrol who runs Ashford Farm was understandably very proud after his 22-year-old rider had secured the win. "We are absolutely delighted for Mikey, he has been with us now for just short of one year. He has been having fantastic results, 3rd in the GP of CSI**** Norten Hardenberg and placed in many good classes. He has been very close a few times and finally it is just nice to get it done. He is an outstanding talent. He had big boots to fill taking over Marlon's job, but slowly it's all coming together and we are thrilled for him and looking forward to our next couple of weeks at Knokke."
---
Text © World of Showjumping (No reproduction without permission)