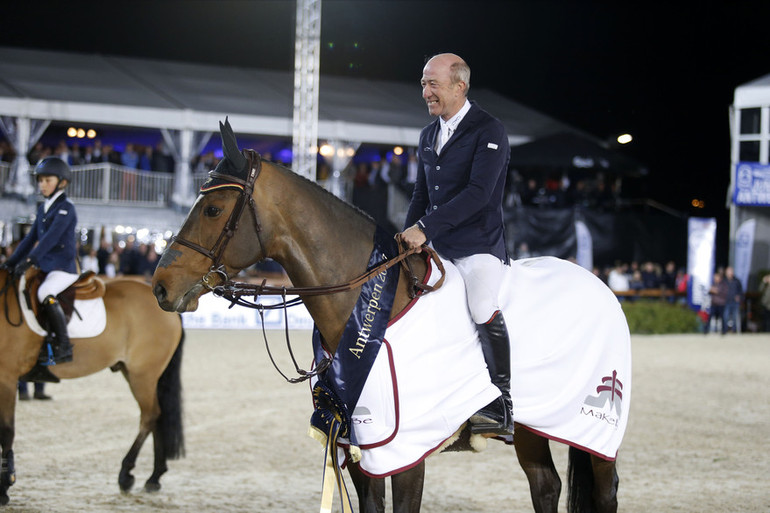 Michael Whitaker and JB's Hot Stuff won the CSI5* Lebeau-Courally Grand Prix of Antwerp presented by Deutsche Bank. Photo (c) Tiffany Van Halle.
Michael Whitaker and the 11-year-old mare JB's Hot Stuff (Locarno 62 x Cavalier Royale) took their biggest win to date when taking the top honours in Saturday night's CSI5* Lebeau-Courally Grand Prix of Antwerp presented by Deutsche Bank.
25 % of the riders in the Grand Prix over two rounds moved on to the second part against the clock, which meant ten riders on a zero-penalty score and one with a single time fault.
Opening up against the clock was John Whitaker, the lucky one of those four riders with a time penalty that just squeezed into the second round. Aboard Cassini's Chaplin (Cassini I x Cascavelle ), the British legend opted for a safe round to record another time penalty – two in total over the two rounds.
Home hero Niels Bruynseels gave it a good go on Cas de Liberte (Cracky Z x Chellano Z) but clipped the front pole first oxer, however kept on going to finish on four faults and a time of 38.57.
Colombia's Dayro Arroyave on the lovely Uciano de La Botte (Luccianno x Arpege Pierreville), was next in the ring and tackled the shortened eight fence track without faults to finish on a time of 39.85 and went into the lead.
It was short-lived however, as Germany's Daniel Deusser and the his 2014 World Cup Champion Cornet D'Amour (Cornet Obolensky x Damiani) blazed around the track to cross the finish line in 37.57 seconds to take over the top of the score board.
Michael Whitaker was next in the ring, and did not disappoint. Aboard JB's Hot Stuff, Whitaker went all in from the very beginning not once pulling back – also taking out strides on the last two lines pushing on down to the last jump to take over the lead with the very fast time of 37.20 seconds.
Those to come all tried, but could not catch Whitaker. Germany's Christian Ahlmann on Epleaser van't Heike (For Pleasure x Nabab de Reve) recorded a time of 38.94 seconds, ending up outside the the top five. Sweden's Henrik von Eckermann on Cantinero (Cento x Cash) came close, 0.86 behind the leading time to eventually finish fourth while Belgium's own Gudrun Patteet on Sea Coast Pebbles Z (Picasso x Flamenco de Semilly) and France's Penelope Leprevost on Vagabond de la Pomme (Vigo d'Arsouilles x For Pleasure) also had to settle in further down on the list – Leprevost eventually ending fifith with a time of 38.62 seconds.
Belgium's Olivier Philippaerts on H&M Legend of Love ( Landzauber x Corgraf) delivered a lightening fast round, but a pole on the penultimate vertical fell and so did Philippaerts on the result list.
As last to go, Italy's Piergiorgio Bucci and Casallo Z (Casall x Carthago Z) had the chance to snatch the win but despite giving it a good go the pair was 0.53 behind on the clock slotting into third place pushing Henrik von Eckermann down to fourth and Penelope Leprevost down to fifth – leaving Michael Whitaker to drive home in a brand new BMW from Jumping Antwerpen.
---
Text © World of Showjumping // Picture © Tiffany Van Halle