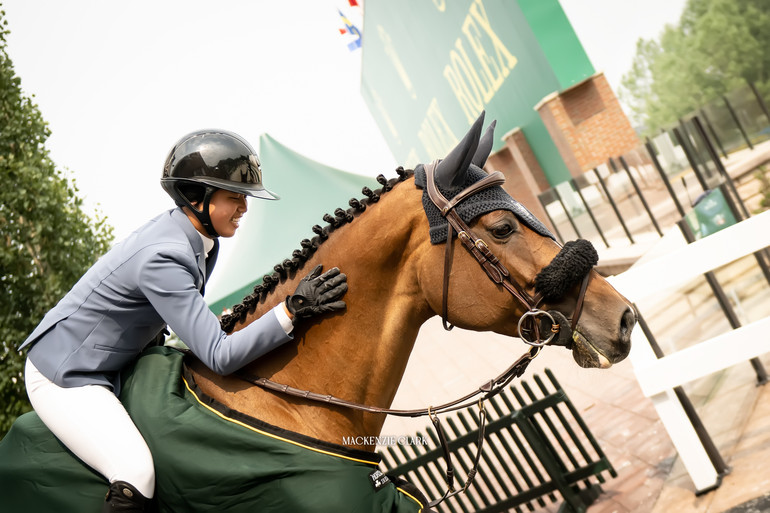 Mimi Gochman and Celina BH won the CSI5* 1.55m Kubota Cup at Spruce Meadows 'National'. Photo © Mackenzie Clark.
Edited press release from Spruce Meadows Media
---
At the Spruce Meadows 'National', the CSI5* 1.55m Kubota Cup was the final qualifying competition for Saturday's RBC Grand Prix of Canada, presented by Rolex.
Olaf Petersen Jr.'s (GER) impressive course counted 13 obstacles that included a triple combination and the open water, all required to be completed in a time of 90 seconds or less. With a number of familiar, veteran, competitors in the running it was a surprise to everyone, especially 18-year-old Mimi Gochman (USA), when she was the only one out of the 24 riders at start who was able to post a clear round. Aboard the 13-year-old Holsteiner mare Celina BH (Canstakko x Carthago), Gochman galloped through the finish line in a time of 87.55s.
"I've been watching the Spruce Meadows Nations Cup in the fall for a long time. I've always heard stories about it. I've seen clips online and always been told "you have to go to Spruce Meadows". I mean, not only is it a good learning experience, but the horses love it and it's incredible!" Mimi Gochman said about her first time at Spruce Meadows.
Conor Swail (IRL) and Nadal Hero D&B (Kannan x Polydor) finished second after recording one time penalty in the first round. Mario Deslauriers (CAN) and Emerson (Eldorado vd Zeshoek x Berlin), Tiffany Foster (CAN) and Hamilton (Quadros 3 x Acolord), and Kent Farrington aboard Landon (Comilfo Plus Z x Quadrillo) followed as third, fourth and fifth – all with four faults in round one.