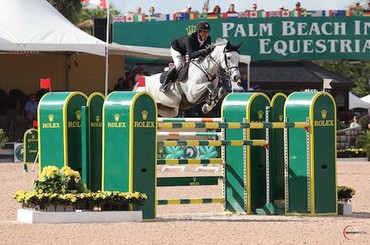 Nick Dello Joio and Contiki. Photo (c) Sportfot.
Nick Dello Joio (USA) and Coker Farm, Inc.'s Contiki were the winners over Kent Farrington (USA) and Robin Parsky's Blue Angel in a thrilling jump-off for Thursday's $34,000 Ruby et Violette WEF Challenge Cup Round 10 at the 2015 Winter Equestrian Festival (WEF). Twenty-five-year-old Dello Joio edged out Farrington by less than one-tenth of a second for his first ever WEF Challenge Cup win.
The tenth week of WEF competition, sponsored by Horseware Ireland, runs March 11-15. The highlight event of the week is the $127,000 Horseware Ireland Grand Prix CSI 3* on Saturday, March 14, which will be live streamed at this link – http://bit.ly/18EqpLH. Other features include the $34,000 1.45m FEI world ranking class on Friday and the $34,000 Suncast® 1.50m Championship Jumper Classic on Sunday, also live streamed here – http://bit.ly/1wZSYz4.
Michel Vaillancourt (USA) set the course for 83 entries in Thursday's tenth round of WEF Challenge Cup competition. He saw 12 clear rounds, and 10 returned for the jump-off where only three were able to clear the short course without fault.
Meagan Nusz (USA) and Amalaya Investments' Sri Aladdin were first to clear the jump-off in 41.88 seconds to finish third. Farrington and Blue Angel upped the pace in 38.56 seconds, but eventually settled for second. Last to go, Dello Joio and Contiki completed the winning time of 38.47 seconds. Andres Rodriguez (VEN) and Arao Enterprises LLC's Caballito had the fastest time in 37.10 seconds, but one rail put the pair in fourth place.
"It was nice to go last in both rounds," Dello Joio pointed out. "I was able to watch the first one go in the jump-off and then my Dad was able to watch Kent go on the screen and kind of gave me a plan. We stuck to it and luckily it paid off today."
"That horse is a bit of his own way. There is not really a lead change or great rideability. He is very good at going fast though. His natural gait is just to want to go and he is super careful, so fast and careful is a good combination when you are in a jump-off," Dello Joio remarked. "Contiki doesn't spend much time in the air. He lands and he goes; it's not like he lands and you have to create. What is hard for me, where I probably lost a few seconds with that horse, is the turns. He is not one to just turn back on a jump. He doesn't really allow you to do that with his rideability yet, so I probably just covered more ground faster. I was not as tidy as Kent probably was, but Contiki has a huge stride and when you let him go, he is a really quick horse."
Contiki is a nine-year-old Swedish Warmblood gelding (Contendro x Calido I). Dello Joio began riding him before the 2014 WEF circuit and explained that the horse has come a long way since then.
"That horse last year was doing the medium schooling jumpers here, and we were having trouble," Dello Joio stated. "We didn't know what we had, but as the summer progressed he got better. Spruce Meadows is where he really started to shine. He started in the 1.30m and ended up in the main ring in the 1.45m the last week getting ribbons. Then he won two grand prixs in eastern Canada and a grand prix or two in Tryon. He has been a little weapon for me. He has been great, and nobody would have thought that. Nobody wanted him. He is a bit of an oddity."
"He doesn't do lead changes, he is tough to ride, and he spooks at everything," the rider continued. "You just wouldn't think he was a grand prix winner when you sat on him. This time last year we were ready to give up on the horse, but now he is my favorite. He is just a little winner."
Commenting on his very first WEF Challenge Cup victory, Dello Joio acknowledged, "It feels great to win. It is a tough class to win, especially today. This course was really hard. I thought it was quite technical, but luckily we pulled it off today."
In addition to the winning portion of prize money, Dello Joio was awarded the $3,000 SSG Gloves "Go Clean for the Green" bonus. Each week of the WEF Challenge Cup Series, a $3,000 bonus will be awarded to the winning rider if they are wearing SSG 'Digital' Riding Gloves in all rounds of competition with the SSG logo clearly visible.
Also showing on Thursday, Hardin Towell (USA) and Jennifer Gates LLC's Cadence won the $8,000 1.45m jump-off class. Laurenz Buhl (GER) and Gotham Enterprizes LLC's Jolie Le Coer S finished second.

Final Results: $34,000 Ruby et Violette WEF Challenge Cup Round 10
1. CONTIKI: 2006 Swedish Warmblood gelding by Contendro x Calido I NICHOLAS DELLO JOIO (USA), Coker Farm Inc: 0/0/38.47
2. BLUE ANGEL: 2002 AES mare by Luidam x Ascendant KENT FARRINGTON (USA), Robin Parsky: 0/0/38.56
3. SRI ALADDIN: 2005 KWPN gelding by Quasimodo Z x Burggraaf MEAGAN NUSZ (USA), Amalaya Investments: 0/0/41.88
4. CABALLITO: 2002 Holsteiner gelding by Contendro x Argentinus ANDRES RODRIGUEZ (VEN), Arao Enterprises LLC: 0/4/37.10
5. GRAND CRU VD JIJF EIKEN: 2006 Belgian Warmblood stallion by Contact vd Heffinck x Heartbreaker CONOR SWAIL (IRL), Vanessa Mannix: 0/4/37.38
6. CASALL: 2005 Holsteiner gelding by Casall x Capitol I ALI WOLFF (USA), Blacklick Bend Farm: 0/4/38.72
7. TEIRRA: 2000 KWPN mare by Tolano Van Het Riethof x Aldatus ALISE OKEN (USA), Hi Hopes Farm, LLC: 0/4/39.33
8. LILLI: 2004 Brandenburg mare by Lefevre x Diamir GEORGINA BLOOMBERG (USA), Gotham Enterprizes LLC: 0/4/40.66
9. ARKOS DES ROSIERS Z: 2005 Zangersheide gelding by Air Jordan Z x Baloubet du Rouet ROBERTO TERAN, JR. (COL), ARK Partners LLC: 0/8/40.47
10. CASPER: 2006 Oldenburg gelding by Contender x Baloubet du Rouet ANDREW BOURNS (IRL), Andrew Bourns: 0/19/54.38
11. AD RAHMANNSHOF'S BOGENO: 2000 Westphalian gelding by Baloubet du Rouet x Elanville ALVARO DE MIRANDA (BRA), Alvare de Miranda and Victory Equestrian Sport BV: 0/WD
11. BALOU DU REVENTON: 2006 Oldenburg stallion by Cornet Obolensky x Continue LJUBOV KOCHETOVA (RUS), Ljubov Kochetova: 0/WD

Source: Press release from Jennifer Wood Media Inc.