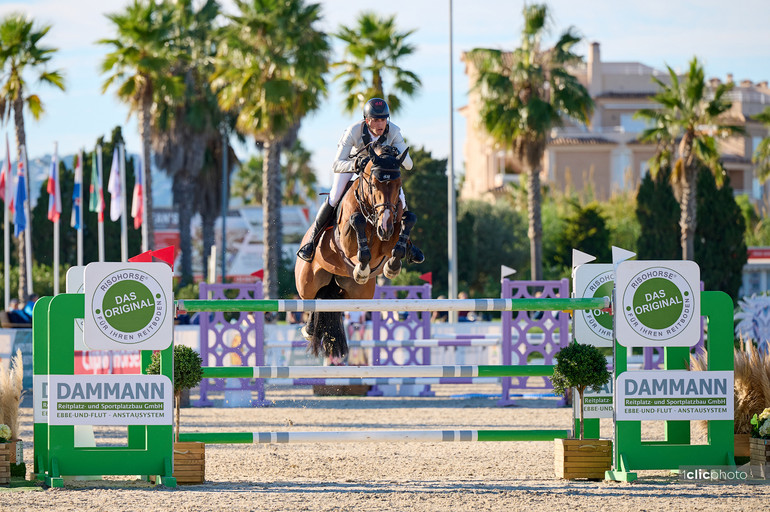 Nicola Philippaerts and Gijs won the CSI3* 1.50m Grand Prix at the Autumn MET II 2021. Photo © Hervé Bonnaud/1clicphoto.com.
Press release from the Mediterranean Equestrian Tour
---
The second week of the Autumn MET II 2021 concluded with the CSI3* 1.50m Grand Prix presented by Oliva Nova Beach & Golf Resort, where Belgium's Nicola Philippaerts and the 10-year-old stallion Gijs went out on top.
Only five horse-and-rider combinations out of a field of 60 participants cleared the first-round track set by the French course designer Gregory Bodo and moved on to the jump-off. Not only did the course prove to be challenging, the time allowed of 73 seconds also played a part in Sunday's Grand Prix: Both André Americo De Miranda (BRA) on Hilfinger van de Zuuthoeve (Thunder van de Zuuthoeve x Acord II) and Vladimir Tuganov (RUS) on Good Morning B (Eldorado vd Zeshoek x W.C. Van Dam) kept the fences intact but picked up time penalties, which kept them out of the jump-off.
It was an international affair in the jump-off, with Mike Kawai (JPN) on Saxo de la Cour (Tlaloc M x Jalisco B), Michel Robert (FRA) on Bingo Del Tondou (Vigo D Arsouilles Stx x Querlybet Hero), Rebecca Conway (USA) on Con Coleur (Contendro I x Couleur Rubin), Niklaus Schurtenberger (AUT) on Quincassi Quintero x Cassini I) and Nicola Philippaerts (BEL) on Gijs (Kashmir Van Schuttershof x Numero Uno) battling it out over the shortened track.
As pathfinder in the jump-off, Kawai was determined but had a pole down, while the French legend Michel Robert set the first double clear of the day, stopping the clock on 45.45. Even though both Conway and Schurtenberger were faster, they had to pay for the risks taken and both saw a pole on the ground. Last out was Nicolas Philippaerts on Gijs, who already showed great form last week when topping a 1.45m Longines Ranking class in Oliva Nova. Keeping his turns tight and the pace steady, Philippaerts crossed the finish line in 40.49 seconds, taking home the win and pushing Robert down to second, Conway to third, Kawai to fourth and Schurtenberger to fifth.
"We were only five in the jump-off, so I thought to give it a try to beat Michel," Philippaerts told about his tactic. "I was lucky that I was going in towards the end, so I could see a little bit what the rest did. In the end, it was my day and it worked out, I am happy."
"I have not had him for very long, but he has been going well here," Philippaerts said about his winning mount Gijs. "He has had a lot of good results lately and is jumping good. He won the small Grand Prix last week; I think he likes the sun here. I am happy with the result today."
"I have been coming here for a few years now and I think it's very nice," Philippaerts said about the venue in Oliva Nova. "It is not so easy for us in the winter season, but here the horses get a bit of sun and can go to the beach in the mornings so I think mentally it is very good for them to come. I always like coming back to Oliva," the happy winner concluded.
The Autumn MET II 2021 continues next Tuesday with its third week of competition.