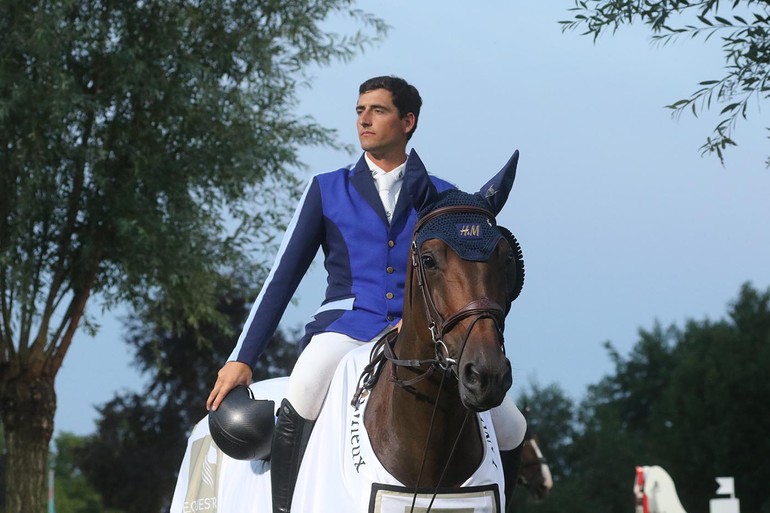 Nicola Philippaerts and Klaartje Z won the CSI4* 1.50m presented by Jumping Access at the Equestrian Cup in Moerzeke, Belgium. Photo © Equ.Media/Equnews/Equestrian Cup.
Nicola Philippaerts and Klaartje Z (Kannan x Flipper D'Elle*HN) took a home win in the CSI4* 1.50m presented by Jumping Access as the inaugural Equestrian Cup kicked off in Moerzeke, Belgium, on Thursday. Aboard the 9-year-old mare, that last week topped a CSIO5* Grand Prix qualifier in Falsterbo, Philippaerts clocked the fastest time of the class in 58.73s.
"Klaartje Z is a natural fast horse and she proved her top condition again today. She jumps amazing on the fantastic grass arena. This gives me confidence for the next days." Philippaerts said in a press release from Equestrian Cup. "The idea is to compete her again in tomorrow's big class. In the Grand Prix I will take the start with Luna van 't Ruytershof."
It was double Belgian on top, with Constant Van Paesschen and the 10-year-old mare Diaz du Thot (Ready Boy des Forets 'Hn' x Diams du Grasset) in second with a time of 59.52s, followed by French legend Roger-Yves Bost and Ballerine du Vilpion (Baloubet du Rouet x Quidam de Revel) in third in 61.08s. Belgium's Dirk Demeersman and G'Majo van de Caloo Meerschen (Ugano Sitte x Vigo D Arsouilles Stx) finished fourth, while Switzerland's Niklaus Rutschi and Oxana vd Bisschop (Air Jordan Alpha Z x Tornedo FCS) completed the top five.