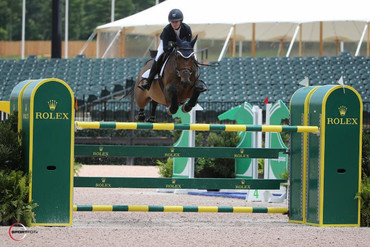 Alise Oken and Kaid Du Ry. Photo by Sportfot.
Alise Oken (USA) and her own Kaid Du Ry picked up another FEI victory at Tryon International Equestrian Center (TIEC) in the $34,000 Tryon FEI 1.45m Welcome on the first day of Tryon Spring 8 competition, besting a large class of 48 entries to take the win. Oken and Kaid Du Ry have been extremely successful in their time at TIEC so far this year, adding to their win in last week's $34,000 FEI Tryon Speed Stake. The duo was uncatchable in the jump-off, finishing in 37.048 seconds. Angel Karolyi (VEN) and Mclain Ward's Wings finished in second, crossing the jump-off timers in 37.688 seconds with Ali Wolff (USA) aboard John Wolff's Brianda rounded out the top three with a time of 37.691 seconds.

Oken is considered the "hometown girl" at TIEC, as the Charlotte, NC, native only makes a short trip from her family's Hi Hopes Farm in Weddington, NC, to get to the TIEC grounds. Besting a class packed with international competitors, Oken laid down two solid rounds to add another fulfilling win to her 2015 season. "This feels amazing. I was bit worried with the 18-horse jump-off and I tried to go as fast as I could. I felt like I did lose a little bit of momentum in the last tight turn to the big Rolex oxer and I thought I could have been beat, but I got really lucky today," said Oken. "It was a solid 1.45m and there were a lot of great Grand Prix horses in the class, as people are prepping for Saturday night, which made it really competitive. There were some really careful elements to the course, like the plank fence and with the large number in the class you couldn't afford a mistake."

Kaid Du Ry is a seasoned veteran at this point and Oken feels he excels in the speed classes, which is where she will continue to compete him. The jump-off track was riddled with tight turns, which forced riders to make bold decisions if they wanted to stay towards the top of the 18-horse jump-off. The course was designed by Ana Catalina Cruz (MEX), the FEI course designer for the remainder of the week.

"A lot of people were going around the inside turn and I thought that maybe I could go around and be faster, but when I went in I realized that it wasn't that bad and I thought we could do it," she commented. "He knows his job so well and I can trust him with anything and knew that if I went for that turn he would go. It ended up working out really well for us."

Oken is competing two horses in the FEI classes this week and will look to give Kaid Du Ry another efficient ride in the $34,000 FEI 1.45m Speed Stake on Friday, June 5. Oken has a talented string of up-and-coming horses and their ability to gain FEI experience in the U.S. has been a huge step in Oken's young career.

"He really excels at the 1.45m height and I'll keep him there and keep him happy and competitive. My other horse is just eight, so he'll do the 1.45m also and the 1.50m on Sunday," said Oken. "It's great being here because usually I can never call myself the hometown girl or compete somewhere that feels like home, but my horses love it here and especially Kaid, he has just been an absolute star in the ring here. I will be coming back here for years to come. I love it here in Tryon."

Final Results for $34,000 Tryon FEI 1.45m Welcome:

1. KAID DU RY, 1998 Selle Francais gelding by Brett Saint Clair x Candy Des Champs ALISE OKEN (USA), Alise Oken: 0/0/37.048

2. WINGS, 1998 Dutch Warmblood gelding by Lexicon x Jersey ANGEL KAROLYI (VEN), Mclain Ward: 0/0/37.688

3. BRIANDA, 2005 Dutch Warmblood mare by Lupicor x Landeur ALI WOLFF (USA), John Wolff: 0/0/37.691

4. BINKIE, 2006 Dutch Warmblood gelding by Larino x WhisperB DAVID BLAKE (IRL), Pine Hollow Farm: 0/0/38.694

5. CHAQUI Z, 2006 Zangersheide stallion by Chacco Blue x Quilina Z SHANE SWEETNAM (IRL), Spy Coast Farm: 0/0/39.688

6. ZONNEGLANS, 2004 Dutch Warmblood mare by Dutch Capitol x Lutina H GEMMA PATERNOSTER (GBR), Gemma Paternoster: 0/0/41.627

7. BRUGAL VDL, 2006 Dutch Warmblood stallion by Indorado x Solaris JONATHAN MCCREA (USA), Candy Tribble: 0/0/43.174

8. Q-7, 2006 Bayer gelding by Que Sera x Peggy SCHUYLER RILEY (USA), Wolfstone Stables & Sales, Inc.: 0/0/45.925

Source: Press release from Tryon International Equestrian Center.