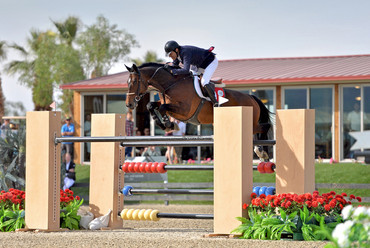 Jaime Azcarraga and his Anton Radio Formula. Photo (c) ESI Photography.
Jaime Azcarraga, a five-time Olympian from Mexico City, Mexico, and his Anton Radio Formula, rose to the top of a field of 44 riders to claim victory in the AIG $1 Million Grand Prix, presented by MortgageCall, going double-clear on a challenging course in the first Jewel in the HITS Triple Crown of Show Jumping.

'He's a winner; he's a tough horse," said Azcarraga, of the 11-year-old Warmblood gelding that carried him to victory on Sunday in just 41.036 seconds. Crowds packed the bleachers, VIP, and the Platinum Club, to watch the grand finale of the HITS Desert Circuit unfold. When Azcarraga entered the ring, fans of the well-known Olympian stood to cheer him on.

Azcarraga, 55, has competed in five Olympic Games between 1984 and 2012, and is a successful businessman, when not in the saddle. "It was a tough course. The jumps were tight and the end was very technical," he said of the first round that eliminated all but five of the hopeful riders. When asked what the hardest part of Round 1 was, he said, "I think coming to the end. The horses were getting tired...the five strides coming to the double, and the last line coming to the skinny fence - that was the hardest."

Indeed, several other riders' chances at the jump-off ended there, including the talented young HITS Grand Prix winner Lucy Davis, whose bay stallion, Curtis 72, owned by Old Oak Farm, refused the last jump after a spectacular and otherwise cleantrip through the course.

Second place McLain Ward, of Brewster, New York, flew in from Florida to compete in the AIG Million. Ward, who finished the jump-off in 41.053, ultimately less than two-tenths of a second behind Azcarraga, said he didn't mind going first in the second round.

"My horse is a fast horse, naturally," said Ward, also an Olympian and the seventh-ranked rider in the world, of Rothchild, a 14-year-old Gelding owned by Sagamore Farms. "I hoped to put pressure on these guys, and hoped the pressure would take its toll. But Jaime rose to occasion. That's what makes it a sport. Given another day and the same situation, I'd approach it the same way again."

Charlie Jayne, of Elgin, Illinois, who rounded out third place on Chill RZ, owned by Maura Thatcher and Alex Jayne, said that he watched Ward in the jump-off, but wasn't able to watch Azcarraga because Azcarraga went right before he did. "My horse has a big stride, so my plan was to leave a stride out everywhere and that's how I could be faster. But in the double, my horse landed right, and when I looked left to the oxer, the leave-out wasn't there – and I had to choose the more conservative route," he said.

HITS President and CEO Thomas Struzzieri said, at a press conference following the event that, "It was a terrific crowd. It's our third year hosting this [hosting the AIG $1 Million Grand Prix]. It was a little warm – the last years we've had cooler weather – but all in all, it was a great class."

Ward said, "It's nice to be able to stay in North America and have this level of competition, and prize money. It really helps the sport grow...It's raising the standard."

AIG sponsored the class and has been a strong supporter of HITS for many years. "It is really a privilege for us to be able to sponsor this. We know how much fun this is for you and what a passion it is, but it's really a lot fun for us to meet the people behind the scenes, all the people who are behind the events -- the riders, the owners, everyone else who is involved. It's not just something we do because it's good business. We do it because of the relationship and we enjoy it as well," said David Hubbard, Vice President, AIG Private Client Group, at the press conference.

Azcarraga commended course designer Marina Azevedo of Sao Paulo, Brazil, on her work. "I think she did a fantastic course," he said. Azevedo, who built last year's AIG Million course as well, said she had more confidence in her work this year. "I'm very happy with it," she said.

"It's a tough task," said Struzzieri. "She's building it for some very elite riders, and some who may be doing this for the first time. She rose to that challenge very well."


Source: Press release from HITS, Inc.