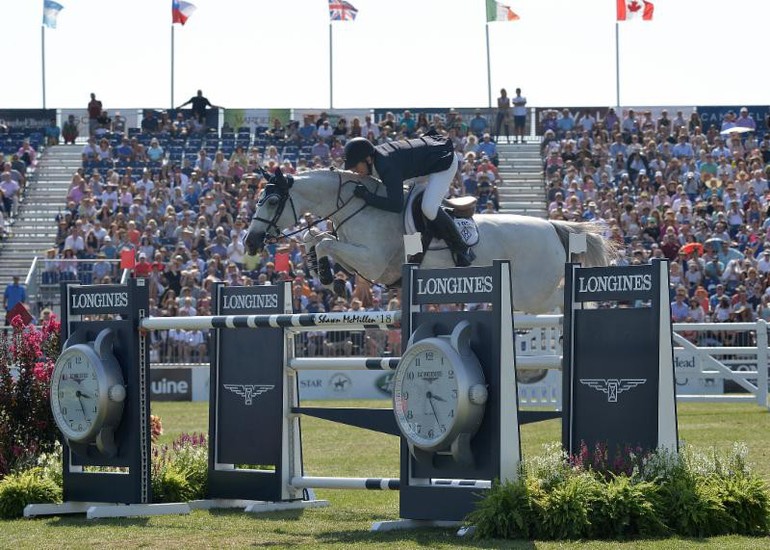 McLain Ward and HH Gigi's Girl, winners of last year's $300,000 Hampton Classic Grand Prix. Photo © Shawn McMillen.
Press release from Hampton Classic
---
An impressive line-up of world-class horses and riders, including Olympic veterans and Grand Prix champions, is set to compete at the prestigious 2019 Hampton Classic Horse Show which returns to Bridgehampton, NY, August 25-September 1. The 44th annual event offers more than $800,000 prize money and features fiveInternational Equestrian Federation (FEI) classes. The entry list of 60 FEI riders reads like a who's-who of the sport, and all will be looking to capture the Classic's prestigious titles, including the culminating $300,000 DOHA.INC Grand Prix CSI4*!
Set amidst the splendor of Long Island's famed Hamptons, the Hampton Classic is a premier destination for the sport's top riders. More than 1,500 horses compete in 200 hunter, jumper and equitation classes in six show rings. The schedule features competitions for horses and riders of all ages and abilities, ranging from children's leadline classes all the way up to the grand prix jumping and also hosts classes for riders with disabilities. The world-class 65-acre show grounds also features the Agneta Currey Boutique Garden with more than 80 vendors, and a dozen international food options as well as exclusive VIP areas.
This year's Hampton Classic is hosting FEI-recognized classes on five consecutive days. Competitors who successfully complete Friday's $75,000 Douglas Elliman Grand Prix Qualifier CSI4* will qualify for the culminating $300,000 DOHA.INC Grand Prix CSI4* on Sunday, September 1.
Additional FEI classes include Wednesday's $10,000 Palm Beach Masters Open Jumper, Thursday's $40,000 Speed Stake, and Saturday's $72,000 LONGINES Cup CSI4*. These prestigious FEI classes, as well as several other classes held throughout the week, award points toward the $30,000 LONGINES Rider Challenge, which awards a $30,000 cash prize plus a LONGINES watch to the rider accumulating the most points in the Open Jumper Division. The winner will be presented after the $300,000 DOHA.INC Grand Prix.
The Classic's lineup of FEI competitors includes riders from 10 nations: Australia, Brazil, Canada, Chile, Colombia, Great Britain, Ireland, Israel, USA and Venezuela.
Topping the world-class field is two-time Olympic gold medalist McLain Ward, a four-time Olympic veteran who also won the individual Gold medal at the 2015 Pan American Games, the 2017 Longines FEI World Cup™ Final, and was part of the Gold medal U.S. team at the 2018 FEI World Equestrian Games™ (WEG). Last year, Ward won the $300,000 Hampton Class Grand Prix for a record seventh time!
Two of Ward's 2018 WEG Gold medal teammates, Adrienne Sternlicht and Devin Ryan, are also entered, as is crowd favorite Georgina Bloomberg. Bloomberg, a long-time competitor at the Hampton Classic with numerous victories under her belt, was Ward's teammate on the U.S.'s 2015 Bronze-medal Pan American Games team. Bloomberg is again supporting the Classic's Animal Welfare and Adoption Day on Monday, August 26.
Also entered is Lucy Deslauriers who finished sixth in last year's Hampton Classic Grand Prix and who just recently returned from riding on the Bronze Medal-winning U.S. team at the Pan American Games in Lima, Peru where she also finished ninth out of 50 riders in the individual final. Other U.S. riders include Olympic veteran Peter Leone,Molly Ashe-Cawley, Laura Bowery, Brianne Goutal-Marteau, Lillie Keenan, Andrew Kocher, Peter Lutz, Brian Moggre, Callan Solem, Hardin Towell, Catherine Tyree, Nicole Shahinian-Simpson, and Aaron Vale among others.
Irish riders will be out in force again this year including former Hampton Classic Grand Prix winners Kevin Babington, Richie Moloney and Darragh Kerins. Rounding out the Irish contingent is Shane Sweetnam who dominated the Hampton Classic last year. He won the $75,000 Douglas Elliman Grand Prix Qualifier presented by Longines and the $70,000 Longines Cup and also took second place in the $300,000 Grand Prix. As a result, Sweetnam won the $30,000 Longines Rider Challenge as the Classic's leading open jumper rider and received a check for $30,000 and a stunning Longines timepiece – one of four he won at the Hampton Classic last year!
It's going to be a competitive family affair among the Canadian riders. Olympic veteran Mario Deslauriers, who won the FEI World Cup Final in 1984 at just 19 years of age and who took fourth place in the Hampton Classic Grand Prix last year, will again be competing against his daughter, Lucy. Deslauriers recently rode on the Canadian team at the Pan American Games in Peru where he finished 15th individually. Jonathan Millar, a World Equestrian Games veteran, will be competing against his wife Kelly Soleau-Millar, who rides for the U.S., and his sister Amy Millar, who was a member of the 4th placed Canadian Team at the 2016 Rio Olympics. Also entered is Erynn Ballard, who competed on the Canadian team at the 2018 WEG.
Two-time Olympic veteran Daniel Bluman of Israel (formerly of Colombia), who won the Hampton Classic Grand Prix in 2017, will be joined by his cousins Ilan Bluman and Mark Bluman, who are brothers and compete for Colombia. Other international riders slated to compete include two riders who competed at the 2018 WEG – Great Britain's Amanda Derbyshire and Venezuela's Alejandro Karolyi, who also competed at the recent Pan American Games in Lima, Peru.
"We are thrilled to have such a stellar line-up of competitors coming to this year's Hampton Classic," said Shanette Barth Cohen, the horse show's Executive Director. "It's so exciting for spectators to be able to see so many of the sport's top riders and we can't wait to welcome everyone for our 44th annual show."