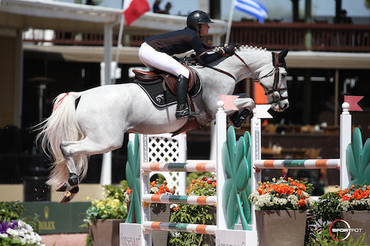 Paris Sellon and Canasta Z. Photo (c) Sportfot.
USA's Paris Sellon and Canasta Z kicked off the final week of competition at the 2017 Winter Equestrian Festival (WEF) on Wednesday, March 29, with a win in the $35,000 Douglas Elliman 1.45m CSI 4* at the Palm Beach International Equestrian Center (PBIEC) in Wellington, FL.

Olaf Petersen, Jr. (GER) is the course designer in the International Arena at PBIEC for week 12 competition. Petersen set the speed track for 55 starters in Wednesday's 1.45m and saw 19 clear rounds. Sellon and her 13-year-old Zangersheide mare (Canabis Z x Caretano Z) laid down the winning time of 56.65 seconds early in the order. Try as they might, some of the fastest riders of the circuit could not outrun her.

Conor Swail (IRL) and Finca Horses' Flower finished a close second in 56.84 seconds. Daniel Coyle and Susan Grange's Tienna placed third in 56.92 seconds, and Laura Chapot (USA) and her own and Mary Chapot's Thornhill Kate stopped the clock in 58.32 seconds to place fourth.

"I surprised myself honestly!" Sellon said of her victory. "After I went, I did not really look at the order. I just wanted to let it be, so I was really pleased. Sometimes I do not push the gas pedal 100%. Today, everything just worked out great and I am glad I got a good result."

Describing her round, Sellon stated, "When I walked the course, I knew that I had a pretty good shot at it, just because it was a really good course for my horse because there were a lot of turns. She is really quick, and she turns on a dime. I think every rollback she did really well. She is also really quick in the air and across the ground, so I think that is what split the time between the Irish boys and me. She is just so quick off the ground and quick to turn."

Sellon's Willow Grace Farm purchased Canasta Z one year ago from Vincent Voorn in Europe. The mare had previously been showing with Sweden's Elina Petersson, jumping up to the 1.50m level and some four-star grand prixs. "It has taken a little bit of time to get used to her just because she is so hot and a little bit of a different type than what I am used to," Sellon noted. "She is super competitive. She is so careful, and every time she goes in the ring she gives 100%. I just have to more stay out of her way than anything. She is just a really great horse."

After WEF, Sellon's horses fly back to Europe with trainer Lauren Hough, where Sellon will kick off her European tour in Hamburg, Germany.

Also competing in the International Arena on Wednesday, Mario Deslauriers (USA) and Lisa Deslauriers' Cooper Royal won the Spy Coast Farm Seven-Year-Old Developing Jumper speed class. Molly Ashe (USA) and Louisburg Farm's Picobello Choppin PC topped the $6,000 Illustrated Properties 1.40m CSI 4* speed class. Sarah Scheiring (USA), aboard Thomas Welsh's Newtown Jumping Jack, concluded the day with a win in the $6,000 Illustrated Properties 1.40m Power and Speed.

Week 12 continues on Thursday featuring the $86,000 Ruby et Violette WEF Challenge Cup Round 12 in the International Arena. For full results, please visit www.PBIEC.com.
Final Results: $35,000 Douglas Elliman 1.45m CSI 4*
1. CANASTA Z: 2003 Zangersheide mare by Canabis Z x Caretano Z
PARIS SELLON (USA), Willow Grace Farm: 0/56.65

2. FLOWER: 2005 Belgian Warmblood mare by Bon Ami x Randel Z
CONOR SWAIL (IRL), Finca Horses Inc: 0/56.84

3. TIENNA: 2008 Canadian Sport Horse mare by For Pleasure x Polydox
DANIEL COYLE (IRL), Susan Grange: 0/56.92

4. THORNHILL KATE: 2005 Irish Sport Horse mare by Courage II x Clover Hill
LAURA CHAPOT (USA), Laura & Mary Chapot: 0/58.32

5. HIP LIVING: 2009 Swedish Warmblood gelding by Hip Hop x Quite Easy
SANTIAGO LAMBRE (MEX), Integrated Services Florida LLC: 0/58.58

6. JAVAS KELTIC MIST: 2006 Irish Sport Horse gelding by ARD VDL Douglas x Clover Hill
CAPT. BRIAN COURNANE (IRL), Glenbeigh Farm LLC: 0/58.97

7. SOVEREIGN: 2006 Selle Francais stallion by Frontal x Galoubet A
LISA GOLDMAN (USA), Barbara Disko: 0/59.13

8. DONNA SPECIALE: 2008 KWPN mare by Cavalier x Concorde
LESLIE HOWARD (USA), Laure Sudreau: 0/59.18

9. BALOPPI: 2007 Danish Warmblood mare
LACEY GILBERTSON (USA), Seabrook LLC: 0/59.67

10. DOUBLE O SEVEN 7: 2008 KWPN gelding by Mr. Blue x Celano
KEVIN BABINGTON (IRL), Kevin Babington & Katznelson Jumpers LLC: 0/60.25

11. CONSTANCE: 2007 KWPN mare by Indoctro x Animo
JESSICA MENDOZA (GBR), Milena Pappas: 0/60.52

12. HINDSIGHT: 2007 Holsteiner gelding by Vision van't Hazelarenhoekje x Riverman
LISA GOLDMAN (USA), Lisa Goldman: 0/60.89
---
Source: Press release from Jennifer Wood Media Inc / Photo (c) Sportfot.