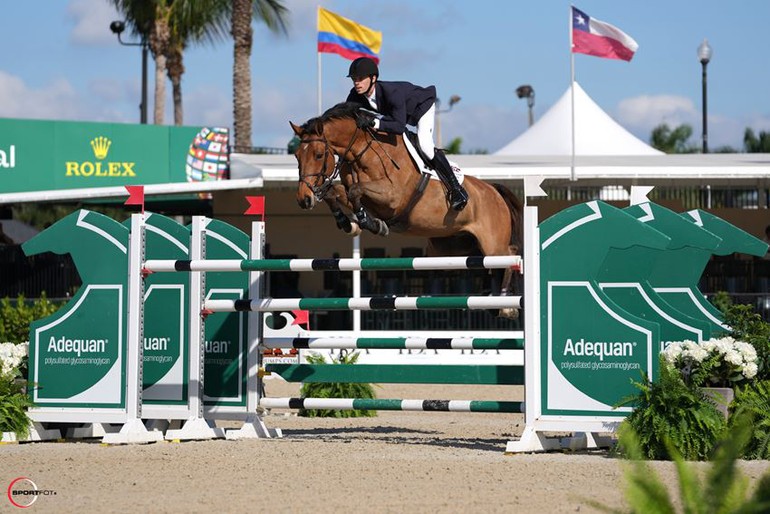 Alex Matz & Cashew CR on their way to victory in the the $39,000 Adequan® CSIO4* WEF Challenge Cup Round 8. Photo © Sportfot.
Press release from Wellington International
---
Wellington International is welcoming the world during Week 8 of the Winter Equestrian Festival (WEF), presented by IDA Development. Stamping their ticket in the number-one position for the JTWG, Inc. CSIO4* Grand Prix on Sunday, Alex Matz (USA) and Cashew CR were picture-perfect in the one-round qualifier. He and the 15-year-old Holsteiner gelding (Cassini II x Quinar Z) topped the $39,000 Adequan® CSIO4* WEF Challenge Cup Round 8 on Thursday afternoon for owner Dorothy A. Matz.
"I knew I had a naturally fast horse, and the track was proving to be quite difficult, so I did one to two in eight strides and I thought if I did that I would establish a good rhythm and then just get to take-off spots balanced and let him do the rest," said Matz of the mount he's been partnered with for the past eight years. "I feel like I know him like the back of my hand. He is a true winner, and he fights like no other horse I've ever ridden."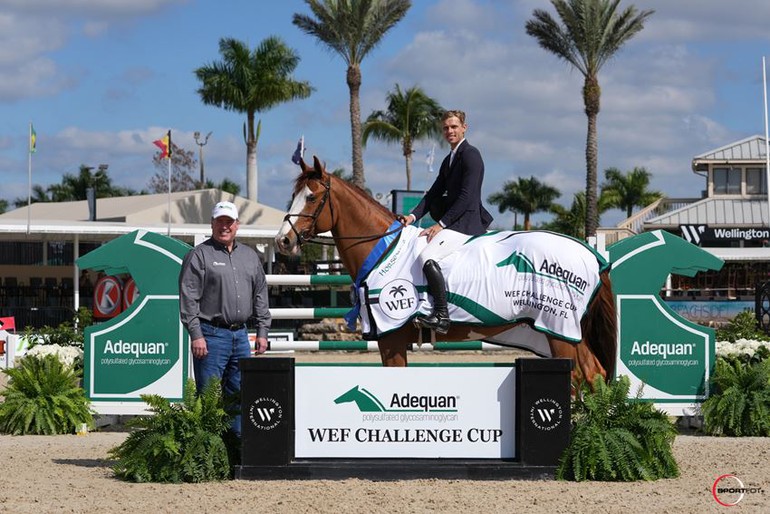 Alex Matz & Cashew CR presented as winners of the the $39,000 Adequan® CSIO4* WEF Challenge Cup Round 8 by Jeff Queen, National Acccount Manager for American Regent Animal Health. Photo © Sportfot.
Matz, 26, posted a blistering time of 67.07 seconds over Anthony D'Ambrosio's (USA) course, besting the rest by more than six full seconds. Canada's Amy Millar riding the Future Adventures-owned Christiano took second in 73.35 seconds. Margie Goldstein-Engle rounded out the podium placings riding Dicas just fractions off Millar's pace in 73.37 seconds for owners Selma Garber, Gladewinds Partners, Show Horses, Inc. and Storm Ridge Capital.
"I told my parents earlier that I could have a 105-degree temperature and really not feel like riding, go in there and he would do it for me," remarked Matz, son of 1986 World Champion Michael Matz. "He's very careful and very competitive, so I know if I give him a chance then I will be very competitive."
Matz scored a CSIO4* victory ahead of Saturday's CSIO4* Nations Cup, presented by IDA Development, which takes center stage in the International Arena during 'Saturday Night Lights'. "I think WEF has done a great job of putting on world-class shows and Nations Cup week is a huge week, so to come out and win… hopefully I can keep the ball rolling and keep up this momentum," concluded Matz.