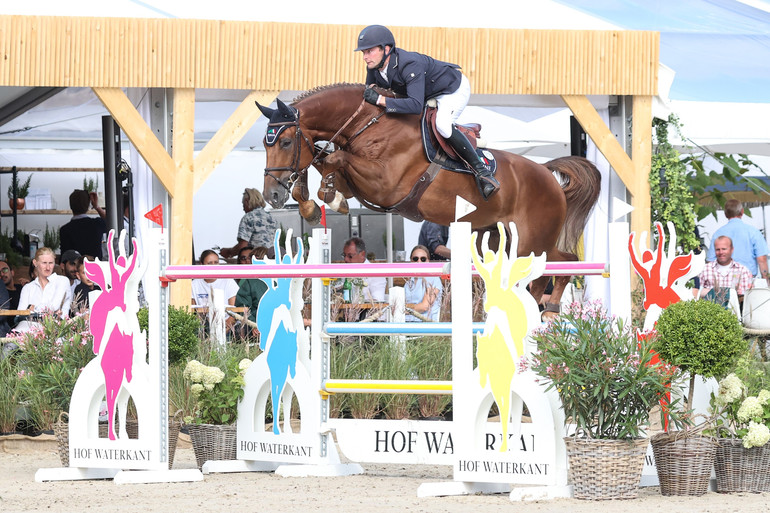 Patrick Stühlmeyer and Drako de Maugre won the CSI4* Grand Prix of Holstein presented by the Grand Prix Club Hof Waterkant. Photo © ACP Andreas Pantel.
Patrick Stühlmeyer (GER) won Sunday's CSI4* 1.60m Grand Prix of Holstein presented by the Grand Prix Club Hof Waterkant in Pinneberg, Germany.
Fifty horse-and-rider combinations had qualified for the Grand Prix, and ten made it into the jump-off. And shortly after his final ride, Stühlmeyer threw himself around the neck of the hostess Janne Friederike Meyer-Zimmermann in the warm-up ring and said: "Janne, that's awesome, I won the Grand Prix at your show!" With the Selle Français stallion Drako de Maugre (Kannan x Fusain du Defey X), Stühlmeyer shaved off 0.7 seconds on Emanuele Gaudiano's (ITA) time aboard Chalou (Chacco-Blue x Baloubet du Rouet), to take the win.
Patrick Stühlmeyer's employer Paul Schockemöhle bought the big-framed 9-year-old chestnut only five weeks ago, and CSI Hof Waterkant was the third show for the pair. The 32-year-old winner smiled: "It's incredible. Everything went well today. Last week in Rastede we were second in the Grand Prix. But Drako is just a really fast horse, that's why we're at the front today and I'm very proud of him."
Behind second-placed Emanuele Gaudiano, followed Katrin Eckermann (GER) with her 9-year-old Chao Lee (Comme il faut x Chacco-Blue). Rolf-Göran Bengtsson (SWE) and Zuccero (VDL Zirroco Blue x Caretino 2) finished fourth, while fifth went to Nicolas Pizarro (MEX) and Pia Contra (Conthargos x Chacco-Blue).