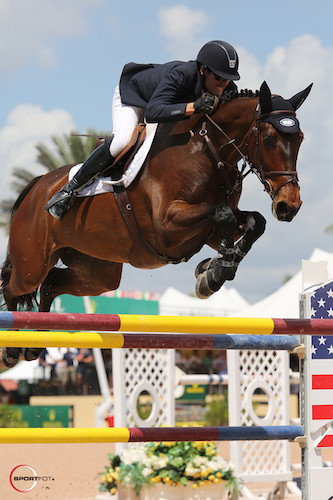 Paul O'Shea and Skara Glen's Sienna. Photo (c) Sportfot.
Week ten of the 2015 Winter Equestrian Festival (WEF), sponsored by Horseware Ireland, concluded on Sunday with a win for Ireland's Paul O'Shea and Skara Glen's Sienna in the $34,000 Suncast® 1.50m Championship Jumper Classic. Competing at the Palm Beach International Equestrian Center (PBIEC) in Wellington, FL, O'Shea guided the mare, owned by Skara Glen Stables, to victory in a five-horse jump-off with Laura Kraut (USA) and Deauville S in second and Lillie Keenan (USA) aboard Super Sox third.
Sixty-four entries showed over Michel Vaillancourt's (CAN) 1.50m track on Sunday with five clear to advance to the jump-off. Laura Kraut and Julius Peter Sinnack's Deauville S were first to jump-off, clearing the short course in 38.42 seconds. Lillie Keenan jumped next with Chansonette Farm LLC's Super Sox with a clear round in 38.59 seconds. Ben Maher (GBR) followed with the fourth place round on Jane Clark's Sarena in 39.11 seconds. Paris Sellon (USA) and Adare had one rail down in 46.15 seconds to place fifth. Last to go, O'Shea and Skara Glen's Sienna cleared the course in the winning time of 37.63 seconds.
Skara Glen's Sienna is a nine-year-old Dutch Warmblood mare (Chacco Blue x Gran Corrado) that O'Shea has ridden since she was five years old. Last summer, the mare scored the biggest win of her career in the $75,000 Jumper Classic at the Upperville Horse Show, and continues to excel.
"She has always been really special," O'Shea stated. "When she first came here, she was nice to ride and very confident. You can feel straight away that she just wants to do the right thing."
Sunday's course was challenging for most of the class. It was not until halfway through that Laura Kraut produced the first clear round and a few more followed. O'Shea was second to last in the order, and was able to watch and figure out a plan.
"I probably had an advantage that I was towards the end because the last line was tricky," he admitted. "It was either an extremely short four-stride or a very long three. It was nice to have a bit of time to make up my mind on that. I decided to do the three and she did it really well, so it was an advantage. If you were earlier in (the class), it was tougher today."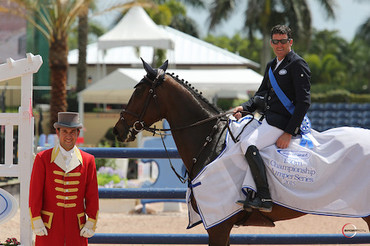 Paul O'Shea and Skara Glen's Sienna in their winning presentation with ringmaster Gustavo Murcia. Photo (c) Sportfot.
"In the jump-off, my plan was not to go wild. She is still quite young," O'Shea explained. "I just wanted to go as quick as she could, comfortably, but naturally she is a very quick horse. Luckily it was enough today."
"She is only nine," O'Shea pointed out. "She did qualify for the night class last night, but we thought next year would be time enough. We definitely do not want to overdo it. She will not do any night classes this year. We just want to produce her slowly so that as a ten-year-old she is ready for most things. She has not done bigger than 1.50m yet, but she has done everything we have asked her to do very well."
Ira Gumberg owns Sienna through his Skara Glen Stables, which O'Shea has been riding with for three and a half years.
"He has been a fantastic owner to me. He has really taken care of me," O'Shea acknowledged. "It is a pleasure to have such a great horse and a great owner."
Final Results: $34,000 Suncast® 1.50m Championship Jumper Classic
1. SKARA GLEN'S SIENNA: 2006 KWPN mare by Chacco Blue x Gran Corrado
PAUL O'SHEA (IRL), Skara Glen Stables: 0/0/37.63
2. DEAUVILLE S: 2006 Holsteiner gelding by Diamant de Semilly x Lux
LAURA KRAUT (USA), Julius Peter Sinnack: 0/0/38.42
3. SUPER SOX: 2006 Hanoverian gelding by Salito x Silvio I
LILLIE KEENAN (USA), Chansonette Farm LLC: 0/0/38.59
4. SARENA: 2004 Selle Francais mare by Calvaro x Damoiseau d'Or
BEN MAHER (GBR), Jane Clark: 0/0/39.11
5. ADARE: 2005 KWPN mare by Royal Bravour x Burggraaf
LAUREN HOUGH (USA), Paris Sellon: 0/4/46.15
6. CHALLENGE Z: 2005 Zangersheide by Carthago x Cordelme Z
MARIO APPEL (BRA), Mario Appel: 1/85.74
7. ISHD DUAL STAR: 2002 Irish Sport Horse mare by Quickstar x Concorde
LAURA CHAPOT (USA), Mary Chapot: 4/80.87
8. G&C CLOSE UP: 2007 KWPN gelding by Eurocommerce Washington x Cobra
LUIS LARRAZABAL (VEN), San Francisco Stables LLC: 4/81.17
9. GRAND CRU VD JIJF EIKEN: 2006 Belgian Warmblood stallion by Contact vd Heffinck x Heartbreaker
CONOR SWAIL (IRL), Vanessa Mannix: 4/81.35
10. CYKLON 1083: 2001 Swedish Warmblood stallion by Cardento x Cortus
SHANE SWEETNAM (IRL), Spy Coast Farm LLC: 4/81.49
11. QUOINTREAU UN PRINCE: 2004 Selle Francais gelding by Diamant de Semilly x Rosire
LAURA CHAPOT (USA), Laura Chapot & McLain Ward: 4/81.49
12. ALDINE: 2005 KWPN mare by Vitesse K x Robin Z
JORDAN MACPHERSON (CAN), Sved Stables: 4/81.50
Source: Press release by Jennifer Wood Media.