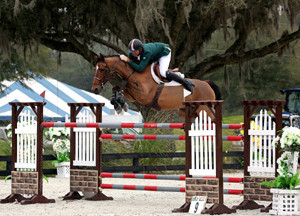 Charlie Jayne and Playboy jump to victory in the $25,000 SmartPak Grand Prix. Photo (c) ESI Photography.
The first Grand Prix of the HITS Ocala Winter Circuit took place Thursday in the Ocala Horse Properties Stadium. The $25,000 SmartPak Grand Prix is a qualifier for the Hits Triple Crown of Show Jumping, which includes three $1 million classes later this year.
Riders vied for the prize money, sponsored by SmartPak, and a chance to qualify for the Triple Crown over Doug Russell's course, which included a triple and a double combination. The footing was excellent despite showers during the day and faults were evenly scattered throughout. Two riders were unseated in Round 1. Six horses were clear over the course, but Derek Petersen, from Archer, Florida, aboard Maddie Skimming's Cassevel had one time fault just missing an opportunity to compete in the jump-off and placing sixth.
The jump-off, with five competitors, proved to be a real nail-biter according to Judge Mel Stone, who kept hoping for a clear round. Williston's own Aaron Vale riding Troy Glaus' horse, Quidam's Good Luck, was not lucky enough to jump clear. A rail at the final jump cost him four faults but a fast time of 40.389 set the mark and was good enough for third place.
Jared Petersen riding his father Derek's Titus 2:11 jumped like the winner again until the final jump where he had an uncharacteristic rail stopping the clock at 45.358. This horse and rider combination has had some impressive feats in the past at Hits Ocala, winning three Sunday Grand Prix in a row in 2013. But their rail and time placed them fifth Thursday.
MTM Farms' MTM Centano and Tracy Fenney from Flower Mound, Texas, had an early rail so she rode to the fastest four fault round in a time of 40.293 to earn second place. One of 2014's leading riders with five grand prix wins, MTM's Centano's ability to jump from anywhere makes him a formidable competitor.
Charlie Jayne of Wellington, Florida, riding his own Playboy, knew that a clear round would secure the win so he rode a careful clear and stopped the clock at 49.791, winning the lions' share of the prize money and a head start at qualifying for the Great American $1 Million. Spectators held their collective breath as he cleared the final fence to produce the only double clear round.
Centurion B, owned by Mary Goldman and ridden by Lisa Goldman of Hawthorn Hills, Illinois, have won more than their fair share of Grand Prixs in the past at HITS. As the final competitor in the jump-off, the table was set for a fight to the last, but it was not to be. A rail at the second part of the combination cost them four faults and their time of 43.149 placed them fourth.