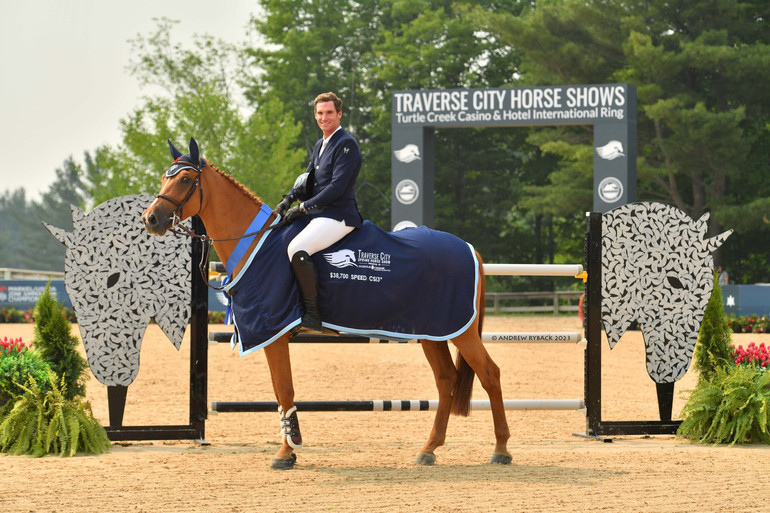 Quentin Judge and HH Jamil Field, winners of the $38,700 CSI3* 1.45m Speed at Traverse City Horse Shows. Photo © Andrew Ryback Photography.
Press release from Traverse City Horse Shows
---
The pace in Thursday afternoon's $38,700 CSI3* 1.45m Speed seemed like it couldn't get any quicker as the field reached the halfway point of the class. But then Quentin Judge (USA) stepped in.
With a relatively new mount, HH Jamil Field, Judge had something to say about the time to beat, shaving nearly two seconds off an already quick pace.
"This is actually his first international class," Judge said of the 9-year-old Dutch Warmblood gelding (Mylord Carthago x Chin Chin). "He's my favorite horse that we have, which I'm embarrassed to say because he's bad in the barn. He's mean, he kicks, but he's really a fun horse to ride."
Speed riders came out in force for Thursday's class, with 25 combinations giving their best shot over Anderson Lima's (BRA) course, and each one coming faster than the last. Coming off a CSI3* grand prix win the previous week, Katie Dinan (USA) held the lead for quite some time with Atika Des Haus Vents, owned by Grant Road Partners LLC, but Judge came in on a relatively unknown horse and showed everyone in Traverse City and beyond what the horse was made of.
Securing the win as his own, Judge pushed Dinan into second, where she remained until the end of the class. Roberto Teran (COL) claimed third with DSP Callas. The class kicked off international action during the third and final week of the Traverse City Horse Shows, presented by Turtle Creek Casino & Hotel.