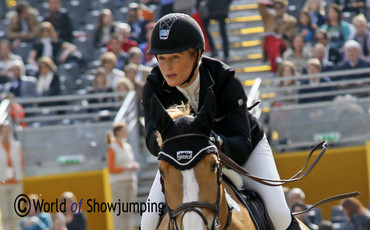 Laura Renwick. Photo (c) Jenny Abrahamsson.
The tours have started to roll in Europe, with two star Grand Prix classes in both Mijas and Oliva this weekend. In Mijas, it was Great Britain's Laura Renwick that won the Master Big Grand Prix riding Rembrandt Blue (Mr. Blue x Super de Bourriere). Renwick, one of seven riders in the jump-off, was 0.78 seconds faster than Germany's Andreas Brenner aboard Cronos 17 (Corrado I x Lord). In third came Luca Maria Moneta on Jesus de la Commune (Diamant de Semilly x Rocky du Carel).
In Oliva, Carlos Lopez won the 1.45 Gold Grand Prix on Zephyr II (Tolano Van't Riethof x Goodtimes). Eight riders went on to the jump-off where the Colombian rider was way over a second faster than runner-up Niall Talbot on Nicos de la Cense (Eyken Des Fontenis x Le Tot De Semilly). Third place went to Germany's Ralf Runge on Summersault (Seven Up x Cantus).