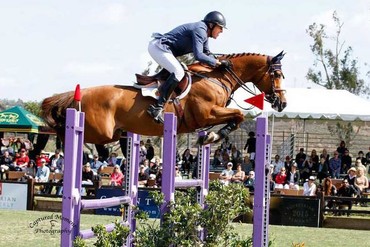 Rich Fellers and Flexible. Photo by CapturedMomentPhoto.com.
Fan favorites and famously talented duo Flexible and Rich Fellers thrilled a crowd of spectators, taking the victory in the highlight event of the week, the $60,000 Grand Prix of California, presented by Equ Lifestyle Boutique.

Back for the third time as master builder for the Ranch & Coast Classic, Texan course designer Oscar Soberon is quite familiar with the challenges of building for this class. After Thursday's tight and technical Markel Insurance Grand Prix track, Soberon planned today's course with less technical emphasis.

The 16-element course with a time allowed of 84 seconds presented plenty of tests for the experienced field. "It's a $60,000 class, so it's tougher than Thursday because of the height, but it's not as tricky. I do think there are questions everywhere; from fence one, which is a wall, to a lot of fences with solid rails, which are always difficult to jump," he explained. "The combination of white and black rails is also tough. I hope we get to see between four and six clear."

Soberon was right on - just like Thursday's class, once again five entries earned a spot in the jump-off. From the promising skills of young Hannah Heidegger to World Cup Champion Rich Fellers, the five riders were no strangers to questions of speed and scope. The jump-off track incorporated new fences interwoven with tricky components from the first round to truly test the competitors' finesse.

Seasoned partners Josephina Nor Lantzman and Chello Z (owned by Josephina Nor Stables, LLC) returned first, stopping the timers in 40.97 seconds, but with a rail at fence 8 for four faults. Hannah Heidegger and Axl Rose (Monarch International, owner) had 12 faults in 45.99 seconds, leaving the field open for veterans Fellers and Flexible (owned by Harry & Mollie Chapman). Shaving over half a second off Lantzman's leading time in 40.27, Fellers also had an unlucky rail but took over the lead.

Eric Navet aboard Signe Ostby's Jonkheer Z also had a rail at fence 8 in 43.72 seconds. Allyssa Hecht and Neaulani Farms' Calero, who recently finished second in the Spring Classic II Grand Prix in April, had an unfortunate circle at 8 and ended with 24 faults in 64.67 seconds. Fellers and Flexible took their victory gallop to enthusiastic fan applause, with Nor Lantzman in second and Navet rounding out the top three.

The win continued a Del Mar streak of success for the 19-year-old Irish Sporthorse stallion and the ever-humble Fellers, having recently earned second in last week's $100,000 Grand Prix at the Del Mar National. Showpark's spacious field is a favorite for the beloved duo, who especially enjoyed the grassy gallop after the tight indoor setting at the 2015 Longines FEI World Cup™ Jumping Final.

"It is always lovely to jump on this field; it's a super field and great preparation for Spruce Meadows," Fellers commented. "This course designer knows what he's doing. I was really happy with Flexible - he rode great, jumped great and had a light rub and got a fence down, and he still ended up winning, so I feel very fortunate."

When asked about potential goals for the 2016 FEI World Cup™ Jumping Final, Fellers has the spunky chestnut's health as the top priority. "I don't think we'll be going [to the Final]. I really feel like he has more wins in him at 1.60m, but to ask him to go that many days in a row wipes him out a bit," he explained. "Flexible always tries hard, but that's when horses get hurt - when they try so hard and their bodies are fatigued. I just think at his age, he deserves to have a break from that kind of regime."

Nayel Nassar and Acita Earn Another Win Topping the $7,500 CashCall Mortgage Jumper Futurity
The up-and-coming young equine talent kicked off the afternoon of show jumping in Del Mar. With thirteen entries in the jump-off, nearly half of the class of twenty-nine came back in a battle for the blue ribbon, as the top five placings turned in quick and clean double-clear rounds.

Winners of the season's inaugural $25,000 Markel Insurance Grand Prix during the Spring Fling, Nayel Nassar and his own Acita are an impressive pair. They stopped the jump-off clock with a clean round in a fast 35.97 seconds to take home the top honors, while Andrew Kocher and his own Venetto were second and Ray Texel aboard Leslie Nelson's Coupis were third.

"I think this is a great division for up-and-coming horses. We had a big jump-off today which got very fast, and luckily I have a very talented 8-year-old who could answer all the questions I asked of her," Nayel said, praising his Holsteiner mare. "She's careful, scopey, has a big stride, and goes in a snaffle. There's not much more you can ask for, and I'm excited for her future."

RESULTS

$60,000 Grand Prix of California, presented by Equ Lifestyle Boutique
Place - Number - Horse - Rider - Owner - Faults/Time
1. 241 - Flexible - Rich Fellers - Harry & Mollie Chapman - 0/4/40.276
2. 583 - Chello Z - Josephina Nor Lantzman - Josephina Nor Stables, LLC - 0/4/40.976
3. 367 - Jonkheer Z - Eric Navet - Signe Ostby - 0/4/43.729
4. 649 - Axl Rose - Hannah Heidegger - Monarch International - 0/12/45.993
5. 714 - Calero - Allyssa Hecht - Neaulani Farms - 0/24/64.676
6. 319 - Coral Reef Carmel Z - Ann Knight Karrasch - Coral Reef Ranch - 1/84.362
7. 323 - Coral Reef Follow Me II - Vinton Karrasch - Coral Reef Ranch - 4/80.142
8. 807 - Cristallo - Richard Spooner - Show Jumping Syndications Int'l - 4/81.028
9. 599 - E Muze Yek - Simon Nizri - SN Stables, LLC - 4/81.128
10. 338 - Agamemnon - Alec Lawler - Alec Lawler - 4/82.514
11. 363 - Basimodo - Karl Cook - Signe Ostby - 4/83.445
12. 368 - Tembla - Karl Cook - Signe Ostby - 5/84.118

$7,500 CashCall Mortgage Jumper Futurity
Place - Number - Horse - Rider - Owner - Faults/Time
1. 765 - Acita - Nayel Nassar - Nayel Nassar - 0/0/35.975
2. 858 - Venetto - Andrew Kocher - Andrew Kocher - 0/0/36.578
3. 424 - Coupis - Ray Texel - Leslie Nelson - 0/0/37.467
4. 361 - Balando - Eric Navet - Signe Ostby - 0/0/38.452
5. 974 - Felline - Enrique Gonzales - Enrique Gonzales - 0/0/39.659
6. 604 - Cambridge - Kyle King - George Meyer - 0/4/41.575
7. 364 - Caillou 24 - Karl Cook - Signe Ostby - 0/4/43.286
8. 103 - Kit Kat - Susan Artes - Alix Fargo - 0/4/48.778

Source: Press release from Blenheim EquiSports.