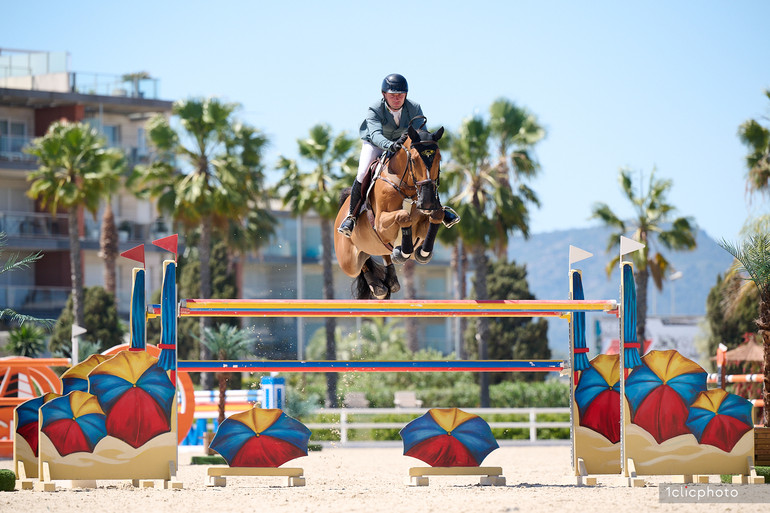 Richard Howley and Consulent de Prelet Z, winners of the CSI3* 1.50m CHG Grand Prix at the Spring MET IV 2023. Photo © Hervé Bonnaud/1clicphoto.com.
Press release from Mediterranean Equestrian Tour
---
The third and final week of Spring MET IV 2023 in Oliva Nova, Spain, concluded on Sunday with the CSI3* 1.50m Grand Prix presented by CHG – Construcciones Hispano Germanas S.A – and it was Ireland's Richard Howley and his rising star Consulent de Prelet Z that took the top honours.
"Consulent is a naturally quick horse, he is very careful so you can really trust him at the jumps," Howley said after his victory. "He jumped fantastic in the first round. He was in super shape, and it felt like today was the day he could give a good result – so we had a go and the jump-off went our way."
A total of 14 pairs out of the 54 participants at start cleared the first-round track set by Spain's Javier Trenor Paz and joined the deciding jump-off, where Howley and Consulent de Prelet Z (Consulent Z x Fuego du Prelet) as the first pair out cruised around the huge Oliva Nova arena and posted an unbeatable time of 37.33. Despite their best tries, those to follow could do nothing about the Irish pair's time and fell victims of the rollback to the penultimate vertical as well as the very last oxer situated right in front The Club. However, a clear from Teresa Blazquez-Abascal (ESP) and Nasa de Toxandria (Vertigo Saint Benoit x Chopin van het Moleneind) in 38.28 seconds secured the Spanish pair the runner-up position, while Michael G Duffy (IRL) and Clitschko 17 (Christian 25 x Check In 2) placed third in 38.84. Remco Been (NED) and Bridgetown Z (Big Star Jr KZ x Carolus H) finished fourth in 38.85 and William Funnell (GBR) fifth in 42.90 aboard Equine America Billy Diamo (Cevin Z x Andiamo).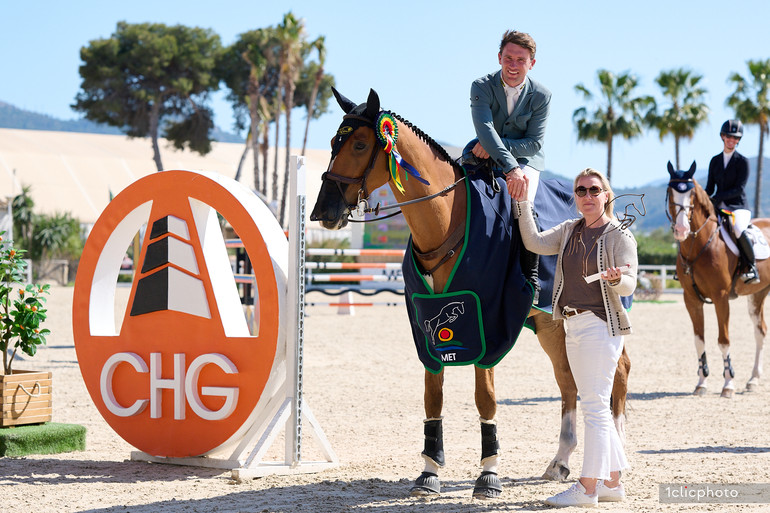 Richard Howley and Consulent de Prelet Z, with Event Director Bettina Pöhls. Photo © Hervé Bonnaud/1clicphoto.com.
Speaking about the challenge of being first to go in the jump-off, Howley said: "There are always big distances in a jump-off, so we try to walk them before to know what we can and cannot do. One to two was a leave out for us; it was a normal eight and we did seven there," he explained. "We stayed really tight in our turns, and I just followed my horse around the rest of the course. He is very quick off your leg, so I think to the last jump also, I did one less."
"Consulent is a very good horse and I plan to do some big things with him this year," Howley continued to speak about his rising star – a talented 12-year-old gelding. "He already has had some great results last year, and I would like to aim for a few good five-star shows with him this year."

"Oliva is a beautiful showground," Howley said about the venue at Centro Ecuestre Oliva Nova. "They do a great job here; everything is very clean and it is very well kept. I must say that this time of the year the weather is really nice as well and this is a great place to come and get set up for the on-coming outdoor season."
The Mediterranean Equestrian Tour now takes a break over the summer before resuming on October 3rd with Autumn MET 2023.