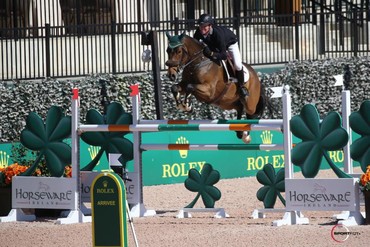 Richie Moloney and Ypaja Yando. Photo (c) Sportfot.
Richie Moloney (IRL) and Ypaja Yando took home top honors in the $35,000 Horseware® Ireland Opener FEI CSI3* to begin the final week of the successful 2016 Tryon Fall Series presented by Greenville-Spartanburg Airport District at the Tryon International Equestrian Center (TIEC). Moloney and Ypaja Yando stopped the timers with an impressive time of 57.61 seconds, while Eugenio Garza (MEX) and Bariano secured second place with a time of 59.39 seconds. Nick Dello Joio (USA) piloted Contiki to third place honors with a time of 61.64 seconds.
Competition at the 2016 Tryon Fall Series presented by Greenville-Spartanburg Airport District commenced on Thursday, September 22, and will continue through Sunday, October 30, featuring hunter and jumper competition, alongside two weeks of FEI CSI3* classes and an FEI CSI5*.
Moloney guided Ypaja Yando, a 2007 Finnish Warmblood stallion (Quinar x Lasino) owned by Equinimity LLC, around the technical track set by Guilherme Jorge (BRA). Moloney detailed his navigational plan for the course and where he felt he edged the rest of competition to finish two seconds ahead of the competition.
"It rode very nice. The course seemed to ride more or less the same for everyone, but I left out a stride from fences six to seven and then again between seven and eight. I think that's where I made up the time," Moloney said.
Moloney and Ypaja Yando have been a partnered for a little over a year, placing well at the Hampton Classic CSI4* and at the American Gold Cup CSI4* this summer before traveling back to TIEC to contest their abilities in the CSI3* weeks and CSI5* competition.
"He is a very nice horse. This is a step down for him and I normally don't compete him in the speed classes, but he is very careful," he elaborated. "He is a fighter in the ring and he really wants to jump the jumps."
Moloney has garnered much success at TIEC this year aboard numerous mounts including Slieveanorra, Carrabis Z, and Alsvid. Moloney and his team consistently have a strong group of horses at the competition each week and Moloney discussed about the work ethic and organization behind their operation.
"I know, we have a lot of horses here week in and week out," smiled Moloney. "The ones that are showing this week had last week off and the ones that showed last week will head to the Kentucky next week. We have to keep thinking about what is best for each individual horse. Sometimes you wonder if that was the right horse to use for a certain class, but we're still learning how to execute the best plan for everyone," he added.
Moloney and the Equinimity LLC team are already looking toward a strong showing at the beginning of a competitive winter season, stating, "We are hopeful the grand prix this coming Saturday night will go well and then we will stop in Kentucky before traveling to Wellington for the winter and the Holiday & Horses CSI4*."
---
Source: Press release from Tryon International Equestrian Center // Picture © Sportfot