Richie Moloney (IRL) and Slieveanorra made the most of their time in the George H. Morris Arena today at Tryon International Equestrian Center (TIEC), topping the $35,000 1.50m Suncast® Classic, bringing a close to the final day of FEI classes at Tryon Summer III. Moloney and Slieveanorra jumped past Samuel Parot (CHI) and Couscous Van Orti, who were the only other pair to advance to the short course. The winning combination stopped the clock in 40.787 seconds, while Parot collected four faults and crossed through the timers in 40.40 seconds. Alison Robitaille (USA) and Sensation 21 took third place, completing the fastest four fault trip around the original course, finishing in 75.54 seconds. Competition at TIEC resumes on Wednesday, July 20, with Tryon Summer IV, which will feature an FEI CSI 4* and conclude on Sunday, July 24.
Moloney and Slieveanorra went late in the class order, which featured 23 entries and was set by this week's FEI course designer Manuel Esparza (MEX). While Moloney was surprised that only two combinations moved forward to contest the second round, he was pleased with the way Slieveanorra handled the track, as the 2002 Irish Sport Horse gelding (Voltaire x Flagmount Diamond) owned by Equinimity LLC, made efficient work of the difficult course.
"I thought after I walked it that there might be one or two more clears, but it proved to be pretty difficult for everyone. It was a long way around and I think that also it's the end of the week and some of the horses may have been feeling less fresh than at the beginning of the week," said Moloney.
Slieveanorra was originally sourced by Moloney's brother from Ireland early in his career and has been successfully guided to numerous top finishes in FEI classes around the world. The gelding produced a valiant effort around both tracks, which helped the duo secure the win.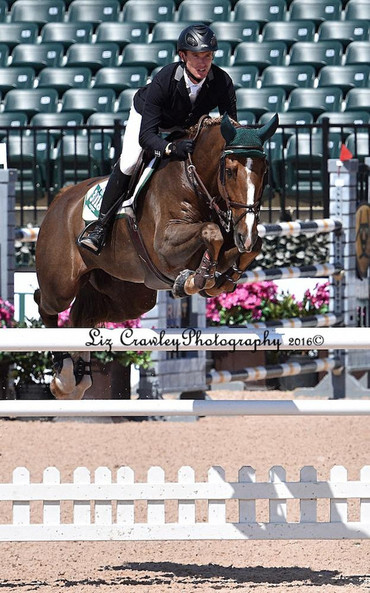 Richie Moloney and Slieveanorra. Photo ©LizCrawleyPhotography.
"This horse is pretty quick as well, so I said that I would try to go fast enough to try to secure the win. I wanted to go fast because I knew that even if we had one down there was still a chance that we could take the class depending on Samuel's ride," he added.
Moloney is careful to regulate and select specific classes where he and his team feel Slieveanorra will have the opportunity to be the most successful. While age is a factor, Moloney said that Slieveanorra feels better than ever and continues to love his job and the thrill of competition.
"He's fourteen now and is an Irish horse that originally came from my brother when he was just nine," he explained. "He's a very cool horse and I've been able to have the ride on him for most of his career. We will still use him to do the odd grand prix, but we really try to save him because he's a bit older."
"We typically put him in the speed classes and the 1.50m classes. He enjoys these classes and always seems to do very well," he detailed.
Moloney had a successful campaign at Spruce Meadows in Calgary, Alberta, earlier in the summer but is happy to have returned to the venue, where he has had incredible success over the past two seasons, including a top ten finish in the $216,000 Hollow Creek Farm Grand Prix CSI 4* last night aboard Carrabis Z, also owned by Equinimity LLC.
"We're happy to be back here at Tryon. We did a few of the weeks at Spruce Meadows and will be here for the remainder of the series," detailed Moloney. "After next week the horses will get a good break before we look at some of the bigger classes coming up later in the summer and then we'll come back here for the fall."
---
Source: Press release from Tryon International Equestrian Centre / Pictures ©LizCrawleyPhotography