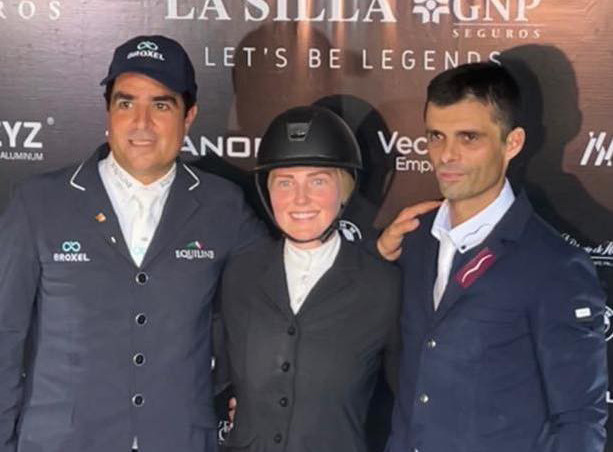 Nicolas Pizarro Suarez, Rikke Belinda Barker and Emanuele Camilli. Photo © Otomí Residencial Hípico.
Denmark's Rikke Belinda Barker and the 11-year-old Tabalou PS (Taloubet Z x Balou du Rouet, bred by Gestüt Lewitz/Paul Schockemöhle) won the CSI5* 1.60m Grand Prix in Monterrey, Mexico, on Sunday.
With the only double clear of the class in a time of 54.90, Barker took the win ahead of Italy's Emanuele Camilli and his 9-year-old Odense Odelveld (Diamant de Semilly x Querlybet Hero, bred by Caroline De Laet) who had to settle for second after a fence down in 44.99.
The host nation's own Nicolas Pizarro Suarez (MEX) and Atlantica du Soleil Z (Jumex Sport Atlantus x Felin Pierreville, bred by Marianne Eichenberger) placed third, while Shane Sweetnam (IRL) and RR Combella (Cornet du Lys x Indoctro, bred by Solmat Agropecuaria S.A.) finished fourth and Federico Fernandez (MEX) aboard Romeo (Lando x Cheers Cassini, bred by Alexandra Lebon) fifth.